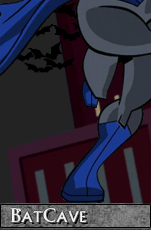 .:
.: Forum
.:
.:
.:



.:
.:

.:
.:
.:
.:

.:
.:
.:

.: .: .: .: .: .:
.:
.:



.:
.:


.: SERIALE ANIMOWANE :: BATMAN: TBATB :: AQUAMAN'S OUTRAGEOUS ADVENTURE! :.
Tytuł odcinka: "AQUAMAN'S OUTRAGEOUS ADVENTURE!"
Polski tytuł: "Aquaman na wakacjach!"
Pierwsza data emisji: 8 stycznia 2010
Reżyseria: Ben Jones
Scenariusz: Steven Melching
Muzyka: Michael McCuistion, Lolita Ritmanis, Kristopher Carter
Animacja: MOI Animation
Obsada:
Diedrich Bader
Dee Bradley Baker
John DiMaggio
Will Friedle
Sirena Irwin
Stephen Root
Preston Strother
James Arnold Taylor
Batman/Bruce Wayne
Clock King
Aquaman
Blue Beetle
Mera
Pingwin
Arthur Jr.
Green Arrow
Podczas Pierwszej Wojny Światowej nagle na niebie pojawia się dwupłatowiec Batmana. Bohater nie chce jednak zmienić wyniku bitwy, ale wraz Enemy Ace'em powstrzymuje kosmitów, którzy swoją technologią wsparli jedną ze stron.

Fisherman po tym jak rządy porwanych naukowców odmówiły zapłaty okupu za porwanych naukowców, postanawia ich zgładzić w podwodnym wulkanie. Z pomocą porwanym przychodzi jednak Aquaman, bohater wraz z pomocą wielorybów pokonuje złoczyńcę i uwalnia naukowców. Niespodziewania po angielsku zaczyna z nim rozmawiać jego wierny pomocnik delfin. Jak się okazuje obecnie król Atlantydy wcale nie ratuje świata, ale jest w drodze na rodzinne wakacje i to Mera wyciąga go ze świata jego bohaterskich opowieści.

Kiedy Aquaman zatrzymuje się na rodzinny obiad w Star City, cały czas myśli o ratowaniu świata, niestety Batman jest zajęty walką z Pingwinem, ale na niebie bohater dostrzega sygnał Green Arrowa. Razem z bohater powstrzymuje Clock Kinga i jego ludzi, którzy napadli na bank.

Jednak dla króla Atlantydy to za mało atrakcji i dlatego podczas zwiedzania westernowego miasteczka tłumacząc się problemami żołądkowymi opuszcza żonę i syna, by wesprzeć w walce z Planet Masterem Blue Beetle'a. Niestety po powrocie do hotelu w wiadomościach pokazują relacje z walki i Aquaman przyrzeka, że od tej chwili daruje sobie bohaterskie wyczyny i będzie się cieszył z rodzinnych wakacji.

Zwykłe czynności nie są zbyt zachęcające dla Aquamana, ale z radzi sobie z nimi, bo przez podobne męki przechodzi też chociażby Sportsmaster, który także wyruszył na wakacje ze swoja rodziną. Chociaż podczas rodzinnych chwil Artur dostrzega walczących bohaterów to nie decyduje się na interwencje. Obietnice łamie, gdy dowiaduje się, że Batman został schwytany przez Pingwina. Aquaman natychmiast zmienia trasę wakacji i dociera do Gotham City, gdzie nie ma specjalnych atrakcji. Niestety po wkroczenie do magazynu, gdzie uwięziony został Nietoperz Aquaman także wpada w tarapaty, po chwily wpadają w nie także Arthue jr. i Mera.

Chociaż bohaterowie zostają uwięzieni na taśmie, gdzie lada chwila mają zostać zgniecieni, to po tych wydarzeniach Mera wyznaje, że być może tradycyjne wakacje nie są dla nich i każe mężowi pokazać, co to znaczy być królem Atlantydy. Dzięki swoim telepatycznych zdolnościom Aquaman wzywa kraby, które zabierają Pingwinowi pas Batmana i dostarczają go bohaterowi, który dzięki specjalnej piłce przecina więzy.

Niespodziewane uwolnienie się bohaterów nie jest pomyśli Pingwina, ale mimo to nie zamierza on rezygnować ze swoich planów wystrzelenia rakiet. Wspólna akcja Batmana i Aquamana powstrzymuje atak, a samego ptaszka bohaterowie nokautują na łodzi podwodnej, którą Pingwin zamierzał uciec. Po kolejnym udanym zadaniu rodzina Aquamana stwierdza, że zamiast zwyczajnych wakacji woli patrzeć jak król Atlanty ratuje świat.
Chociaż teaser do tego odcinku był najgorszy ze wszystkich dotychczasowych, i to mimo dwupłatowca Batmana, to dalsza część odcinak to już zupełnie inna bajka.
Pełna humoru historia koncentrująca się Aguamanie jest naprawdę ciekawy i zabawny odcinek. Oglądając kolejny próby wymigania się z rodzinnych wakacji i walki bohatera, to prawdziwe perełki. I nawet kiedy król Atlantydy decyduje się poświecić czas rodzicie, to nie brakuje pokus by wkroczyć do akcji. W odcinku słabiej wypada Batman, a także niezbyt specjalnie Pingwin, ale ci bohaterowie, w tym przypadku to praktycznie drugi plan, bo pierwszy należy do Aquamana, która zapewnia wyśmienitą rozrywkę.
Ocena: 4,5 nietoperka

---
CIEKAWOSTKI I UWAGI:
Podczas podróży Aquamana na mapie pojawia się wiele znanych z uniwersum DC lokalizacji: Star City, Platinum Flats, Smallville, Blue Valley, Central City, Hub City, Fawcett City, Ivy Town, New Carthage, Opal City, Blüdhaven.
Strój Artura jr przypomina ten z miniserii komiksowej Aquaman z 1986 roku.
Bohaterowie, którzy pojawiają się w odcinku, ale nie maja dialogów: The Top, Dr. Polaris, Bug-Eyed Bandit, Atom, Green Lantern, Red Tornado, Sportsmaster, Tigress II, Tigress III .
Pingwin wygłasza kwestię "Prepare to repel boarders" , którą po raz pierwszy wypowiedział również po dostaniu się na swoją łódź podwodną w serialu Batman z lat 60.
CYTATY:
Batman: Stand down, Enemy Ace. Today we must fight a common foe: injustice.

Mera: Why are we going to Gotham?
Aquaman: Because, my precious coral, Gotham City is one of the continent's oldest and most historic surface settlements. It's a center of world art, culture, and commerce. (strzały w oddali) Windows up!
Mera: You're here to see Batman, aren't you?
Aquaman: What? Is this where Batman lives? I had no idea.

Batman: There's been a change in the forecast, Penguin. A 100% chance of hard time at Blackgate Prison.
---
INFORMACJE O POLSKIEJ WERSJI:
Wersja polska: Master Film
Reżyseria: Dariusz Dunowski
Dialogi: Iwona Krzeska
Montaż: Aneta Michalczyk-Falana
Dźwięk: Aneta Michalczyk-Falana
Kierownictwo produkcji: Agnieszka Wiśniowska

W wersji polskiej udział wzięli:
Radosław Pazura - Batman/Bruce Wayne
Jacek Król - Aquaman
Jakub Kamieński
Janusz Wituch - Pingwin
Agnieszka Kunikowska - Mera
Beniamin Lewandowski – Arthur Jr.
Łukasz Talik - Green Arrow
Sebastian Cybulski - Blue Beetle/Jaime Reyes
i inni

Lektor: Paweł Bukrewicz


---