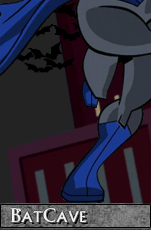 .:
.: Forum
.:
.:
.:



.:
.:

.:
.:
.:
.:

.:
.:
.:

.: .: .: .: .: .:
.:
.:



.:
.:


.: SERIALE ANIMOWANE :: BATMAN: TBATB :: A BAT DIVIDED! :.
Tytuł odcinka: "A BAT DIVIDED!"
Polski tytuł: "Trzy razy Batman!"
Pierwsza data emisji: 5 lutego 2010
Reżyseria: Ben Jones
Scenariusz: Thomas Pugsley
Muzyka: Michael McCuistion, Lolita Ritmanis, Kristopher Carter
Animacja: Digital eMation Inc.
Obsada:
Diedrich Bader
Tom Everett Scott
John Michael Higgins
Tyler James Williams
Bill Fagerbakke
Greg Ellis
Ron Perlman
Batman/Bruce Wayne
Booster Gold
Riddler
Firestorm/Jason
Ronnie
komputer, Cavalier, inżynier nuklearny
Double X/Dr. Ecks
Riddler rozpoczyna nadawanie swojego własnego programu Riddle Me This. Pierwszym uczestnikiem, który ma odpowiadać na zagadki jest Booster Gold, a za każdą błędną odpowiedź złapany przez złoczyńcę Batman jest porażany prądem. Nietoperz nie ma co liczyć na inteligencję Boostera, dlatego dzięki laserowi ukrytemu w pasie uwalnia się z pułapki, nim Riddler traktuje go ostatnią śmiertelna dawką elektrowstrząsów. Po uwolnieniu Boostera, Batman bez większych kłopotów rozprawia się ze złoczyńcą i jego pomocnikami.

Do laboratorium z reaktorem jądrowym włamuje się Double X, za złoczyńcą podąża Batman. Podczas walki bohater zostaje jednak zaskoczony przez energetycznego sobowtóra Ecksa. Podczas walki doktorowi udaje się uruchamiać reaktor jądrowy, niestety na miejscu znaleźli się Ronnie Raymond oraz Jason Rausch, którzy po wybuchu odkrywają, że zostali połączeni w jedną całość i uzyskali w ten sposób moc, o której marzył Ecks. Polegający na logice Batman zdaje sobie sprawę, że Double X nie ma dość energii by walczyć pozwala mu odejść, a sam zabiera Jasona do jaskini. Chwilę później z pod gruzów wygrzebuje się gniewny Batman, a moment po nim Batman luzak.

W jaskini logiczny Batman przygotowuje dla radioaktywnego Jasona specjalny strój. Jednak, kiedy połączony Jason i Ronnie zwiedzają jaskinię po Batmanie luzaku natrafiają na gniewnego Nietoperza, któremu niepodobna się, że ktoś obcy kręci się po jego jaskini. Pomiędzy bohaterami dochodzi do drobnej sprzeczki, ale całą sytuację uspokaja logiczny Batman. Następnie wyjaśnia on, że podczas wybuchu Batman rozdzielił się na trzy główne elementy: inteligencję, siłę i to co pozostało.

Podczas gdy inteligentny Batman poprzez badania możliwości Jasona i Ronnie'ego, wściekły Nietoperz cały czas trenuje, a Batman luzak objada się nachosami. Kiedy inteligentnemu bohaterowi udaje się wreszcie znaleźć rozwiązania ich problemów okazuje się, że gniewny Nietoperz wyszedł by zwalczać przestępców.

W barze, w którym zebrała się spora grupa łotrów agresywny Batman z przyjemnością wykorzystuje swoją siłę. Po chwili na miejscu zjawiają się także pozostali bohaterowie. Niestety energia Jasona i Ronnie'ego zostaje namierzona przez Double X, który porywa chłopaka, nim Batmanom udaje się unieszkodliwić wszystkich zbirów.

Inteligentny Batman jednak szybko lokalizuje kryjówkę złoczyńcę i razem z pozostała dwójką Nietoperzy. Double X udaje się przekazać sobie cześć energii Jasona i Ronnie'ego, dzięki czemu jego energetyczny sobowtór jest wstanie podjąć walkę z bohaterami. W międzyczasie Jason i Ronnie zostają rozłączeni, jednak widząc, ze bohaterowie mają problemy postanawiają ponownie się połączyć i wykorzystać swoją moc do pokonania złoczyńcy. Po pokonaniu Double X, Batmany nie mają ochoty połączyć się znowu w jedną całość, ale Jason przekonuje ich, że razem są silniejsi niż osobno. Po zakończonym procesie transformacji Nietoperz dziękuje Firestormowi za pomoc, bo właśnie takie imię wybrał Jason dla swoje bohaterskiej formy.
Tytuł odcinka powinien brzmieć
Mądry, zły i leniwy
, ale zacznijmy od teasera, w którym zadebiutował Riddler. I jest to naprawdę kapitalny debiut i tylko szkoda, że to tylko teaser bo Riddler zdecydowanie zasługuje na więcej.
Główny wątek odcinka, w odróżnieniu od poprzednich koncentruje się na Batmanie, a dokładnie rzecz mówiąc na trzech osobowościach Batmana. I to właśnie dzięki zabiegowi z trzema Nietoperzami oglądanie tego odcinka jest przyjemnością, bo ani Double X, czy Firestorm nie są specjalnie interesujący. Przyjemnie jest natomiast bliżej obejrzeć jaskinię, w której wśród różnorodnych trofeów nie brakuje ogromnej monety, czy mechanicznego dinozaura. Prawdziwymi perełkami są natomiast gniewny Batman, który zachowuje się niczym Brudny Harry i zawsze jest gotów by skopać złoczyńcom tyłki, oraz wyluzowany Nietoperz. Bo przecież nie można nie obejrzeć wersji Batmana, w której bohater w ogólne nie wyraża zainteresowania łotrami i zamiast tego woli objadać się nachosami, tego po prostu nie można przegapić.
Ocena: 4 nietoperki

---
CIEKAWOSTKI I UWAGI:
Kiedy Jason i Ronnie zostali połączeni ich ubrania był w strzępach, jednak gdy się rozdzielali ich ubrania były w całości.
Złoczyńcy którzy pojawiają się w odcinku, ale nie mają żadnych kwestii dialogowych: Tiger Shark, Killer Moth, Signal Man, Eraser, Calendar Man, Zebra Man, Polka Dot Man, King Cobra, Ten-Eyed Man, Cavalier, Catman, Cluemaster, Mr. Camera, Sweet Tooth, The Spinner, Dr. No-Face, Atomic Man, Zodiac Master, The Brand, Firefly, Simon the Pieman, Mirror Man.
CYTATY:
Riddler: Now, Booster Gold, riddle me this: what creature is on four legs in the morning, two in the afternoon, and three in the evening?
Booster Gold: A 9-legged unicorn!

Riddler: Riddle me this: what is blue and gray and tastes like chicken?
Booster Gold: Um... hmm...
Riddler: Wrong! The correct answer is "Fried Batman."

Angry Batman: He cannot be a part of me. Batman does not eat nachos!
---
INFORMACJE O POLSKIEJ WERSJI:
Wersja polska: Master Film
Reżyseria: Dariusz Dunowski
Dialogi: Iwona Krzeska
Montaż: Aneta Michalczyk-Falana
Dźwięk: Aneta Michalczyk-Falana
Kierownictwo produkcji: Agnieszka Wiśniowska

W wersji polskiej udział wzięli:
Radosław Pazura - Batman/Bruce Wayne
Mirosław Guzowski - Riddler
Wojan Trocki – Booster Gold
Grzegorz Kwiecień - Ronnie Raymond
Janusz Wituch - Dr Ecks
Sławomir Pacek - Double X
Paweł Ciołkosz - Jason Rusch/Firestorm
i inni

Lektor: Paweł Bukrewicz


---