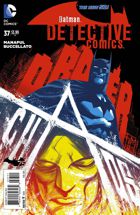 DETECTIVE COMICS #37
Tytuł historii: Anarky, Part 1
Miesiąc wydania (okładka): Luty 2015 (USA)
W sprzedaży od: 03.12.2014 (USA)
Scenariusz: Brian Buccellato
Rysunki: Francis Manapul
Okładki: Francis Manapul; Tim Sale i Darwyn Cooke
Kolor: Brian Buccellato
Liternictwo: Jared K. Fletcher
Ilość stron: 32
Twoja ocena:

GD Star Rating
loading...
Francis Manapul i Brian Buccellato powracają – i teraz jest czas na powrót do Gotham City! Teraz Anarky!
Jednemu z pracowników Wayne Enterprises, który zamieszany był w nielegalne interesy, odwiedza Anarky.
W wigilię Świąt Bożego Narodzenia Batman rozprawia się z Szalonym Kapelusznikiem, który cały czas pragnie odzyskać Alicję. Nie pamięta bowiem, że wiele lat temu zabił ją. Później za radą Alfreda Bruce odkłada na moment peleryną i wraz z wiernym przyjacielem i psem wychodzi na spacer.
Detektyw Bullock mimo, że jedyny ślad Anarky'ego jaki ma to symbol wymalowany na ścianie, nie odpuszcza tej sprawy. Teraz jednak musi wraz z detektyw Yip zająć się morderstwem w Wayne Tower, gdzie zabito Jeba Lestera, którego Harvey wcześniej przesłuchiwał w sprawie przemytu ludzi.
Po wejściu do biura Lestera Bullock zauważa, że na komputerze włączone jest jakieś odliczanie. Po chwili z rozbitego okna wyłania się Batman, który w odpowiedzi na pytanie detektywa wyjaśnia, że gdy odliczenie dobiegnie końca, Wayne Tower zostanie wysadzone w powietrze. Ktoś zhakował systemy zabezpieczeń. Rozpoczyna się ewakuacja budynku, ale na to może być już za późno, kiedy eksplozja zmienia Wayne Tower w wielki symbol Anraky'ego.
Nowa historia rozpoczyna się od mocnego wejścia Anakry'ego. Pierwszą ofiarą staje się Jeb Lester, którego poznaliśmy we wcześniejszej opowieści duetu Buccellato/Manapul. Jeśli komuś mającemu coś na sumieniu udało się uniknąć policji i Batmana, to musi pamiętać, że w Gotham jest też Anarky. Jednak motywy działania złoczyńcy pozostają nieznane.
Przy okazji skoro mamy Wayne Enterprises i Wayne Manor to warto wspomnieć, że rozgrywającej się w numerze historii nie dotknęły jeszcze wydarzenia, które miały miejsce ostatnio na łamach Batman Eternal.
O samej historii nie wiele jeszcze można powiedzieć. Początek sugerować może, że Anarky działa wtedy kiedy system zawodzi, ale po co wysadza Wayne Tower? Nie do końca jest także potrzebny fragment z Mad Hatrerem. Oczywiście w świątecznej atmosferze i z rysunkami Manapula prezentuje się on świetnie, ale czy służy to czemuś więcej?
Jest intrygująco i klimatycznie, ale Icarus również zapowiadał się na interesującą historie i nie do końca udało się sprostać oczekiwaniom czytelników. Teraz twórcy mają okazję się zrehabilitować.
Ocena: 4 nietoperki

---