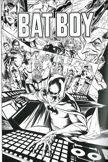 Czy Alex Ross chciał napisać scenariusz oraz przygotować rysunki do miniserii z synem Batmana?
Tak
Alex Ross od zawsze darzył sentymentem komiksy z końca lat 60-tych i z lat 70-tych. Jednym z pomysłów z tego okresu, który przykuł jego uwagę były historie Super-Sons Boba Haneya prezentująca synów Batmana i Supermana.
Ponad dekadę temu Alex Ross przedstawił DC Comics kilka swoich pomysłów na nowe projekty. Ostatecznie zdecydowano się na "Justice", odrzucając tym samym miniserię "Batboy". W tym futurystycznym świecie, każdy dorasta i wszystko wygląda całkiem świetnie. Tytani dorośli i tworzą nową Justice League, jest nawet latający Batmobil, którym kieruje Dick Grayson. Co ciekawe cała seria miałaby być powiązana z "Zero Hour", miałby to być nowy lepszy świat, który Hal Jordan chciał stworzyć podczas "Zero Hour".
Źródło: Comics Should Be Good!