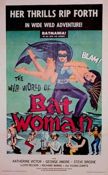 Czy DC wygrało proces o naruszenie praw autorskich przeciwko "The Wild World of Batwoman" w wyniku czego tytuł filmu został zmieniony na "She Was a Hippy Vampire"?
Nie
Po koniec lat 60-tych producent filmów klasy B Jerry Warren próbował zarobić na popularności serialu telewizyjnego Batman. W tym celu wyprodukował film "The Wild World of the Batwoman" z Katherine Victor w tytułowej roli. Produkcja miała przyciągnąć fanów Batmana nic, więc dziwnego, że DC Comics zdecydowało się pozwać Warrena.
Później film wszedł na ekrany kin pod tytułem "She Was a Hippy Vampire" do którego dodany został prolog, który po prostu informował, że tak przy okazji bohaterowie są wampirami. Żadnych innych zmian nie wprowadzono.
Przez długi czas zakładano więc, że DC wygrało proces i dlatego zmieniony został tytuł filmu. Jednak tak nie było, sąd orzekł na korzyść Jerry'ego Warrena. Tytuł filmu został zmieniony, dlatego że popularność Batmanii nie trwała długo. W późniejszym czasie film został wydany na VHS pod oryginalnym tytułem.
Źródło: Comics Should Be Good!