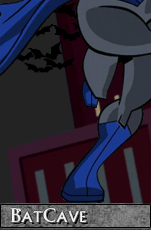 .:
.: Forum
.:
.:
.:



.:
.:

.:
.:
.:
.:

.:
.:
.:

.: .: .: .: .: .:
.:
.:



.:
.:


.: SERIALE ANIMOWANE :: BATMAN: TBATB :: THE FATE OF EQUINOX! :.
Tytuł odcinka: "THE FATE OF EQUINOX!"
Polski tytuł: "Fatum Equinoxa!"
Pierwsza data emisji: 13 listopada 2009
Reżyseria: Michael Chang
Scenariusz: Joseph Kuhr
Muzyka: Michael McCuistion, Lolita Ritmanis, Kristopher Carter
Animacja: MOI Animation
Obsada:
Diedrich Bader
John DiMaggio
Greg Ellis
Oded Fehr
Tom Kenny
James Remar
James Arnold Taylor
Batman/Bruce Wayne
Aquaman
Dr. Fate
Equinox
Plastic Man
Two-Face
Nabu
W fabryce lodów Batman odnajduje Dwie-Twarze i jego gang. Bohater jednak szybko wpada w tarapaty i od rzutu monety ma zależeć jego życie. Los okazuje się szczęśliwy, ale pomocnicy złoczyńcy nie zamierzają zmarnować takiej okazji. Batman nokautuje jednego ze zbirów, a Harvey drugiego. Po ich pokonaniu Dwie-Twarze ponownie rzuca monetą, by zdecydować czy osobiście zabije Batmana, ale bohater przechwytuje monetę w locie i nokautuje złoczyńcę.

Batman udaje się na starożytną wyspę, na którą zaprosił go Equinox. Bohater nie przybył jednak sam, ale wraz z dr Fate. Złoczyńca planuje wykorzystać znajdujące się w świątyni olbrzymie żyroskopy, od których działania zależy równowaga na świecie. Kiedy Equinox zauważa dr Fate'a wysyła na bohaterów ożywione z kamiennych posągów smoki. Chociaż stwarzają one bohaterom sporo problemów, to w końcu udaje się je pokonać. Podczas walki dr Fate zauważa, że Equinox kontroluje magię równowagi i chaosu. Podczas szamotaniny ze złoczyńcą Batman zrzuca swojego przeciwnika na żyroskopy. Po chwili całe miejsce zaczyna się rozpadać i dr Fate teleportuje bohaterów w bezpieczne miejsce. Chociaż wydaje się, że sprawa została zamknięta, to Batman ma obawy, że wszystko poszło zbyt łatwo. Kiedy zostają zaatakowani przez kolejnego magicznego smoka dr Fate teleportuje ich do Tower of Fate.

Fate nie jest w stanie medytować, a to oznacza, że coś jest nie tak. Okazuje się że na Ziemi dochodzi do różnorodnych incydentów. W miastach spustoszenie robią dinozaury, a Atlantyda musi się bronić przez atakiem dawno wymarłych stworzeń.

Sytuację panująca na Ziemi mogą wyjaśnić jedynie Władcy Porządku, do których udają się Batman i dr Fate. Nabu i Tyfon, przedstawiciele porządku i chaosu, wyjaśniają, że kiedyś stworzyli dziecko, Equinoxa, żeby zrównać porządek i chaos. Jednak Equinox wymknął się z pod kontroli i popadł w skrajność. Kiedy na miejscu pojawia się sam złoczyńca Nabu i Tyfon teleportują Batman i Fate'a z powrotem na Ziemie.

Na pierwszy rzut oka wszystko wygląda normalnie, ale po chwili bohaterom ukazuje się Equinox, jeszcze bardziej potężniejszy niż wcześniej. Żeby pokonać przeciwnika Fate postawia wykorzystać moce wszystkich bohaterów. Przekazuje je Batmanowi, bo uważa, że tylko on poradzi sobie z ich kontrolą.

Wykorzystując nowe możliwości Batmana, po walce w mieście, przenosi Equinoxa w przestrzeń kosmiczna by ograniczyć zniszczenia. Jednak nawet z mocą różnych bohaterów Nietoperz nie może pokonać przeciwnika. Dlatego postanawia się poddać. Chociaż przyznaje się, że nie może pokonać Equinox, to zwraca mu także, uwagę, że jego działania nie są zrównoważone. To przewaga chaosu sprawiła, że Equinox zbuntował się przeciwko Władcom Porządku. Wszystko to oznacza, że działania złoczyńcy były bezcelowe. Equinox przestaje kontrolować swoją moc i Batman pokonuje go.

Po zwycięskiej walce Batmana, Fate zwraca moce poszczególnym bohaterom i zapewnia, że równowaga na świecie została przywrócona.
---
CIEKAWOSTKI I UWAGI:
Bohaterowie którzy pojawiają się w odcinku, ale nie mają żadnej kwestii dialogowej: Question, Clock King, Gorilla Grodd, Fire, Blue Beetle, Green Lantern (Hal Jordan), Flash (Jay Garrick), Black Lightning, Black Canary, Green Arrow i Red Tornado
CYTATY:
Two Face: You.. cheated, Batman.
Batman: Sorry, Harvey. But justice isn't a two-way street.

Dr. Fate: With your permission, I'll borrow all your powers and skills, in the faint hope that combined into a single hero, they may give one of us the necessary edge to defeat Equinox.
Plastic Man: So who gets the powers?
Aquaman: A battle royale against insurmountable odds? A clash of titans? My friends, the choice is clear.
Batman: Fate gets the powers. Only he has the discipline to control such a force.
Aquaman: I was... going to say that.

Batman: Good work, guys. Justice wins the day thanks to the Brave and the Bold.
---
INFORMACJE O POLSKIEJ WERSJI:
Wersja polska: Master Film
Reżyseria: Agata Gawrońska-Bauman
Dialogi: Iwona Krzeska
Montaż: Paweł Siwiec
Dźwięk: Mateusz Michniewicz
Kierownictwo produkcji: Katarzyna Fijałkowska

W wersji polskiej udział wzięli:
Radosław Pazura - Batman/Bruce Wayne
Mikołaj Klimek - Aquaman
Jakub Szydłowski - Dr. Fate
Zbigniew Suszyński - Equinox
Przemysław Stippa - Plastic Man
Paweł Szczesny - NABU – lord chaosu
Jarosław Boberek - NABU – lord porządku
i inni


---