---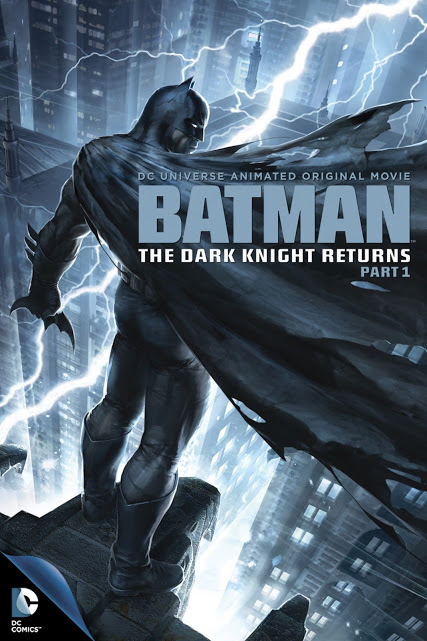 BATMAN: THE DARK KNIGHT RETURNS, PART 1
(USA, 2012)
TYTUŁ POLSKI: BATMAN: MROCZNY RYCERZ POWRÓT, CZĘŚĆ 1
GATUNEK: Animacja
BUDŻET: 3,5 miliona dolarów
CZAS PROJEKCJI:
REŻYSERIA: Jay Oliva
SCENARIUSZ: Bob Goodman
STUDIO: Warner Bros. Animation/Warner Premiere
ANIMACJA: Moi Animation Studios
STRONA OFICJALNA:
PREMIERA DVD:
25 września 2012 (USA)
23 listopada 2012 (Polska)
Animowana adaptacja słynnego komiksu Franka Millera "The Dark Knight Returns". Akcja "Powrotu Mrocznego Rycerza" rozgrywa się w niedalekiej przyszłości. Batman przeszedł na emeryturę, a Gotham City zamieniło się w antyutopijne państwo rządzone przez gang chuliganów zwanych Mutants. 55-letni Bruce Wayne zmuszony jest ponownie przywdziać kaptur i pelerynę. Tym razem z pomocą nowego Robina, kobiety, nie tylko będzie musiał powstrzymać Jokera, ale także utrzymać pokój w mieście, które po uderzeniu przez impuls elektromagnetyczny pogrąża się w chaosie.
Animacja stworzona bezpośrednio na rynek DVD/Blu-ray i skierowana do widzów powyżej 13 roku życia (PG-13).
---
Obsada: Peter Weller (Bruce Wayne/Batman), David Selby (komisarz Gordon), Ariel Winter (Carrie/Robin), Wade Williams (Harvey Dent/Two-Face), Michael McKean (dr Bartholomew Wolper).
Adaptacje kultowych komiksów to zawsze wielkie wyzwania i odpowiedzialność. Czasami twórcy postanawiają coś zmienić w oryginale, albo dostosować do większego animowanego uniwersum. W przypadku "The Dark Knight Returns" mamy dość wierną adaptację. Pewnych rzeczy z formuły komiksu nie da się przenieść, dlatego brak obecnych komentarzy TV, czy przemyśleń Batmana. Inne kwestie zostały zgładzone. Palącego Gordona więc nie zobaczymy, nie będzie też komentarzy, które mogłaby zostać uznane za niewłaściwe.
Takie rzeczy mogą drażnić jedynie jeśli bezpośrednio przed filmem odświeżymy sobie powieść graficzną. Ale jak wypada sam film. Pierwsza część to adaptacja dwóch pierwszych rozdziałów. Mamy powrót Batmana, który dostrzega, że miasto potrzebuje go bardziej niż wcześniej. Starcie z Liderem Mutanów i sprawę związaną z Harveyem Dentem.
Od samego początku czuć klimat i ten nie opuszcza nad do samego. Gotham jest niebezpieczne i zagrożenie czai się na każdym rogu. Media bombardują różnymi informacjami i nastawiając przeciwko siebie różne strony. Batman jest stary, ale jeszcze nie powiedział ostatniego słowa.
Akcja nie pędzi tu na złamanie karku, jest czas na spokojniejszą narrację i na kadry wyjęte wprost z komiksu, ale kiedy nadchodzi moment na akcję to czuć ją w pełni. Wszystko idealnie współgra. Mamy tu emocje, trzymanie widza w niepewności a także zasygnalizowanie co czeka na widzów w drugiej części.
Co do animacji pierwsze sceny pościgu w tle pozbawionym szczegółów wygląda naprawdę słabo, na szczęście dalej jest lepie. Kreska też nie jest najgorsza i dobrze odzwierciedla wizerunki postaci z komiksu.
Przy takiej historii podział na 70 kilkuminutowe filmy to strzał w dziesiątką. Dzięki czemu nie mamy nadmiaru skrótów fabularnych. Jedynie szkoda, że jest to produkcja skierowana bezpośrednio na rynek kina domowego, gdyby twórcy dysponowali większym budżetem efekt byłby jeszcze lepszy. "Batman: The Dark Knight Returns, Part 1" jest wszystko co powinno, a co ważniejsze produkcja wprowadza nas do świata Millera. Wizji, w której nie chcielibyśmy żyć, ale tym bardziej zachęca do sięgnięcia po dzieło Franka Millera.
W polskim tłumaczeniu jest zgrzyt w postaci przetłumaczenia tytułu filmu "Mark of Zorro" na "Maskę Zorro". Niby nie jest to nic wielkiego, ale można było tego uniknąć.
Ocena: 5 nietoperków

---