---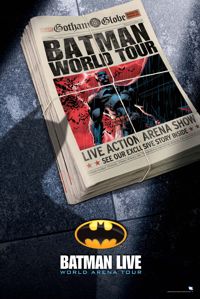 BATMAN LIVE
(UK, 2011)
REŻYSERIA: Anthony Van Laast, James Powell
SCENARIUSZ: Allan Heinberg
POMYSŁ: Stan Berkowitz, Alan Burnett i Allan Heinberg
PRODUKCJA: Warner Bros. Consumer Products, DC Entertainment i Nick Grace of Water Lane Productions Ltd
STUDIO: Warner Bros. Animation/Warner Premiere
PREMIERA: 19 lipca 2011 (Wielka Brytania)
OBSADA: Nick Court, Sam Heughan, Kamran Darabi-Ford, Michael Pickering, Mark Frost, Alex Giannini, Emma Clifford, John Conroy, Poppy Tierney
BOHATEROWIE: Batman (prezes/filantrop, pogromca zbrodni), Robin (oficer policji), Alfred (kamerdyner), Komisarz Gordon (komisarz policji), Catwoman (zawodowa złodziejka), Harley Quinn (była psychiatra, zawodowa kryminalistka), Joker (zawodowy kryminalista), Pingwin (restaurator/aferzysta), Poison Ivy (zawodowa kryminalistka), Riddler (zawodowy kryminalista), Scarface & Brzuchomówca (zawodowy kryminalista), Two-Face (zawodowy kryminalista).
Po raz pierwszy w historii DC Comics, zobacz Batmana, najpopularniejszego Superbohetra DC, w zupełnie innym wcieleniu, w całkowicie nowej przygodzie scenicznej, która sztormem podbije świat. Premiera w Wielkiej Brytanii latem 2011 roku. Batman Live – World Arena Tour to wielomilinowa produkcja sceniczne na niespotykaną skalę, dla całych rodzin i fanów Batmana, którą koniecznie trzeba zobaczyć.
Batman Live to teatralne szaleństwo, oparte na podstawie oryginalnego scenariusza stworzone na potrzeby przedstawienia, w którym nie zabraknie emocjonalnych wyczynów kaskaderskich, popisów akrobatycznych i iluzji. Nigdy wcześniej Gotham City, Wayne Manor, jaskinia Batmana, Arkham Asylum, nie zostały powołane do życia na scenie w tak wizualnie atrakcyjnej formie. Dołącz do Batmana i Robina, którzy walczą ze swoim nemezis Jokerem i innymi superłotrami takimi jak Riddler, Catwoman, Pingwin, Two-Face i Harley Quinn, którzy zamierzają zniszczyć Gotham City.
Batman Live będzie całkowicie nowym sposobem na odkrycie świata Batmana. To jedna z tych przygód, których nie możesz przegapić!
Batman Live – wyjątkowy show na żywo skupi się na historii młodego Dicka Graysona (Robina), cyrkowca, który przez kryminalistów stracił swoich rodziców.
Wierny historiom i bohaterom DC Comics, Batman Live skupi się na poszukiwaniach sprawiedliwości przez Robina, które poprowadzą go w ślady jego bohatera, tajemniczego stróża prawa znanego, jako Batman – co bardzo zmartwi jego opiekuna Bruce'a Wayne'a, który potajemnie działa, jako Batman.
Ten dynamiczny trójkąt sprowadzi do Gotham City szereg niekończących się emocji, które sprawią, że Bruce Wayne i Dick Grayson staną się legendarnymi pogromcami złoczyńców, Batmanem i Robinem. Widzowie zostaną przeniesieni z najwyższych zakątków Haly's Circus do najgłębszych zakamarków Arkham Asylum – z błyszczących szczytów Iceberg Lounge Pingwina do podziemi pełnych cudownego sprzętu, który znajduje się w jaskini Batmana i gdzie jest także specjalnie zaprojektowany na potrzeby Batman Live Batmobil.
Bruce Wayne i Dick Grayson – obaj osieroceni w młodym wieku – muszą najpierw nauczyć się pokonać własne lęki i ukształtować swoją własną rodzinę – wraz z pomocą komisarza policji Jamesa Gordona i wiernego lokaja Bruce'a, Alfreda – jeśli mają zamiar przetrwać walkę z połączonymi siłami największych wrogów Batmana: Jokera, Pingwina, Catwoman, Riddlera, Dwóch Twarzy, Harley Quinn i Poison Ivy.