---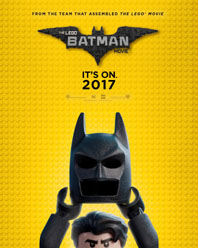 THE LEGO BATMAN MOVIE
(USA, 2017)
TYTUŁ POLSKI: LEGO BATMAN: FILM
GATUNEK: Animacja
CZAS PROJEKCJI: 104 minut
REŻYSERIA: Chris McKay
SCENARIUSZ: Seth Grahame-Smith
MUZYKA: Lorne Balfe
PRODUCENCI: Dan Lin, Roy Lee, Phil Lord, Christopher Miller
STUDIO: DC Entertainment, LEGO System A/S, Vertigo Entertainment, Animal Logic, Lin Pictures, Warner Animation Group
PREMIERA: 10 lutego 2017 (USA), 9 lutego 2017 (Polska)
W duchu zabawy, dzięki której film LEGO® PRZYGODA stał się fenomenem na skalę światową, samozwańczy przywódca grupy — Batman z LEGO — staje się gwiazdą własnej wielkoekranowej przygody. W Gotham szykują się jednak wielkie zmiany. Jeśli Batman chce uratować miasto przed zakusami Jokera, musi porzucić swoją samotnię i spróbować współpracy z innymi, a przy okazji być może przyjąć bardziej pozytywną postawę.
Will Arnett, podobnie jak w filmie LEGO® PRZYGODA, ponownie użycza swojego głosu Batmanowi z LEGO, znanemu także jako Bruce Wayne. W postać Jokera wcielił się Zach Galifianakis (Muppety: Poza prawem, trylogia Kac Vegas), sierotę Dicka Graysona zagrał Michael Cera (serial Bogaci i bankruci). Głosu Barbarze Gordon użyczyła Rosario Dawson (serial Daredevil), a Alfredowi — Ralph Fiennes (filmy o Harrym Potterze).
Za reżyserię filmu LEGO® BATMAN: FILM odpowiada Chris McKay, a za jego produkcję — Dan Lin, Phil Lord, Christopher Miller i Roy Lee, którzy współpracowali przy produkcji animacji LEGO® PRZYGODA. Scenariusz napisali Seth Grahame-Smith, Jared Stern i John Whittington, historie filmu w oparciu o zabawki LEGO Construction przygotowali: Seth Grahame-Smith, Erik Sommers i Chris McKenna. Batman został stworzony przez Boba Kane'a i Billa Fingera. Funkcję producentów wykonawczych pełnią Jill Wilfert, Matthew Ashton i Will Allegra.
Warner Bros. Pictures oraz Warner Animation Group, we współpracy z LEGO System A/S, prezentują produkcję Lin Pictures/Lord Miller/Vertigo Entertainment pod tytułem LEGO® BATMAN: FILM, która wejdzie do kin na całym świecie 10 lutego 2017 r. Film będzie rozpowszechniany przez Warner Bros. Pictures, spółkę należącą do Warner Bros. Entertainment.
Obsada:
Will Arnett (Batman), Zach Galifianakis (Joker), Michael Cera (Robin), Rosario Dawson (Batgirl), Ralph Fiennes (Alfred), Mariah Carey (burmistrz Gotham).
ZABAWA OD POCZĄTKU DO KOŃCA, JEDNAKŻE…
(recenzja wersji 2D z polskimi napisami)
Jednym z atutów "The LEGO Movie" okazał się klockowy Batman, którego nie sposób nie polubić, więc nic dziwnego, że zdecydowano się na osobny film pt. "The LEGO Batman Movie" Chociaż innych bohaterów nie brakuje czy to ze strony sojuszników czy bardzo, bardzo licznego grona złoczyńców, to jest to produkcja, która skupia się na ulubieńcu Gotham City.
Dobra zabawa rozpoczyna się od samych napisów początkowych, kiedy Batman osobiście komentuje zalety dobrego filmu. Później przez cały film uśmiech nie schodzi z twarzy widza. Niestety po zakończeniu seansu można mieć uczucie nie do końca spełnionych oczekiwań.
W "The LEGO Batman Movie" momentów godnych zapamiętania nie brakuje. Krótkie sceny znane z różnych spotów sprawdzają się też w filmie. Różnego rodzaju smaczków też nie brakuje. Jednak są one podawane w tak zawrotnych tempie, że mimo ich wychwycenia to naprawdę nie ma czasu by dokładnie się przyjrzeć np. jak odwzorowano znane sceny z wcześniejszych Bat-filmów w wersji LEGO. Nie sposób też nie wspomnieć o złoczyńcach. O ile Joker ma istotną rolę i Zach Galifianakis nie szarżując doskonale spisuje się w tej roli, będąc motorem napędowym całej historii i pozostając zarazem na drugim planie, to o reszcie złoczyńców nie możemy tego powiedzieć. Mamy Bane'a w stylu "The Dark Knight Rises", czy robiącą "Miau, miau" Catwoman ale w gąszczu postaci są to tylko lekko dostrzegalne elementy tła. Sprawia to wrażenie niewykorzystanego potencjału.
W odróżnieniu od "The LEGO Movie" w "The LEGO Batman Movie" zabrakło magii LEGO, mamy drobne elementy wykorzystania klockowego budownictwa, jest tego jednak za mało. Jest to więc film bardziej o Batmanie, który akurat w tym wypadku jest z LEGO. Szaleństwa tu nie brakuje i tylko w takim otoczeniu z powodzeniem udało się złożyć taką historię. Obśmiać pewne elementy z historii Batmana, ale zarazem zachować powagę bohatera. Twórcom udała się więc sztuka niezwykła, z powodzeniem połączyli mrok z dużą dawką zabawy.
Ocena: 4 nietoperki

---
LEGO® BROKEBAT MOUNTAIN
Na samym starcie zaznaczę, że nie jestem fanem pierwszego filmu LEGO®, którego przesłanie "everything is awesome" było równie infantylne jak połowa żartów w nim zawartych. Natomiast bardzo dobrze rozumiem, że byłem w znacznej mniejszości. Dzieci zapewne bawiły się na nim dobrze, ba, nawet część moich dorosłych znajomych czerpało dużo radości z wielu popkulturowych nawiązań i miszmaszu wszelkiej maści klasycznych postaci. To była na pewno najmocniejsza część tego filmu, a najbardziej z tych wszystkich postaci wyróżnił się sam Batman. Nic dziwnego więc, że otrzymał swoją własną produkcję. Jednak w sytuacjach kiedy dajemy drugoplanowej komediowej postaci osobny film, należy się liczyć z pewnym ryzykiem (wystarczy spojrzeć na Minionki czy Timona i Pumbę). Jak wypadło z Batmanem?
Całkiem nieźle. Ponownie wielkim atutem filmu jest masa nawiązań, zarówno do uniwersum Batmana, jak również, co było dość sporą niespodzianką, do innych kultowych produkcji. Jednak sama fabuła też się broniła, a głównie dzięki świetnej relacji między głównymi postaciami. A takowych relacji jest cała masa.
Kluczowym dla całego filmu jest oczywiście stosunek Jokera względem Batmana i podobnie jak samo słowo "stosunek" może mieć dwuznaczne znaczenie, ich relacja również posiada taką dynamikę. Dzieci zapewne tego nie wyłapią, ale w filmie jest olbrzymie napięcie homoerotyczne pomiędzy tą dwójką, a sama fabuła opiera się na tym, że Batman nie chce się przyznać do swoich "uczuć" co do swojego arcywroga.
Poza tym istnieje również motyw tworzenia bat-rodziny. Tutaj muszę ponownie nadmienić, że osobiście nie jestem fanem tego konceptu. Moim zdaniem Batman lepiej wypada jako samotnik i jego relacja z Alfredem, Gordonem oraz, co ważniejsze, z jego wrogami, to siła napędowa tej postaci. Wyjątkiem jest… podejście komediowe. Tutaj, czy w starym serialu z Adamem Westem, postać Robina spisuje się wyśmienicie! Bo jest to zwyczajnie śmieszny koncept, aby dzieciak, o imieniu Dick co gorsza, miał zwalczać przestępczość. Tutaj jest to idealnie wyśmiane, dodatkowo robiąc z Robina bardzo słodką postać, z którą można sympatyzować. To być może moja ulubiona wersja tej postaci w historii, nawet bardziej niż ta w wykonaniu Burta Warda.
Dodatkowo jest jeszcze dosłowny wątek romantyczny z Barbarą Gordon, tak aby dzieci, które nie podłapały relacji z Jokerem, mogły też domyśleć się bardziej oczywistej miłości pomiędzy dwójką postaci. Nie robi ona większego wrażenia, ale przynajmniej nie powinna stworzyć tyle kontrowersji, co przy okazji innego filmu animowanego wydanego w ostatnim czasie. No i na dodatek Barbara jest tu silną i niezależną kobietą, dlatego powinna być niezłym wzorcem dla dziewczynek, które oglądają ten film.
Należy też nadmienić, że nie mamy tu do czynienia z żadną "rewelacją". Film był dobry jak na LEGO® produkcję. Większość żartów bazowała znacznie bardziej na odniesieniach do historii Batmana i innych filmów niż na własnej jakości. Nawiązania same w sobie były bardzo przyjemne, no ale to tylko nawiązania. Parę żartów jest naprawdę śmiesznych, zwłaszcza ten z Iron Manem, ale kilka z nich nawet jeśli niesamowicie śmieszne dla olbrzymiego fana (Egghead), mogą być niezrozumiałe i kompletnie nieśmieszne dla niewtajemniczonych widzów.
Jeśli miałbym coś najbardziej pochwalić w filmie, to na pewno muzykę, która wypadła świetnie. Jest w niej sporo nawiązań do ostatnich dzieł Hansa Zimmera, czy nawet Danny'ego Elfmana. Oryginalna muzyka stworzona dla tego filmu czerpie bardzo dużo z tych fantastycznych kompozycji i wypada nawet lepiej, niż w ostatnim pełnometrażowym obrazie aktorskim z tą postacią. Co ciekawe, jest też nawiązanie do chyba najbardziej kultowego tematu superbohaterskiego, mianowicie Supermana Johna Williamsa. Dodatkowo muszę też przyznać, że sceny akcji wypadają naprawdę imponująco, co brzmi śmiesznie przy ocenianiu filmu o LEGO® bohaterach, ale sekwencja otwierająca film zdecydowanie zasługuje na największe komplementy.
W trzecim akcie przesłanie, podobnie jak w pierwszym filmie LEGO®, było niestety do bólu wbijane dzieciom do głowy i tempo siada, nawet z natłokiem niezliczonej ilości małych rólek złoczyńców wszelkiej maści. Finałowe bitwy (tak, bitwy, w liczbie mnogiej, bo jest ich cała masa) niemal w całości opierały się na tym, aby Batman się nauczył współpracy oraz znaczenia rodziny i jest to powtarzane, i powtarzane, i powtarzane… aż ma się tego dość. Myślę, że nawet większość dziecięcej widowni była w stanie to wyłapać po dwóch lub trzech razach, a nie kilkunastu.
Nawet jeśli niektóre żarty będą niezrozumiałe, a przesłanie zbyt zrozumiałe, ostatecznie film mimo wszystko polecam. Zwłaszcza jeśli chcemy wprowadzić najmłodszych w ten świat i zainteresować ich Batmanem. Dzieci będą miały wielką frajdę z pozytywnej energii i niezwykle sympatycznego Robina, podczas gdy rodzice znajdą też coś dla siebie, aby pośmiać się od czasu do czasu z licznych popkulturowych odwołań czy relacji z Jokerem. A fani Batmana powinni tym bardziej docenić ten film, bo jest to ewidentnie produkcja robiona dla fanów i przez fanów.
PS. Na potrzeby recenzji oglądałem film w obu wersjach językowych i o ile zdaję sobie sprawę, że większość osób obejrzy ten film z dubbingiem wraz ze swoimi dziećmi, oraz to, że wypadł całkiem nie najgorzej (zwłaszcza Józef Pawłowski jako Robin), to i tak fanom jak najbardziej polecam wersję z oryginalną ścieżką dialogową. Will Arnett jako Batman i Michael Cera jako Robin są tego w 100% warci.
Ocena: 4 nietoperki

---
---
---