---
Aby przetopić łańcuch, Mroczny Rycerz włącza specjalne urządzenia zamocowane w butach. W zależności od ujęcia, prawa noga naszego bohatera zmienia punkt oparcia. A przecież cały czas powinna być zaraz przy zębatce.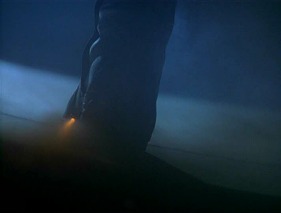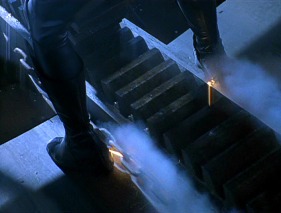 ---
Widzimy jak Batman jedzie do góry na łańcuchu wzdłuż toru zębatki. Obraz ten jednak nie pokrywa się z tym, gdy kamera pokazuje drogę z jego punktu widzenia.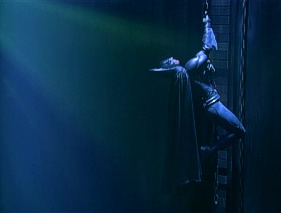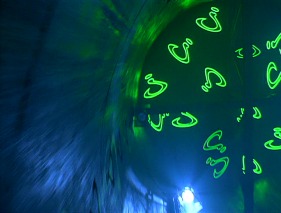 ---
Batman wystrzela hak w ściane, aby zawiesić na niej sejf. Kiedy metalowy gadżet przebija się do środka budynku, można zauważyć, że ściana się porusza (zupełnie jakby była z gipsu).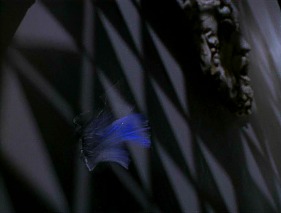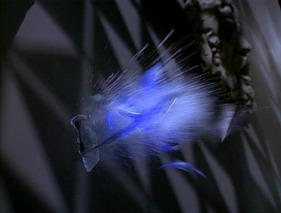 ---
Kiedy Riddler zjawia się w kryjówce Dwóch-Twarzy, demonstruje przestępcy działanie swoich urządzeń. Bierze je ze stołu i uruchamia. Problem tylko w tym, że wcześniej ich tam nie było. Kto więc je tam położył?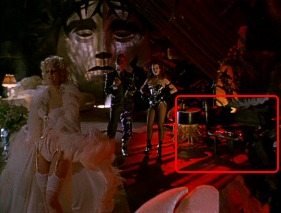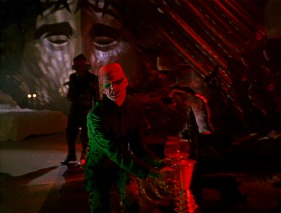 ---
Gdy helikopter rozbija się o Statue Wolności i spada w dół, w pewnym momencie widać cienkie linki. Widoczne jest to na zdjęciach poniżej.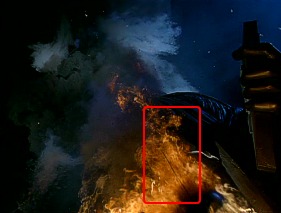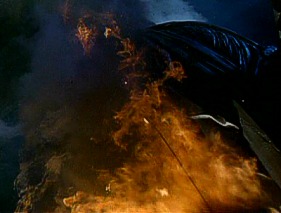 ---
Robin spada w przepaść i ma skrępowane ręce sznurem. W zależności od ujęcia zmienia się długość sznura - w szczególności, kiedy bohater przekłada go przez nogi.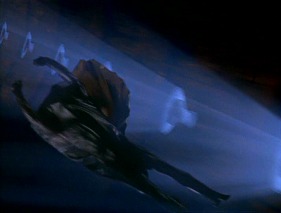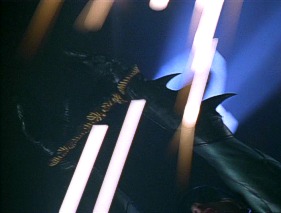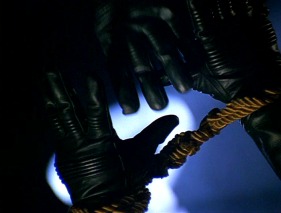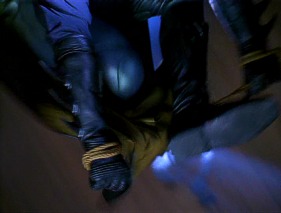 ---
Dwie-Twarze wyskakuje z helikoptera na spadochronie. Przed skokiem nie widać aby miał go na sobie. Nieprzypadkowo Tommy Lee Jones cały czas stoi do kamery przodem, aby nie można było tego zauważyć.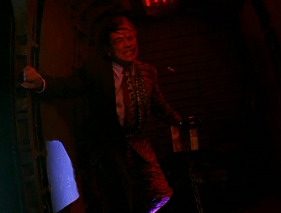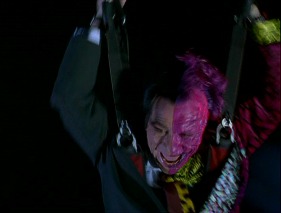 ---
Gdy Robin odkrywa Jaskinię Nietoperza i uaktywnia alarm, kamera pokazuje wyłaniający się na zewnątrz Batmobil. Widać, że dach pojazdu jest odsunięty. Po zmianie ujęcia kamera pokazuje Dicka, a następnie Alfreda, na tle którego widać zmowu pojazd. Tym razem jednak dach jest zasunięty.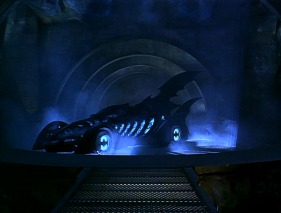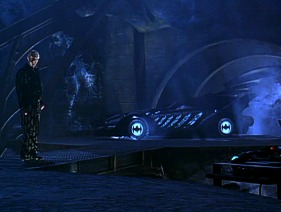 ---
Paląca się łódź Robina to nie ta sama, którą wcześniej płynął. Zdaje się, że dla potrzeb eksplozji użyto zwykłej motorówki albo jej atrapy.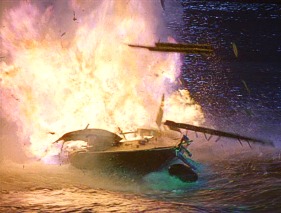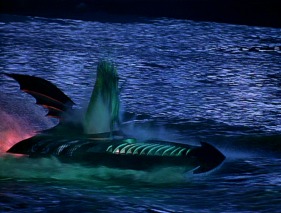 ---
Kiedy Chase wypada z pojemnika w kryjówce Riddlera ma ubrane kobiece buty na obcasach. Kilka minut później uratowana przez Batmana stoi już na metalowej konstrukcji na bosaka. Po zmianie ujęcia można jednak dostrzec, że na jej nogach znajdują się sportowe buty.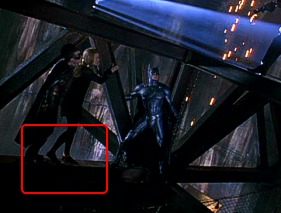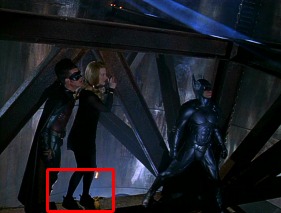 ---
Wyciskając swoje pranie z wody, Dick robi to na prawej nodze, stojąc jednocześnie na lewej. Kiedy kamera pokazuje skapującą wodę widać, że to prawa noga stoi na ziemi. W dodatku, chłopak stoi trochę dalej niż powinien. Moment później, Dick bierze mopa, aby pościerać rozkapaną wodę. Wody jednak nie ma - podłoga jest sucha.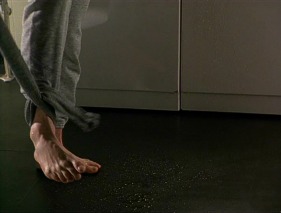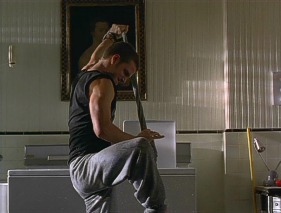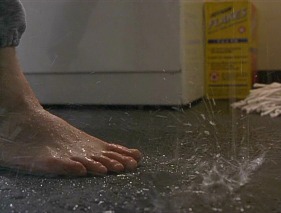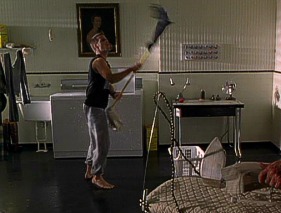 ---
Mimo, że wyciągany z banku przez helikopter sejf waży kilka dobrych ton to łańcuch na którym jest umocowany huśta się na wszystkie strony - a przecież powienien być naprężony jak żyłka. Widać to na zdjęciach poniżej.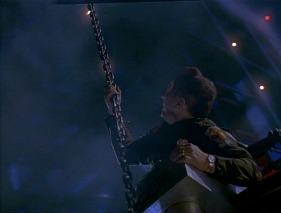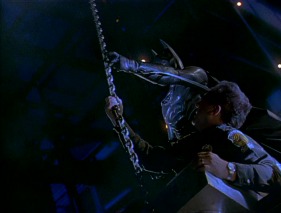 ---
Po jednym z rabunków Riddler i Dwie-Twarze jadą samochodem. Z oddali można dostrzec, że Riddler ma założony na głowie swój zielony kapelusz. Gdy widzimy go już z bliska jak liczy pieniądze, kapelusza już nie ma - złoczyńca ma na głowie koronę z drogocennych kamieni.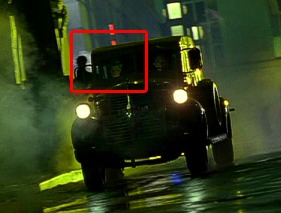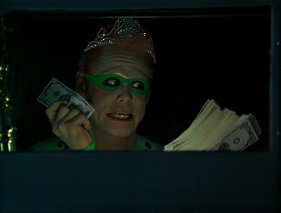 ---
Riddler wyjmuje lewą ręką z buta wiolkę z myślami Bruce'a. Po zmianie ujęcia wiolka jest w prawej ręce.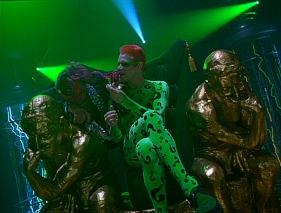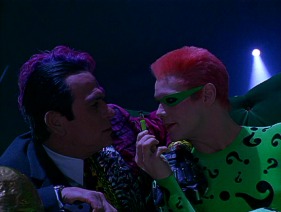 ---
Nie widać tego na zdjęciach, ale kiedy Batman odwiedza nocą Chase w jej mieszkaniu, można spostrzec, że na dworze pada deszcz. Sęk w tym, iż nasz bohater jest cały suchutki.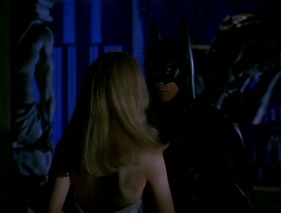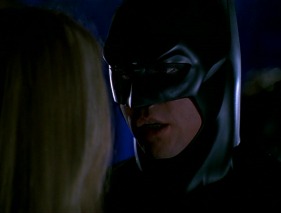 ---
Kiedy Bruce zajeżdża pod ratusz miejski i zatrzymuje swój samochód widzimy, że w tyle za nim pojawia się inny. Po zbliżeniu samochodu tego już nie ma.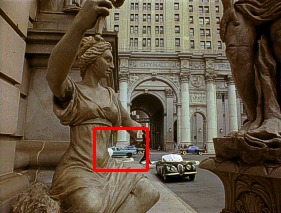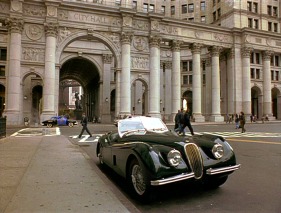 ---
W czasie jednego z napadów Riddler rozbija gablotę i wyciąga z niej ogromny diament. Po zmianie ujęcia widać, że ten sam diament niespodziewanie zmniejszył swoje rozmiary.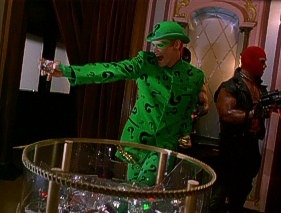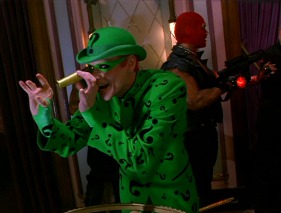 ---
<<< COFNIJ
- 1 | 2 | 3 -
DALEJ >>>