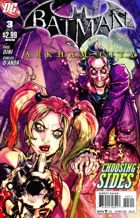 BATMAN: ARKHAM CITY #3
Tytuł historii: Choosing Sides
Miesiąc wydania (okładka): Sierpień 2011 (USA)
W sprzedaży od: 29.06.2011 (USA)
Scenariusz: Paul Dini
Rysunki: Carlos D'Anda
Okładka: Carlos D'Anda
Kolor: Gabe Eltaeb
Liternictwo: Travis Lanham
Ilość stron: 32
Twoja ocena:

GD Star Rating
loading...
Przestępca Lester Kurtz dobrze wiedział co zrobić w sytuacji, gdy dwóch szaleńców – Joker oraz Pingwin – próbują przejąć kontrolę nad Arkham City. Dlatego też postanowił sprawdzić się w obu grupach i stwierdzić, gdzie będzie mu najlepiej.
Jednak, gdy podczas jednej z akcji Lester wysadza w powietrze ciężarówkę z bronią, którą chciał zdobyć zarówno Joker jak i Pingwin, mężczyzna stwierdził, że wie już wystarczająco dużo i ucieka z Arkham City. Jak się okazuje, Lester Kurtz był jedną z wielu tożsamości przygotowanych przez Batmana (z pomocą Oracle), na wypadek, gdyby musiał przyjrzeć się pewnym sytuacją od środka.
W ten sposób dowiedział się o napiętej sytuacji w oddzielonej części miasta, jednak wciąż nie odkrył więcej o tajemniczym współpracowniku Sharpa. Mroczny Rycerz pewny tego, że nikt nie zauważył jego wtargnięcia i ucieczki z Arkham City, nie wie, że przez cały czas był obserwowany przez osobę, którą próbuje za wszelką cenę odnaleźć.
Jak wygląda życie po drugiej stronie barykady? W jaki sposób działają Ci źli i jak są traktowani przez takich przestępców jak Joker czy Pingwin? 3. numer miniserii odpowiada nam na te interesujące pytania. W pewnym sensie.
Przez 3/4 komiksu jesteśmy świadkami działalności niejakiego Lestera Kurtza, który próbuje wybrać stronę w konflikcie odbywającym się na terenie Arkham City. Jego poszczególne przygody oraz testy przeprowadzane przez Jokera dają nam bardzo interesujący wgląd na działanie gangów, a w przypadku szalonego clowna, nie jest to najłatwiejsze. Ci, którzy odważą się przyłączyć do Jokera od razu zostają rzuceni na głęboką wodę (i to prawie dosłownie).
Jednak nagle czytelnik zostaje zaskoczony przez Diniego – oto okazuje się, że Lester to nie kto inny jak sam Batman, który działał pod fałszywą tożsamością, aby zapoznać się lepiej z wydarzeniami w oddzielonej części Gotham. Można powiedzieć – mała rzecz, a cieszy. Scenarzyście należą się zdecydowanie duże brawa za stworzenie tak wyjątkowego zeszytu.
Ten numer zasługuje również na pochwały ze względu na pokazanie Batmana ponownie jako detektywa, który używa zapasowych, odpowiednio wcześniej przygotowanych tożsamości. Coś podobnego mogliśmy obserwować w oficjalnym kontinuum, gdzie Mroczny Rycerz ukrywał się także jako Matches Malone, który pełnił podobną funkcję do Lestera Krutza.
Podsumowując, kolejny numer Batman: Arkham City przynosi bardzo satysfakcjonującą lekturę i przekonuje do sięgnięcia po następny, który, biorąc pod uwagę ostatnią stronę trzeciego zeszytu, w końcu przyniesie konfrontacje Batmana z grupą Hugo Strange'a.
Ocena: 5 nietoperków

---