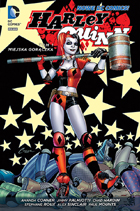 HARLEY QUINN, TOM 1: MIEJSKA GORĄCZKA
Data wydania: 18 maja 2016
Scenariusz: Jimmy Palmiotti
Rysunki: Amanda Conner, Chad Hardin
Tłumaczenie: Paulina Braiter
Druk: kolor, kredowy
Oprawa: twarda
Format: 170 x 260 mm
Ilość stron: 224
Wydawca: Egmont Polska
Wydawca oryginalny: DC Comics
Cena: 79,99 zł
Twoja ocena:

GD Star Rating
loading...
Komiks o bohaterce, którą już w sierpniu 2016 będziemy oglądać w filmie Legion Samobójców. Coney Island staje się jeszcze bardziej szalone niż dotychczas.
Kiedy wszystkie rzeczy osobiste doktor Harley Quinzell, znanej bardziej jako Harley Quinn, zostają zniszczone, a kobieta ni stąd, ni zowąd dostaje wiadomość, że odziedziczyła budynek na półwyspie słynącym z parków rozrywki, oznacza to jedno – czas rozpocząć nowe życie!
Wolna od Jokera i superbohaterskich potyczek Harley Quinn korzysta z życia, uczy się być dobrą właścicielką kamienicy oraz daje przy okazji popalić osobom, które krzywdzą innych. Sprawy zaczynają nabierać nietypowego obrotu, kiedy najgroźniejsi łowcy głów za swój cel obierają bohaterkę. Harley jednak może liczyć na pomoc przyjaciół, w tym Poison Ivy!
Za nowe i szalone podejście do postaci Harley Quinn odpowiadają Jimmy Palmiotti (All Star Western, Jonah Hex) oraz Amanda Conner (Strażnicy – Początek: Gwardziści. Jedwabna Zjawa), małżeński duet z wieloletnim doświadczeniem w świecie komiksu. Głównym artystą, wyłonionym przez tytułową bohaterkę w "konkursie" przeprowadzonym w pilotażowym rozdziale, został Chad Hardin (Zatanna, Reign in Hell).

---
Wydanie powstało na podstawie komiksu: HARLEY QUINN VOL. 1: HOT IN THE CITY.
---