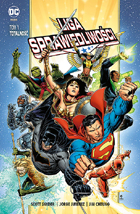 LIGA SPRAWIEDLIWOŚCI, TOM 1: TOTALNOŚĆ
Data wydania: 20 listopada 2019
Scenariusz: Scott Snyder, James Tynion IV
Rysunki: Jorge Jimenez, Jim Chung, Doug Mahnke
Tłumaczenie: Maciej Nowak-Kreyer
Druk: kolor, kredowy
Oprawa: miękka ze skrzydełkami
Format: 167 x 255
Ilość stron: 168
Wydawca: Egmont Polska
Wydawca oryginalny: DC Comics
Cena: 49,99 zł
Twoja ocena:

GD Star Rating
loading...
Pierwszy tom zupełnie nowych przygód Ligi Sprawiedliwości. Superman, Batman, Wonder Woman, Aquaman, Flash, Cyborg, Green Lantern, Hawkgirl, Marsjański Łowca Ludzi. Dziewięcioro bohaterów o mocach tak różnych, jak ich osobowości, ale których łączy jeden cel: obrona Ziemi. Nigdy wcześniej członkowie Ligi nie natknęli się na coś podobnego. Nadają temu miano Totalności, a jest to skupiona esencja sekretnego źródła wszechrzeczy. Gdy rozbija się na pustyni w Nevadzie. Każdy, kto ma z nią jakikolwiek kontakt… ulega przemianie. Ogromna moc przyciąga wszystko, co szalone, bezlitosne i potworne. Lex Luthor zgromadził największych wrogów Ligi Sprawiedliwości – Sinestra, Czarną Mantę, Cheetah, Goryla Grodda i samego Jokera – formując z nich niepowstrzymany Legion Zagłady. Mają przejąć Totalność i wykorzystać ją do realizacji własnych celów. Na początek chcą stworzyć całkiem nowy Korpus Latarni… Liga staje przeciw Legionowi. Najwięksi bohaterowie i złoczyńcy stoczą bój na planszach albumu Liga Sprawiedliwości – Totalność, który jest dziełem uznanego scenarzysty Scotta Snydera (Batman Metal) oraz rysowników Jorge Jiméneza, Jima Cheunga i Douga Mahnke, z gościnnym udziałem scenarzysty Jamesa Tyniona IV.
Dostępne są również wydania z polskimi okładkami:
(Wonder Woman w Warszawie) autorstwa Piotra Kowalskiego (rysunek) i Konstantego Wolnego (kolor)
(Wonder Woman w Krakowie) autorstwa Katarzyny Niemczyk
(Aquaman w Gdańsku) autorstwa Marianny Strychowskiej
(Green Latern w Gdańsku) autorstwa Piotra Cieślińskiego
(Green Arrow w Białymstoku) autorstwa Marka Oleksickiego
---
Wydanie powstało na podstawie komiksu: JUSTICE LEAGUE VOL. 1: THE TOTALITY.
---