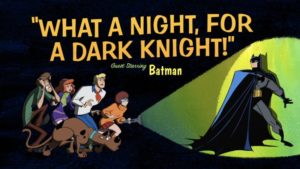 Tytuł odcinka: "What a Night for a Dark Knight!"
Polski tytuł: "Przygoda z Batmanem"
Pierwsza data emisji: 19 września 2019
Premiera w Polsce: 7 października 2019
Reżyseria: Chris Bailey
Scenariusz: Michael Ryan
Twoja ocena: [yasr_visitor_votes size="medium"]
Obsada:
Frank Welker
Matthew Lillard
Grey Griffin
Kate Micucci
Kevin Conroy
Mark Hamill
Steven Weber
Scooby-Doo, Fred Jones
Shaggy Rogers
Daphne Blake
Velma Dinkley
Batman
Joker
Alfred Pennyworth
Kiedy Scooby i gang przybywają do Gotham City, aby odwiedzić Alfreda Pennywortha, trafiają na niebezpieczną tajemnicę! Alfred został porwany przez Man-Bata! Batman już się tym zajmuje i nie chce żadnej pomocy od naszych wtrącających się dzieciaków.
---
Scooby-Doo i brygada detektywów powracają z nowym serialem animowanym pt. "Scooby Doo i… zgadnij kto?". Po półwieku różnych produkcji widzieliśmy już różne wersje przygód tchórzliwego psa. Tym razem twórcy nawiązują do pierwszego serialu "Scooby Doo, gdzie jesteś?" oraz do udziału słynnych gości jak w "Nowy Scooby Doo".
Kolejny raz bohaterowie spotykają Batmana. Tym razem jednak ich współpraca początkowo nie układa się. Mroczny Rycerz nie ma ochoty korzystać z pomocy wścibskich dzieciaków, ale koniec końców, to serial o Scooby'm Doo i to on jego przyjaciele demaskują złoczyńcę.
Fabuła jest prosta, ale trzeba docenić pomysł z "wujkiem" Alfredem, który w tej wersji służył też u państwa Blake i stąd zna go Daphne. Przy tej okazji warto wspomnieć, że w komiksach z przełomu lat 60/70-tych pojawiła się postać Daphne Pennyworth, siostrzenicy Alfreda.
Twórcy przy wielu okazjach nawiązują do lat 60-tych. Nie tylko przez głównych bohaterów, czy też zamiłowanie Daphne do stylu z tego okresu, ale także przez samą postać Batmana, która korzysta z batmobila wzorowanego na tym z serialu z Adamem Westem w roli głównej. Pojawia się też słynny przycisk ukryty pod popiersiem, a także kultowy taniec batusi, tym razem w wykonaniu Scooby'ego i Kudłatego. Jednak Batman, któremu w oryginale głosu użyczył Kevin Conroy ma też bardziej mroczne oblicze. Nie jest to kolorowa i żartująca postać, ma w sobie też coś z postaci z "Batman: TAS" zwłaszcza kiedy widzimy go w akcji. Nie brak jednak scen, w których staje się on postacią mającą rozbawić widzów, czy to przy próbie uniknięcie zdemaskowania, czy przełączenia rozmowy telefonicznej. W serialu o Batmanie takie zachowanie bohatera nie mogłoby mieć miejsc, ale w tej konwencji jest dopuszczalne.
"What a Night for a Dark Knight!" to przyjemne spotkanie z dobrze znanymi bohaterami. Nie brakuje tu charakterystycznych elementów kreskówek ze Scooby'm, ale swoje pięć minut ma też Batman. Można mieć jedynie obiekcje co do samej tajemnicy, która okazuje się dość banalna, a szkoda, bo przy udziale największego detektywa na świecie można było się pokusić o coś bardziej skomplikowanego. Zrozumiałe, że twórcy chcieli by w oryginalne głosów użyczyli ulubieńcy fanów Conroy i Hamill, ale akurat przy tej historii Jokera mógł równie dobrze zastąpić inny złoczyńcy. Niemniej jednak otrzymaliśmy przyjemny odcinek, który powinien spodobać się fanom Scooby'ego i także fanom Batmana, którzy otrzymali interesującą mieszankę Mrocznego Rycerza w z elementami stylistyki lat 60-tych a także wiele różnego rodzaju odniesień związanych z bohaterem Gotham City.
Ocena: 4,5 nietoperka

---
Ciekawostki:
W komiksach z lat 70-tych Alfred Pennyworth miał siostrzenicę o imieniu Daphne Pennyworth.
Dom towarowy Miller & Frank został nazwany na cześć scenarzysty komiksów Franka Millera, znanego z miniserii "The Dark Knight Returns" i "Batman: Year One".
Batmobil Batmana przypomina ten z serialu "Batman" z lat 60-tych. Pojawia się również charakterystyczne popiersie skrywające przycisk otwierający przejście do jaskini, a także tablica z informacją o kierunku do Gotham za zamkniętą drogą, którą wyjeżdża batmobil.
W jednej ze scen taniec Scooby'ego i Kudłatego przypomina batusi.
Kudłaty ogłasza sławnego gościa na karcie tytułowej. Nazywa Batmana "the Batman".
Tytuł odcinka jest aluzją do pierwszego odcinka "Scooby-Doo, Where Are You!" pt. "What a Night for a Knight".
Velma gubi swoje okulary tak jak m.in. w odcinku "What a Night for a Knight".
Obecność Man-Bata można potraktować jako aluzję do pierwszego odcinka (wg. nr produkcji) "Batman: The Animated Series".
Kevin Conroy i Mark Hamill ("Batman: The Animated Series") wcielają się ponownie w swoje role Batmana i Jokera.
Steven Weber wcześniej użyczył głosu Alfredowi w filmach animowanych na podstawie serialu telewizyjnego z Adamem Westem w roli Batmana, "Batman: Return of the Caped Crusaders" i "Batman Vs Two Face".
Po raz pierwszy Bruce Wayne pojawił się w kreskówce ze Scooby-Doo, ujawniając w ten sposób tożsamość Batmana w kanonie Scooby-Doo.
Fred wciągnięty w ścianę, i Scooby-Doo podskakujący w powietrzu i walczący z Man-Batem przed powaleniem go, stanowią nawiązania do odcinka "Scooby-Doo, Where Are You" pt. "Never Ape an Ape Man".
Cytaty:
Kudłaty: One of these days, Scoob, I'm gonna to have to teach Freddie the meaning of sarcasm.
Scooby: Yeah. (długa pauza) What's sarcasm?
---
---
INFORMACJE O POLSKIEJ WERSJI:

Wersja polska: MASTER FILM
Reżyseria: Elżbieta Jędrzejewska
Dialogi polskie: Kamila Klimas-Przybysz

Wystąpili:
Jacek Bończyk – Norville "Kudłaty" Rogers
Ryszard Olesiński – Scooby Doo
Agata Gawrońska-Bauman – Velma Dinkley
Beata Jankowska-Tzimas – Daphne Blake
Jacek Kopczyński – Fred Jones
Stefan Knothe – Alfred Pennyworth
Radosław Pazura – Batman / Bruce Wayne
Jarosław Domin – Joker
i inni

Lektor: Kamil Pruban
---
Poprzednia strona