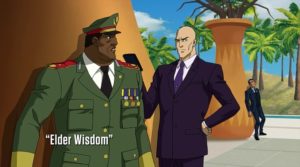 Tytuł odcinka: "Elder Wisdom"
Pierwsza data emisji: 23 lipca 2019
Reżyseria: Christopher Berkeley
Scenariusz: Paul Giacoppo
Twoja ocena: [yasr_visitor_votes size="medium"]
Obsada:
Troy Baker
Greg Cipes
Zehra Fazal
Bruce Greenwood

Grey Griffin
Jason Marsden
Danica McKellar
Geoff Pierson
Maggie Q
Freddy Rodriguez
Mark Rolston
James Arnold Taylor
Mae Whitman
Geo-Force
Beast Boy
Halo, Cassandra Savage, Wendy Jones
Eduardo Dorado Sr., Matthew Malone/Batman
Troia, Helga Jace, Lia Briggs
Kid Flash
Miss Martian/Moira Malone
Jay Garrick/Flash
Wonder Woman
El Dorado
Lex Luthor
G. Gordon Godfrey, Flash
Wonder Girl, Helena Sandsmark

Outsiders mają do czynienia z intrygami Lexa Luthora. Ale Lex nie jest jedynym, który próbuje nimi manipulować!
---
W "Elder Wisdom" dochodzi do pewnego przełomu związanego z Outsiderami, a także działaniami grupy Batmana. Lex skutecznie odsłania słabe punkty młodych bohaterów i wytacza przeciw nim najcięższe działa, w postaci rodziców.
Okazuje się, że dla niepełnoletnich bohaterów, prowadzenie otwartych akcji może być niebezpieczne. Z tego faktu nie są zachwycenie ich rodziny, ale koniec końców, mimo ich początkowych obaw, Outsiderom znowu wszystko się udaje. Nie potrzebnie twórcy tak szybko usuwają różne przeszkody stojące przed młodymi bohaterami. Co prawda w nowym roku dowiadujemy się, że pojawia się przed nimi znacznie trudniejsze wyzwanie.
Sukcesy Outsiderów, nawet jeśli przy okazji dojdzie do zniszczenie fabryki, wcale nie są takie przypadkowe. Działania Batmana i jego ekipy, którzy sięgnęli po sztuczki z których korzystają ich przeciwnicy, mogą przynosić chwilowe rezultaty, ale co się stanie gdy prawda wyjdzie na jaw? Jedno jest pewne Batman wkroczył na niebezpieczną ścieżkę i chociaż nie jest sam, to podjęte kroki mogą doprowadzić do zniszczenia młodych bohaterów, którzy nie będą zachwyceni gdy dowiedzą się, że są tylko pionkami w grze.
Ocena: 4 nietoperki

---
Ciekawostki:
Podczas napisów końcowych Bio-Ship w trybie kamuflażu zaparkowany na dachu Hub, kwatery Outsiderów.
Wonder Girl mówi, że jest członkiem Drużyny od dwóch lat. Jednak była już członkiem 1 grudnia 2015 r., więc to trwa co najmniej trzy lata.
Batman wciela się w mężczyznę o imieniu "Matthew Malone". Matches Malone to często używana tożsamość, którą wykorzystuje do zbierania informacji, oparta na oszuście, który był do niego niezwykle podobny. Nazwa "Matthew Malone" została wykorzystana jako bodziec do pseudonimu w odcinku "Chill of the Night" z "Batman: The Brave and the Bold" gdy skonfrontowano go z rodzicami.
Nazwa w mediach społecznościowych Moiry Malone "@ LittleMatchGirl16" nawiązują zarówno do aliasu jej "ojca" w komiksach – "Matches Malone", jak i do duńskiego opowiadania Hansa Christiana Andersena "The Little Match Girl".
Odniesienie Lexa Luthora do czarnej listy jest odniesieniem do Joint Congressional Un-American Activity Committee pod przewodnictwem senatora O'Fallona, odpowiednika House Un-American Activities Committee w DC Comics. Spowodowało to rozpad Justice Society w 1951 r. Po tym, jak odmówili ujawnienia swoich tożsamości, stąd niechęć Jaya Garricka do tego pomysłu.
El Dorado wspomina o swoim ojcu pracującym przy Erdel Initiative w STAR Labs w drugim sezonie.
Halo mówi Brionowi, że została pocałowana przez Harper Row w poprzednim odcinku.
Jay Garrick wspomina o hologramie Wally'ego Westa w grocie, który można było zobaczyć w "Endgame".
Helena Sandsmark i Spider Boty Lexa Luthora pojawiły się w grze "Young Justice: Legacy".
Violet wyznaje Brionowi i Tarze, że ​​przypomniała sobie, że Gabrielle wzięła łapówkę od ludzi Bedlamu, aby otworzyć drzwi meta-zabójcy, który zamordował ich rodziców w "Princes All", czego dowiedziała się w "Leverage" i od tamtej pory im nic nie powiedziała.
Halo ma oprawione w ramkę zdjęcie swoje, Briona, Foragera i Victora, zrobione podczas Halloween w "True Heroes".
Jak we wcześniejszych odcinkach nie brakuje odniesień do liczby 16:

Troia zatrzymała się w pokoju 1616.
Jedna z wiadomości tekstowych Briona do Violet ma znacznik czasu "16 godzin temu".
Nick Moiry Malone w mediach społecznościowych to "@ LittleMatchGirl16".
Cytaty:
Lex Luthor: My dear, knowing and proving are two very different things.
Batman: This is a war, Diana.
Wonder Woman: And which side are we on? We're not simply hiding things anymore. We've gone beyond lying to our comrades and the public, now we're staging false events, creating fake news, merely to make our opponents look bad? Or the Outsiders, and by extension, the rest of us, look good? Even with the best of intentions, that is crossing a line. You must see that. You must.
---
---