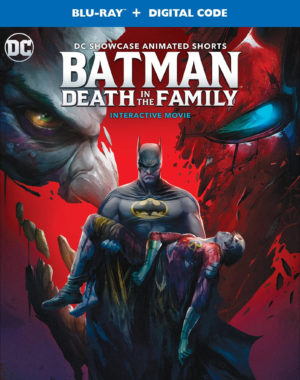 DC SHOWCASE: BATMAN – DEATH IN THE FAMILY (USA, 2020)
GATUNEK: Animacja
CZAS PROJEKCJI:
REŻYSERIA: Brandon Vietti
SCENARIUSZ: Brandon Vietti
MUZYKA: Christopher Drake
PRODUCENCI: Brandon Vietti
PRODUCENCI WYKONAWCZY:
STUDIO: Warner Bros. Animation, Warner Home Entertainment oraz DC Entertainment
PREMIERA: 13 października 2020 (USA)
"Death in the Family" jest adaptacją klasycznej historii DC Comics z 1988 roku, w której zginął Jason Todd po tym, jak DC zorganizowało wydarzenie umożliwiające czytelnikom telefoniczne głosowanie, w którym zdecydowano o losie Robina. Animowana "Death in the Family" to "pierwsze w historii przedsięwzięcie Warner Bros. Home Entertainment w formie interaktywnej historii, które pozwala fanom wybrać, jak ma się potoczyć historia poprzez innowacyjną nawigację sterowaną pilotem".
Interaktywna prezentacja Blu-ray zaoferuje widzom wiele różnych sposobów na opowiedzenie historii "Batman: Death in the Family", z licznymi zwrotami akcji w środku i kilkoma możliwymi zakończeniami. Wybory dokonywane po drodze kładą większy nacisk na decyzje widzów i skutkują jeszcze mocniejszymi historiami.

"Batman: Death in the Family", wyprodukowany, wyreżyserowany i napisany przez Brandona Viettiego, stanowi nowatorskie podejście do długo oczekiwanej historii. W nowej animowanej prezentacji niesławne morderstwo protegowanego Batmana, Jasona Todda, zostanie cofnięte, a losy Batmana, Robina i Jokera rozegrają się na nowe, szokujące sposoby, gdy widzowie będą dokonywać wielu wyborów, aby kontrolować historię. I chociaż Batman: Under the Red Hood stanowi punkt odniesienia, historia również rozgałęzia się na nowe kierunki i zawiera kilka postaci, których wcześniej nie było w oryginalnym filmie.
Film jest zasadniczo prequelem "Batman: Under the Red Hood" z 2010 roku i głosów bohaterom użyczą m.in. Bruce Greenwood jako Batman, Vincent Martella jako Jason Todd i John DiMaggio jako Joker. W obsadzie znaleźli się również Zehra Fazal (Young Justice) jako Talia al Ghul i Gary Cole (Veep) jako Two-Face i komisarz Gordon.
---
---