---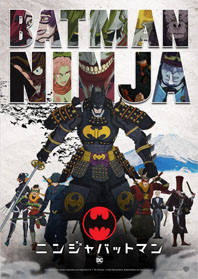 BATMAN NINJA
(USA, 2018)
TYTUŁ POLSKI:
GATUNEK: Animacja
CZAS PROJEKCJI:
REŻYSERIA: Jumpei Mizusaki
SCENARIUSZ: Kazuki Nakashima
MUZYKA:
PRODUCENCI:
PRODUCENCI WYKONAWCZY:
STUDIO: Warner Bros. Animation DC Entertainment
PREMIERA DVD/BLU-RAY: 8 maja 2018 (USA)
W filmie Batman i jego sojusznicy oraz wrogowie udadzą się w podróż w czasie do średniowiecznej Japonii.
Film wyreżyseruje Jumpei Mizusaki ("JoJo's Bizarre Adventure") na podstawie scenariusza Kazuki Nakashima ("Kamen Rider Fourze") oraz angielskojęzycznych scenarzystów Erica Garci i Leo Chu ("Supa Ninjas"), za projekty postaci odpowiadać będzie Takashi Okazaki ("Afro Samurai").
W japońskiej wersji językowej bohaterom głosów użyczą: Koichi Yamadera (Dragon Ball Super, Ghost in the Shell) jako Batman, Wataru Takagi jako Joker, Ai Kakuma jako Catwoman, Rie Kugimiya jako Harley Quinn.
Związek Batmana z Japońską kulturą popularną dla fanów postaci nie jest niczym nowym. Mroczny rycerz odwiedza kraj Kwitnącej Wiśni zarówno w komiksach jak i filmach animowanych, przynajmniej od czasu do czasu. Od kilkunastu lat twórcy mangi i anime współtworzą rysunki i scenariusze do przygód Batmana, m.in. w Japonii wydawane są mangi o przygodach nietoperza z Gotham. Często jednak scenariusze tych historii pozostają w amerykańskim stylu opowiadania historii. Recenzowany film "Batman Ninja" jest produkcją stworzoną w pełni przez Japończyków.
Animacja, to połączenie klasycznych malowanych rysunków, nawiązujących do średniowiecznej sztuki manga i animacji komputerowej. Z całą pewnością jest to animacja najwyższych lotów. Obraz swoimi barwami i stylizacją przypomina średniowieczne japońskie ryciny. Postaci znane z miasta Gotham są fenomenalnie przedstawione. Choćby Bane jako zawodnik Sumo, czy Red Hood jako tajemniczy ronin (samuraj bez pana). Joker wygląda niczym demon w samurajskiej zbroi, wyjęty wprost z azjatyckiego teatru grozy. Batman w rynsztunku japońskiego wojownika wygląda fenomenalnie. Niestety sama twarz Bruce'a Wayne'a wygląda dość… kwadratowo. Japońscy aktorzy, podkładający głos głównym postaciom, bardzo dobrze oddali ich charakter. Szczególnie wpadł mi w ucho głos Jokera w interpretacji Wataru Takagi. Główny motyw muzyczny skomponowany przez Yugo Kanno pasuje bardzo dobrze do scen akcji i jest na tyle charakterystyczny, że pasuje stylistyką do filmu anime. Na tym moje pozytywne wrażenia po seansie "Batman Ninja" kończą się.
Za scenariusz i reżyserie odpowiadał Jumpei Mizusaki. Jest to dopiero drugi film, przy którym pracował. Koncept scenariusza wydawał się całkiem niezły. Oto Batman, jego sojusznicy i przeciwnicy zostają przeniesieni w czasie do feudalnej Japonii za sprawą działań Goryla Grodda. Akcja od początku nie zwalnia tempa. Reżyser wciska jak najwięcej japońskich motywów w fabułę, nie dbając ani trochę o logikę wydarzeń. Mniej więcej w połowie seansu pojawia się wątek ronina Red Hooda i dotkniętych amnezją Jokera i Harley Quinn, przedstawionych jako feudalni wieśniacy. Wątek zupełnie nie pasujący do i tak chaotycznej fabuły zobrazowany w zupełnie innym stylu niż reszta filmu. Pojawiają się ni stąd ni zowąd wielkie zmechanizowane pałace, stada sympatycznych małpek tworzą wielkiego Batmana z lat 30! (sic!) Z minuty na minutę robi się coraz bardziej niedorzecznie. Na końcu seansu zadałem sobie jedno pytanie: co ja tu w ogóle obejrzałem?!
Japońskie dziwactwa i nadekspresja scenariuszowa sprawia, że widz jest znudzony tą feerią barw i dźwięków wylewającą się z ekranu bez większego sensu. Nie jestem w stanie nikomu polecić produkcji Japończyków. Ładna animacja to nie wszystko, japońskie szaleństwa nie sprawdzają się w przypadku świata Batmana.
Ocena: 2 nietoperki

---
---