---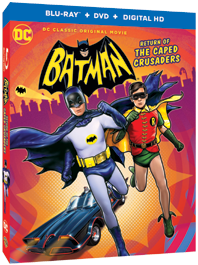 BATMAN: RETURN OF THE CAPED CRUSADERS
(USA, 2016)
TYTUŁ POLSKI: Batman: Powrót Zamaskowanych Krzyżowców
GATUNEK: Animacja
CZAS PROJEKCJI: 78 minut
REŻYSERIA: Rick Morales
SCENARIUSZ: Michael Jelenic i James Tucker
MUZYKA: Kristopher Carter, Michael McCuistion, Lolita Ritmanis
PRODUCENCI: Michael Jelenic i James Tucker
PRODUCENCI WYKONAWCZY: Sam Register, Benjamin Melniker i Michael Uslan.
STUDIO: Warner Bros. Animation DC Entertainment
PREMIERA:
11 października 2016 (USA) – DVD
15 listopada 2020 (Polska) – HBO GO
Wracamy do lat 60-tych. Batman i Robin wkraczają do akcji, gdy Gotham City jest zagrożone przez kwartet najbardziej złowieszczych wrogów Batmana – Pingwina, Jokera, Riddlera i Catwoman. Tym razem czwórka super-złoczyńców połączyła swoje nikczemne talenty, by uknuć tak niegodziwy plan, że Dynamic Duo będzie musiał udać się w przestrzeń kosmiczną (i z powrotem), aby udaremnić zamiary swoich wrogów i przywrócić porządek w Gotham City. To naprawdę fantastyczna przygoda, dobro kontra zło, dobro kontro dobro, zło kontra zło … i zawiera dwa słowa, które gwałtownie podniosą stawkę dla obu stron: Replicator Ray. Holy Multiplication Tables!
Obsada:
Adam West (Bruce Wayne / Batman), Burt Ward (Dick Grayson / Robin), Julie Newmar (Catwoman), Jeff Bergman (Joker, spiker), William Salyers (Pingwin), Wally Wingert (Riddler), Jim Ward (komisarz James Gordon), Steven Weber (Alfred Pennyworth), Thomas Lennon (Chief Miles O'Hara, naczelnik Crichton), Lynne Marie Stewart (ciostka Harriet Cooper), Sirena Irwin (Miranda Moore).
Powrót po latach do szalonych lat 60-tych? Czy współcześni widzowie są na to gotowi? Fani "Batmana" z Adamem Westem będą zadowoleni, a innych produkcja być może zachęci do sięgnięcia po serial. "Batman: Return of the Caped Crusaders" okazuje się naprawdę udaną produkcją, która w pełni wykorzystuje potencjał i legendę serialu. Tym razem twórców nic nie ogranicza, więc wysłanie bohaterów w kosmos to nie problem.
Historia jest szalona nie brakuje zwrotów akcji i charakterystycznych elementów znanych z serialu, licznych bat-gadżetów, śmiertelnych pułapek, czy legendarnego batusi i całej reszty. Jest też Joker, Riddler, Pingwin i Catwoman między którą a Batmanem mamy świetną chemię. Gdzieś w tle pojawiają się jeszcze inni jak Egghead, King Tut.
Jeden zgrzyt pojawia się przy głosach bohaterów. Niestety Adam West i Julie Newmar brzmią na swoje lata i nie pasuje to do młodych wersji ich postaci. Problem ten nie dotyczy Burta Warda, który cały czas potrafi być młodzieńczym Robinem. I czy naprawdę nie można było zaangażować jakiegoś gościnnego występu z okna.
"Powrót Zamaskowanych Krzyżowców" to momentami jazda bez trzymanki, ale też Batman, który jest zawsze o krok do przodu i ma plan na każdą okazję. Nie sposób też nie docenić jak twórcy nawiązują chociażby do zakończenia "The Dark Knight Rises", Batman Westa cały czas potrafi zaskoczyć i rozbawić widzów. To przygoda Batmana i Robina która mogła wydarzyć się tylko w klimacie lat 60-tych i dobrze, że po tylu latach zdecydowano się powrócić do tego świata. Cały czas jest miejsce też na campowe opowieści.
Ocena: 4 nietoperki

---
---
---