---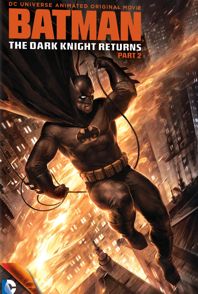 BATMAN: THE DARK KNIGHT RETURNS, PART 2
(USA, 2013)
TYTUŁ POLSKI: BATMAN: MROCZNY RYCERZ POWRÓT, CZĘŚĆ 2
GATUNEK: Animacja
BUDŻET: 3,5 miliona dolarów
CZAS PROJEKCJI:
REŻYSERIA: Jay Oliva
SCENARIUSZ: Bob Goodman
STUDIO: Warner Bros. Animation/Warner Premiere
ANIMACJA: Moi Animation Studios
STRONA OFICJALNA:
PREMIERA DVD:
29 stycznia 2013 (USA)
18 stycznia 2013 (Polska)
Adaptacja słynnej powieść graficznej Franka Millera. W ponurej i złowrogiej przyszłości superbohaterowie, w tym Batman, wypadli z łask. Bruce Wayne odwiesił pelerynę przeszło dekadę temu. Większość pozostałych bohaterów zmuszonych zostało do przejścia na emeryturę. Mierząc się z problemami wieku średniego Bruce prowadzi teraz życiowe boje za kierownicą samochodów wyścigów i z alkoholem. Jednak nietoperz cały czas kusi, kiedy obserwuje jak miasto pogrąża się za sprawą barbarzyńskich kryminalistów zwanych mutantami. Ale to powrót Harvey Denta/Two-Face sprawia, że Bruce Wayne po raz kolejny przywdziewa kaptur i pelerynę Mrocznego Rycerza. Dramatyczne schwytanie złoczyńcy z powrotem kieruje go na ścieżkę walki z kryminalistami, czyniąc z niego cel organów ścigania, które widzą w jego działaniach samozwańczego mściciela. Większość społeczeństwa z zadowalaniem przyjmuje powrót Batmana, w tym nastolatka imieniem Kelly. Jest tak oczarowana Mrocznym Rycerzem, że przejmuje tożsamość Robina i później ratuje Batmana przez brutalnym atakiem przywódcy Mutantów. Batman przyjmuje ją pod swoje skrzydła w roli nowego pomocnika i ponownie powraca do świata Mutantów by walczyć z ich przywódcą, ale tym razem ma odpowiednią strategię na pokonanie bardzo wytrzymałego przeciwnika. Po morderczej walce mutant zostaje publicznie pokonany. Batman zostaje nowym przywódcą Mutantów i przyjmuje nad nimi kontrolę. Na pewien czas Gotham City zapanowuje relatywny spokój.
Animacja stworzona bezpośrednio na rynek DVD/Blu-ray i skierowana do widzów powyżej 13 roku życia (PG-13).
---
Obsada: Peter Weller (Bruce Wayne/Batman), Michael Emerson (Joker), David Selby (komisarz Gordon), Ariel Winter (Carrie/Robin), Mark Valley (Superman), Michael McKean (dr Bartholomew Wolper).
Druga część to adaptacja dwóch ostatnich rozdziałów. O ile w pierwszym filmie mieliśmy wątek Mutanów, to drugi wraca do dobrze znanych postaci z komiksów. Na scenę w pełni wkracza Jokera, a także Superman. W tym przypadku można dopatrzeć się bardziej widocznych zmian związanych ze sposobem realizacji planu Księcia Zbrodni, ale najważniejsze elementy powieści graficznej zostały zachowane.
Batman już na pełną skalę działa i mierzy się ze swoim największym przeciwnikiem i obwinia, się że przez to że wcześniej go nie wyeliminował cały czas ten powiększa liczbę swoich ofiar. Pojedynki tych dwóch zawsze elektryzują, a teraz nadejdzie jego kulminacja. Animacja pozwala na więcej niż komiks i chociaż jesteśmy pozbawieni komentarza Batmana, to i tak widzimy ile go kosztuje te starcie.
Jakie wyzwanie może przebić Jokera? Tylko starcie Batman kontra Superman. W tym świecie Harcerzyk stał się narzędziem w rękach polityków. Świat wcale nie stał się bezpieczniejszy. W chwili największego zagrożenia Batman pędzący na koniu przez pogrążone w chaosie Gotham jest symbolem porządku, który jednoczy mieszkańców.
Druga część podobnie jak w komiksie ma więcej akcji. Są też obecne elementy komentarza politycznego i zagrożenia nuklearnego. Jeśli jednak chcemy zgłębić bardziej te zagadnienie i poznać więcej szczegółów to powinniśmy sięgnąć po oryginał.
Dwa filmy animowane świetnie wprowadzają do świata Franka Millera. Ożywiają kadry, nawet Clark w rozpiętej koszuli rozmawiający z Bruce'em przy koniach się załapał, a fanom Batmana dają okazję zobaczyć jak Nietoperz zaplanował swoje wielkie pożegnanie. Jest momentami brutalnie czuć ból bohaterów i ten klimat wszechobecnego zagrożenia.
Świat Mrocznego Rycerza wydawać może się odległy będący odzwierciedleniem ery połowy lat 80-tych XX wieku, ale powieść graficzna cały czas wpływa na twórców i fanów Batmana, a w zależności od lat w których po nią sięgamy może nie wydawać się tak bardzo odrealniona.
Ocena: 4,5 nietoperka

---