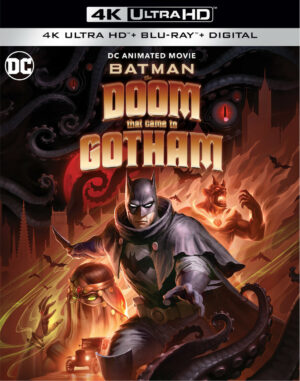 W latach dwudziestych XX wieku, odkrywca Bruce Wayne przypadkowo uwalnia starożytne zło, co przyśpiesza jego powrót do Gotham City po dwudziestoletniej nieobecności. Kierujący się logiką/nauką Batman musi walczyć z nadprzyrodzonymi siłami Lovecrafta, zagrażającymi egzystencji Gotham, po drodze pomagają mu i konfrontują się z nim nowe wersje jego dobrze znanych sojuszników i wrogów, w tym Green Arrow, Ra's al Ghul, Mr Freeze, Killer Croc, Two-Face, James Gordon i ukochani podopieczni Bruce'a. Przygotuj się na mistyczną, często przerażającą przygodę z Batmanem, jak żadna inna.
David Giuntoli (Grimm, A Million Little Things) ponownie użycza głosu Mrocznemu Rycerzowi po "Batman: Soul of the Dragon", w tej zupełnie nowej opowieści DC Elseworlds z lat 20. XX wieku. Tati Gabrielle (Kaleidoscope, Chilling Adventures of Sabrina, Uncharted) debiutuje w animacji DC jako Kai Li Cain, najbliższa sojuszniczka Batmana.
Akcję i dramaturgię podnoszą weterani animacji DC, Christopher Gorham (The Lincoln Lawyer, Insatiable) jako Oliver Queen, Patrick Fabian (Better Call Saul) jako Harvey Dent, John DiMaggio (Futurama, Anne Rice's Interview with the Vampire) jako James Gordon oraz David Dastmalchian (Dune, The Suicide Squad, Ant-Man) jako Grendon.
Obsadę uzupełniają Gideon Adlon (Legion of Super-Heroes) jako Oracle, Karan Brar (Jessie, seria Diary of a Wimpy Kid) jako Sanjay "Jay" Tawde, Jeffrey Combs (Re-Animator, The Frighteners) jako Kirk Langstrom, Darin De Paul (seriale Mortal Kombat Legends i Overwatch) jako Thomas Wayne, Brian George (Seinfeld) jako Alfred, Jason Marsden (Young Justice, A Goofy Movie) jako Dick Grayson i młody Bruce Wayne, Navid Negahban (Homeland, The Cleaning Lady) jako Ra's al Ghul, Emily O'Brien (Days of Our Lives) jako Talia al Ghul i Martha Wayne, Tim Russ (Star Trek: Voyager) jako Lucius Fox, William Salyers (The Regular Show) jako Cobbelpot i profesor Manfurd oraz Matthew Waterson (The Croods: Family Tree) jako Jason Blood/Etrigan.
Sam Liu (The Death and Return of Superman) pełni podwójną rolę producenta i współreżysera "Batman: The Doom That Came To Gotham", ściśle współpracując ze współreżyserem Christopherem Berkeleyem (Young Justice), aby ożywić za sprawą animacji scenariusz autorstwa Jase Ricci (Teen Titans Go! i DC Super Hero Girls: Mayhem in the Multiverse). Producentami są Jim Krieg (Batman: Gotham by Gaslight) i Kimberly S. Moreau (Legion of Super-Heroes). Producentami wykonawczymi są Michael Uslan i Sam Register.
Premiera "Batman: The Doom That Came to Gotham" w USA w wersji cyfrowej oraz na nośnikach fizycznych 28 marca 2023 roku.
---
---