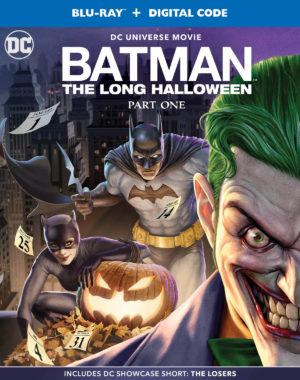 Wyprodukowany przez Warner Bros. Animation, DC i Warner Bros. Home Entertainment. Zainspirowany kultową historią DC z połowy lat 90. autorstwa Jepha Loeba i Tima Sale'a, "Batman: The Long Halloween, Part One" rozpoczyna gdy brutalne morderstwo w Halloween, skłania młodego strażnika Gotham, Batmana, do zawarcia paktu z jedynymi nieskalanymi stróżami prawa w mieście. Kapitanem policji Jamesem Gordonem i prokuratorem okręgowym Harveyem Dentem w celu pokonania Rzymianina, głowy znanej i wpływowej rodziny Falcone. Ale kiedy w Święto Dziękczynienia i Boże Narodzenie dochodzi do kolejnych zgonów, staje się jasne, że zamiast zwykłych porachunków gangów mają do czynienia również z seryjnym mordercą – którego tożsamość, wraz z każdą sprzeczną wskazówką, staje się trudniejsza do ustalenia. Niewiele spraw kiedykolwiek przetestowało zdolności największego detektywa świata, tak jak tajemnica stojąca za Holiday Killer.
W roli Batmana/Bruce'a Wayne'a wystąpi Jensen Ackles, który wcześniej użyczył głosu Jasonowi Toddowi / Red Hoodowi w "Batman: Under the Red Hood" z w 2010 roku. W gronie obsady jest również Naya Rivera, zmarła w lipcu ubiegłego roku gwiazda serialu "Glee", która użyczyła swojego głosu Catwoman / Selinie Kyle.
W pozostałych rolach wystąpią: Josh Duhamel jako Harvey Dent, Billy Burke jako James Gordon, Titus Welliver jako Carmine Falcone, David Dastmalchian jako Calendar Man, Troy Baker jako Joker, Amy Landecker jako Barbara Gordon, Julie Nathanson jako Gilda Dent, Jack Quaid jako Alberto, Fred Tatasciore jako Solomon Grundy i Alastair Duncan jako Alfred. W obsadzie są również Frances Callier, Greg Chun, Gary Leroi Gray i Jim Pirri.
Chris Palmer reżyseruje na podstawie scenariusza Tima Sheridana z którym współpracował przy "Superman: Man of Tomorrow". Jim Krieg i Kimberly S. Moreau są producentami. Butch Lukic jest producentem nadzorującym, a Michael Uslan i Sam Register pełnią rolę producentów wykonawczych.
"The Long Halloween" autorstwa scenarzysty Jepha Loeba i artysty Tima Sale'a opowiada historię Batmana z początku jego kariery, kiedy Gotham nękane jest przez zabójcę, znanego jako Holiday, który atakuje w dni świąteczne przez okrągły rok.
Za realizację produkcji odpowiadają Warner Bros. Animation, DC i Warner Bros. Home Entertainment. Premiera "Batman: The Long Halloween, Part One" planowana na lato 2021 roku.