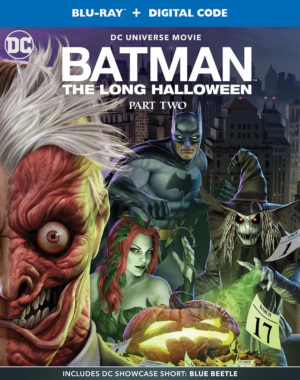 Zainspirowany kultową historią DC z połowy lat 90. autorstwa Jepha Loeba i Tima Sale'a, "Batman: The Long Halloween, Part Two" trwa dalej, gdy Holiday Killer wciąż na wolności, Bruce Wayne jest pod wpływem Poison Ivy, a Batmana nigdzie nie można znaleźć. Wyzwolony przez nieoczekiwanego sojusznika Bruce szybko odkrywa prawdziwego winowajcę: Carmine'a Falcone'a, pracodawcę Poison Ivy. Rzymianin, którego szeregi zostały zdziesiątkowane przez Holidaya, a jego biznes wymknął się spod kontroli, został zmuszony do pozyskania mniej pożądanych partnerów – galerii łotrów z Gotham City. W międzyczasie Harvey Dent toczy bitwy na dwóch frontach: próbuje zakończyć wojnę mafii, a jednocześnie ma do czynienia z napiętym małżeństwem. A po ataku, w wyniku którego Harvey zostaje okropnie oszpecony, prokurator okręgowy uwalnia dwoistość swojej psychiki, którą przez całe życie starał się stłumić. Teraz, jako Two-Face, Dent postanawia wziąć prawo w swoje ręce i wydać wyrok na tych, którzy skrzywdzili go, jego rodzinę i całe Gotham. Ostatecznie Mroczny Rycerz musi połączyć tragiczne elementy, które zbiegły się, aby stworzyć Two-Face'a, Holiday Killera, Batmana i samo Gotham City.
W obsadzie drugiej części znaleźli się: Jensen Ackles (Supernatural, Batman: Under the Red Hood) jako Batman/Bruce Wayne, Naya Rivera (Glee) jako Catwoman/Selina Kyle, Josh Duhamel (Transformers, Las Vegas) jako Harvey Dent/Two-Face, Billy Burke (Twilight, Revolution, Zoo) jako komisarz James Gordon, Katee Sackhoff (The Mandalorian, Battlestar Galactica, Batman: Year One) jako Poison Ivy, Titus Welliver (Bosch, Deadwood) jako Carmine Falcone, Julie Nathanson (Call of Duty: Black Ops Cold War, Suicide Squad: Hell To Pay) jako Gilda Dent, David Dastmalchian (The Suicide Squad, Dune, Ant-Man,) jako Calendar Man i Pingwin, Troy Baker (The Last of Us, Batman: Arkham Knight) jako Joker, Amy Landecker (Your Honor, Transparent) jako Barbara Gordon i Carla Vitti, Fred Tatasciore (American Dad!, Family Guy) jako Solomon Grundy, Alyssa Diaz (The Rookie, Ray Donovan) jako Renee Montoya oraz Alastair Duncan (The Batman, Batman Unlimited franchise) jako Alfred.
Do obsady dołączyli również: Robin Atkin Downes (The Strain, Constantine: City of Demons) jako Strach na wróble i Thomas Wayne, John DiMaggio (Futurama, Disenchantment) jako Mad Hatter, Laila Berzins (Genshin Impact) jako Sofia Falcone, Jim Pirri (seria World of Warcraft) jako Sal Maroni i Zach Callison (The Goldbergs, Steven Universe) jako młody Bruce Wayne. Gary Leroi Gray i Rick Wasserman również użyczą swoich głosów.
Cały zespół twórców powraca do Batman: The Long Halloween, Part Two pod kierownictwem producenta nadzorującego Butcha Lukica (Justice Society: World War II, Superman: Man of Tomorrow), reżysera Chrisa Palmera (Superman: Man of Tomorrow) i scenarzysty Tima Sheridan (Reign of the Supermen, Superman: Man of Tomorrow). Producentami są Jim Krieg (Batman: Gotham od Gaslight) i Kimberly S. Moreau (Batman vs. Teenage Mutant Ninja Turtles), a producentami wykonawczymi Michael Uslan i Sam Register.