---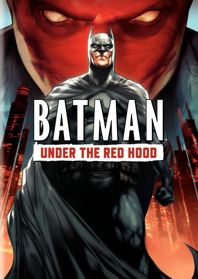 BATMAN: UNDER THE RED HOOD
(USA, 2010)
TYTUŁ POLSKI: BATMAN: W CIENIU CZERWONEGO
GATUNEK: Animacja
CZAS PROJEKCJI: 75 minut
REŻYSERIA: Brandon Vietti
SCENARIUSZ: Judd Winick
MUZYKA: Christopher Drake
PRODUCENCI: Bruce Timm, Bobbie Page
STUDIO: Warner Bros. Animation/Warner Premiere
STRONA OFICJALNA: BatmanRedHood.com
OFICJALNA POLSKA STRONA: Galapagos.com.pl
PREMIERA DVD:
27 lipca 2010 (USA)
3 września (Polska)
TWOJA OCENA:

GD Star Rating
loading...
W Batman: Under the Red Hood Batman będzie musiał się zmierzyć z tajemniczym Red Hoodem, który oczyszcza Gotham z kryminalistów z taką samą efektywnością co bohater, ale nie przestrzega przy tym jego kodeksu etycznego. Zabijanie jest dopuszczalne. Kiedy Joker wmiesza się w pojedynek tej dwójki, ujawniona zostanie bolesna prawda, a także stare rany zostaną otwarte. Film oparty jest na komiksie Batman: Under the Red Hood Judda Winicka.
Animacja stworzona bezpośrednio na rynek DVD/Blu-ray i skierowana do widzów powyżej 13 roku życia (PG-13).
---
Obsada: Bruce Greenwood (Batman), Jensen Ackles (Red Hood), Neil Patrick Harris (Nightwing), John DiMaggio (Joker) i Jason Isaacs (Ra's Al Ghul).