---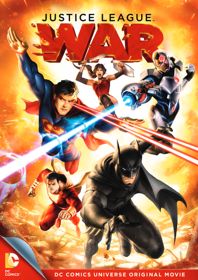 JUSTICE LEAGUE: WAR
(USA, 2014)
TYTUŁ POLSKI: LIGA SPRAWIEDLIWYCH: WOJNA
GATUNEK: Animacja
BUDŻET: 3,5 miliona dolarów
CZAS PROJEKCJI:
REŻYSERIA: Jay Oliva
SCENARIUSZ: Heath Corson
MUZYKA:
PRODUCENT: James Tucker
STUDIO: Warner Bros. Animation/Warner Premiere
ANIMACJA:
PREMIERA DVD: 4 lutego 2014 (USA)


PREMIERA TV: 7 lutego 2015 (Polska – HBO)
Animacja zostanie oparta na historii Geoffa Johnsa i Jima Lee przedstawionej w pierwszych 6 zeszytach serii "Justice League" z New 52 (polska edycja wydania zbiorczego tego komiksu pod tytułem "Liga Sprawiedliwości. Tom 1: Początek" już w sprzedaży). Film wyreżyseruje Jay Oliva, a scenariuszem będącym adaptacją historii Geoffa Johnsa zajmie się Heath Corson.
Kolejna animacja zainspirowana wydawnictwami DC Comics. Najsłynniejsi komiksowi bohaterowie jednoczą siły, by uratować planetę.
Ziemia znajduje się w śmiertelnym niebezpieczeństwie – grozi jej atak z kosmosu. Uratować planetę mogą tylko członkowie mitycznej Ligi Sprawiedliwych – niezwykłej organizacji skupiającej komiksowych superbohaterów. Wśród postaci, które łączą swoje siły, by ocalić świat, są między innymi: Batman, Superman, Wonder Woman i Flash. Kolejny film animowany o przygodach grupy najsłynniejszych komiksowych superbohaterów, wywodzących się z publikacji kultowego wydawnictwa DC Comics. Pozycja obowiązkowa dla fanów gatunku będzie też świetną zabawą dla tych, którzy dopiero zaczynają zdobywać wiedzę o komiksie. Film w reżyserii doświadczonego Jaya Olivy, twórcy takich animacji jak Zielona Latarnia. Szmaragdowi wojownicy czy Batman DCU: Mroczny Rycerz – Powrót, wyróżnia się dynamiczną akcją i ciekawym stylem wizualnym.
Animacja stworzona bezpośrednio na rynek DVD/Blu-ray i skierowana do widzów powyżej 13 roku życia (PG-13).
"Justice League: War" to pierwszy film a wspólnego animowanego uniwersum DC i co ciekawe jest to jedna z produkcji, która nie została w Polsce wydana na DVD. Jak w przypadku wszystkich produkcji skierowanych bezpośrednio na rynek kina domowego nie należy spodziewać się czegoś na wyjątkowo wysokim poziomie, zwłaszcza jeśli materiał na którym bazuje historia nie zachwycał.
Film rozpoczyna się obiecująco. Mamy okazję przyjrzeć się poszczególnym bohaterom, którzy po raz pierwszy się spotykają. Rodzi to interesujące sytuacje i też od razu widać przewagę Batmana nad innymi. Chociaż nie ma supermocy, to zna sekretną tożsamość Supermana i ostatecznie to on ratuje go z opresji. Niestety zamiast skupić się na postaciach, po wstępie, w którym też nie brakuje akcji, otrzymujemy prawdziwą rozwałkę, kiedy bohaterowie muszą powstrzymać Darkseida. Wszyscy w walce wyglądają efektownie, ale aż się prosi by pokazać coś więcej. Kiedy Batman zdradza, że zna tożsamość Supermana, można by za pomocą retrospekcji pokazać jak to odkrył, taka sekwencja pozwoliłaby zapomnieć o kompletnie niezrozumiałej sytuacji, kiedy Bruce odsłania twarz i opowiada jak stracił rodziców by przekonać do działania Hala Jordana.
Nowe DC, to inne spojrzenia na bohaterów. Ma to swoje dobre i zły strony. Jest to coś świeżego, ale zarazem odmienne zachowania bohaterów, od tego do czego przywykliśmy mogą irytować. O ile mamy okazję poznać origin Cyborga to brakuje więcej informacji na temat pozostałych bohaterów. Większość widzów zna ich historię, ale przy takim pierwszym spotkaniu wypadałoby coś więcej powiedzieć o poszczególnych bohaterach. Wonder Woman jest kompletnie nie zaznajomiona z życiem zwykłych mieszkańców Ziemi, ale zna się na walce, a to przy starciu z potężnym wrogiem jest bardzo istotne. Green Lantern, Shazam, czy Cyborg, który przez swoją głupotę zostaje pół robotem, bo tylko to mogło go utrzymać przy życiu, są niczym superbohaterowie z przypadku. Mają moce ale nie w pełni potrafią ich potencjał wykorzystać. Superman zaś jest nieokrzesany, a o Flashu ciężko cokolwiek powiedzieć. W chwili zagrożenia po pewnych kłopotach udało im się połączyć siły, ale nie jest to jeszcze drużyna, a już na horyzoncie widać nowe zagrożenie z głębin morskich.
Chociaż mankamentów w "Justice League: War" nie brakuje, to przynajmniej zabawne rozmowy bohaterów skutecznie rozładowują napięcie. Przy takiej ilości akcji humor jest niezbędny. Początek, oraz sam główny wątek mógłby zaowocować naprawdę niezłą produkcja, niestety potencjał ten nie został w pełni wykorzystany, ale i tak dostarcza niezłej rozrywki.
Ocena: 3,5 nietoperka

---
Obsada: Jason O'Mara (Batman), Alan Tudyk (Superman), Michelle Monaghan (Wonder Woman), Justin Kirk (Green Lantern), Christopher Gorham (Flash), Shemar Moore (Cyborg), Sean Astin (Shazam), Steve Blum (Darkseid).
---
OSTATNIE NEWSY: