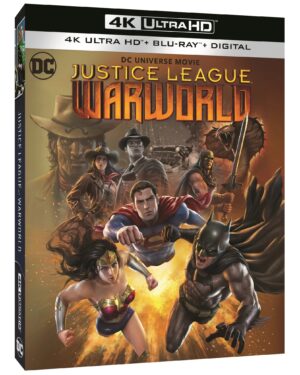 Do tej pory Liga Sprawiedliwych była luźnym stowarzyszeniem jednostek z supermocami. Ale kiedy zostają porwani na Warworld, miejsca niekończących się brutalnych walk gladiatorów, Batman, Superman, Wonder Woman i pozostali muszą w jakiś sposób zjednoczyć się, by zbudować niepowstrzymany opór, który może poprowadzić całą planetę do wolności.
Głównym bohaterom głosów użyczą: Jensen Ackles jako Batman/Officer Wayne, Stana Katic jako Wonder Woman/Diana Prince oraz Darren Crissas Superman/Agent Kent.
W pozostałych rolach wystąpią: Ike Amadi jako Martian Manhunter/J'onn J'onzz, Troy Baker jako Jonah Hex, Matt Bomer jako Old Man, Roger C. Cross jako Machiste, Brett Dalton jako Bat Lash, Trevor Duvall jako Drifter, John DiMaggio jako Lobo, Robin Atkin Downes jako Mongul, Frank Grillo jako Agent Faraday, Rachel Kimsey jako Mariah Romanova, David Lodge jako Sheriff, oraz Damian O'Hare jako Deimos i Teddy Sears jako Warlord.
Jeff Wamester ("Legion of Super-Heroes") reżyseruje na podstawie scenariusza Jeremy'ego Adamsa ("Supernatural"), Erniego Altbackera ("Justice League Dark: Apocalypse War") i Josie Campbell ("She-Ra and the Princesses of Power"). Producentami są Jim Krieg ("The Death and Return of Superman") oraz Kimberly S. Moreau ("Batman: The Doom That Came to Gotham").
Producentami wykonawczymi są Butch Lukic ("Batman: The Long Halloween") i Sam Register oraz Michael Uslan.
Premiera "Justice League: Warworld" w USA w wersji cyfrowej oraz na nośnikach fizycznych 25 lipca 2023 roku.
---
---