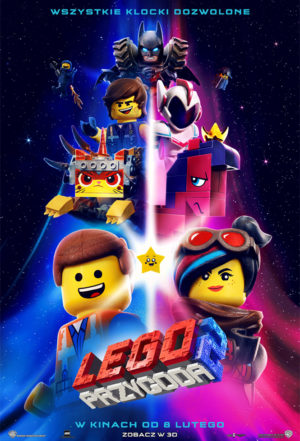 The LEGO Movie 2: The Second Part
Tytuł polski: LEGO Przygoda 2
Gatunek: Animacja, Przygoda
Czas trwania: 106 minut
Reżyseria: Mike Mitchell
Scenariusz: Phil Lord, Christopher Miller
Premiera: 8 lutego 2019
Występują:
Chris Pratt, Elizabeth Banks, Will Arnett, Nick Offerman, Alison Brie, Margot Robbie, Jonah Hill
Minęło pięć lat od czasu, kiedy wszystko było czadowe. Mieszkańcy Klocburga stoją w obliczu nowego, ogromnego zagrożenia. Pochodzący z kosmosu najeźdźcy LEGO DUPLO®niszczą wszystko w tak szybkim tempie, że nikt nie nadąża z odbudowywaniem. Aby ich pokonać i przywrócić spokój w świecie LEGO®, Emmet, Lucy, Batman wraz z przyjaciółmi wyruszą w podróż do odległych, nieodkrytych światów, w tym do dziwacznej galaktyki, w której wszystko jest musicalem. Podróż ta będzie sprawdzianem ich odwagi, kreatywności i umiejętności Master Builderskich, a ponadto ukaże, jak bardzo są wyjątkowi.
---
Bohaterowie filmu "Lego Przygoda" oraz Batman powracają po pięciu latach. Poprzednia produkcja okazała się przełomem dla klockowych filmów, ale kolejne próby nawet "Lego Batman" nie odniosły takiego sukcesu. Twórcy kontynuacji nie serwują powtórki z poprzedniego filmu. Mamy nowy, bardziej rozległy świat, nowych bohaterów oraz nowe klocki Duplo, nie brakuje też piosenek. Jednak wbrew tytułowi "Catchy Song" nie zbliża się poziomem do "Everything is Awesome", której w różnych przeróbkach nie brakuje. To cały czas "Życie jest czadowe" pozostaje w głowie.
Największe wrażenie robi początkowa postkapitalistyczna wersja klockowego świata. Mamy klimat rodem z Mad Maxa oraz Batmana, który staje w obronie mieszkańców miasta. Na tym tle przezabawnie prezentuje się Emmet, który zachowuje się jakby nic się nie zmieniło. Nie długo dane jest delektować się tym światem, bo przygoda zabiera bohaterów do innych światów. Tu należy się uznanie za pomysłowość twórców, którzy z powodzeniem poprzez różne nazwy przenoszą bohaterów do miejsc ze świata realnego. Tak samo jak w "Lego Przygoda" nie pominięto aspektu ludzkiego, co sprawia, że z produkcją łatwiej się identyfikować. Dzięki temu ma więcej do zaoferowania i jak pokazują fragmenty podczas napisów końcowych, w każdych okolicznościach można łączyć różne klockowe światy. Każdy może przeżywać przygody jak bohaterowie filmu.
W fabule zastosowano pewny zwrot akcji, który nie jest tak bardzo  zaskakujący jeśli wiemy kto komu udziela głosu. Ten zabieg sprawia, że motywy głównego czarnego charakteru koniec końców okazują się  bardzo szablonowe. Całość ze względu na odniesienia do realnego świata ma jednak drugie dno i dobrze odwzorowuje relacje międzyludzkie.
Ogólnie nowa przygoda bohaterów wciąga. Nie brak tu atrakcyjnych scen, pełnych szaleństwa i kolorów, czy też różnego rodzaju smaczków, jak chociażby Bruce'a Willisa w kanałach wentylacyjnych. Nie brakuje też słownych żartów, które nie giną w polskim dubbingu.
Jako, że na rok 2019 przypada 80-lecie Batmana nie sposób wspomnieć o Lego Batmanie. Kilka zabawnych aluzji, czy to do Christiana Bale'a albo do tytułu "Mroczny rycerz powstaje" wywołują zamierzony efekt, ale sam Batman w drugiej połowie filmu ma w sobie za mało Batmana. Oczywiście pamiętamy, że głównymi bohaterami są Emmet oraz Lucy i to do nich należy ratowanie świata, ale sprowadzenie Batmana do roli postaci, która łatwo ulega wpływowi i daje się zmanipulować, nie jest kierunkiem w którym nawet o wielkim ego Lego Batman powinien pójść. Wydaje się, że scenarzystom brakuje pomysłu jak wykorzystać drugoplanowego bohatera. Nie mniej jednak ma on do odegrania ważną rolę, czego nie można powiedzieć o innych członkach Justice League, którzy po prostu są i co najwyżej mają udział w drobnych gagach, ale bez większego wpływu na fabułę.
Film dostarcza pozytywne przesłanie w dość przysłodzonej i moralizatorskiej końcówce. Chociaż jest słabiej niż w przypadku pierwszego filmu to cały czas jest to rozrywka na dobrym poziomie i co ważniejsze w tym samym duchu. Różne aluzje do popkultury oraz stwierdzenia, że być może najmłodsi widzowie nie koniecznie zrozumieją o co chodzi z wspominaniem "Matrixa" czy "Powrotu do przyszłości", czy nawet przemianą słodkiego kociaka w bardziej bojową wersję, która od razu kojarzy się z He-Manem, sprawia, że "Lego Przygoda 2" puszcza także oko do starszych widzów.
Ocena: 4 nietoperki