---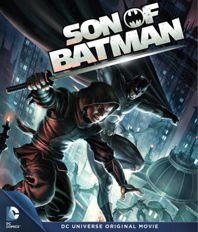 SON OF BATMAN
(USA, 2014)
TYTUŁ POLSKI: SYN BATMANA
GATUNEK: Animacja
BUDŻET: 3,5 miliona dolarów
CZAS PROJEKCJI: 74 minuty
REŻYSERIA: Ethan Spaulding
SCENARIUSZ: Joe R. Lansdale i James Robinson
MUZYKA: Frederik Weidmann
STUDIO: Warner Bros. Animation/Warner Premiere
ANIMACJA: The Answerstudio
PREMIERA DVD:
6 maja 2014 (USA)
12 września 2014 (Polska)
Batman jest zszokowany nie tylko z powodu, że dowiaduje się że ma syna, ale że matką chłopca jest Talia, córka międzynarodowego terrorysty Ra's al Ghula. Niemniej jednak, Mroczny Rycerz i jego uparty syn (jako nowy Robin) zostają nietypowymi sojusznikami, kiedy Talia angażuje grupę ninja man-batów w kryminalne przedsięwzięcie z międzynarodowymi konsekwencjami.
Animacja stworzona bezpośrednio na rynek DVD/Blu-ray i skierowana do widzów powyżej 13 roku życia (PG-13).
"Syna Batmana" nie należy traktować jako adaptacji komiksu Granta Morrissona. Pewne wątki się powtarzają, ale mamy jednak do czynienia z inną historią. Fabuła skomplikowana nie jest, a wręcz jest dość banalna i jeśli jesteśmy wstanie zaakceptować, że główne skrzypce gra Damian, syn Bruce'a i Tali, to oglądanie filmu może być całkiem przyjemne. Akcji jest tu dużo i nawet krwi nie brakuje, czy też pewnego rodzaju podtekstów. Wszystko kręci się wokół Damiana, który pokazany jest niczym niezniszczalny przeciwnik. Szkoda, że twórcy postanowili by to on stoczył finałową walkę z Deathstroke'iem. Tym samym mimo poważnych ran dzieciak, z którym wcześniej poradził sobie Nightwing, pokonuje Slade'a. Takie rzeczy mogą irytować.
W tle całej historii znalazł się czas na krótkie epizody z takimi słynnymi złoczyńcami jak Joker, czy Two-Face, a trochę większą rolę dostał zaś Killer Croc zaprezentowany w bardziej zmutowanej formie.
Nie mając wygórowanych oczekiwań "Syn Batmana" dostarcza przyzwoitej rozrywki. Pada kilka zabawnych kwestii, przyjemnie jest też zobaczyć jak Bruce mimo wszystko jest dumny z syna, chociaż nie pochwala jego metod rodem z Ligi Zabójców. Fakt odkrycia przez Wayne'a, że jest ojcem mógłby dostarczyć wielu zabawnych momentów, twórcy jednak postanowili skupić się na akcji, dlatego o jakiejś pogłębionej psychologii postaci i relacji pomiędzy nimi nie należy się spodziewać. Na plus należy zaliczyć mroczny klimat i sporą dawkę przemocy. Niestety przy filmach animowanych skierowanych bezpośrednio na rynek DVD animacja zbytnio uzależniona jest od komputerów. Momentami wygląda to bardzo ładnie, ale brak w tym "duszy", co nie pomaga, gdy sama fabuła jest przewidywalna.
Chociaż akcji nie brakuje, to w filmie nie zobaczymy pełnego starcia Damiana z Nightwingiem, warto jednak oglądnąć napisy końcowe, gdzie pokazane są kadry ilustrujące te starcie.
"Syna Batmana" mimo swoich licznych wad można obejrzeć, ale jeśli chcemy czegoś ambitniejszego to lepiej kolejny raz sięgnąć po "Maskę Batmana".
Ocena: 3,5 nietoperka

---
Obsada: Jason O'Mara jako Batman/Bruce Wayne; Stuart Allan jako Damian; Morena Baccarin jako Talia, matka Damiana; Giancarlo Esposito jako Ra's Al Ghul, przywódca Ligi Zabójców i jeden z głównych przeciwników Batmana; David McCallum jako kamerdyner Alfred Pennyworth; Xander Berkeley jako Kirk Langstrom (aka Man-Bat); oraz Thomas Gibson jako Deathstroke.
---
OSTATNIE NEWSY: