---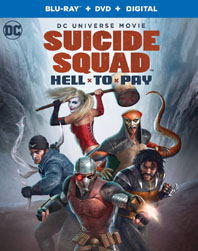 SUICIDE SQUAD: HELL TO PAY
(USA, 2018)
TYTUŁ POLSKI: Legion samobójców: Piekielna misja
GATUNEK: Animacja
CZAS PROJEKCJI: 86 minut
REŻYSERIA: Sam Liu
SCENARIUSZ: Alan Burnett
MUZYKA: Robert J. Kral
PRODUCENCI: Sam Liu
PRODUCENCI WYKONAWCZY: Sam Register, James Tucker
STUDIO: Warner Bros. Animation, DC Entertainment
PREMIERA DVD/BLU-RAY: 10 kwietnia 2018 (USA)
23 maja 2018 (Polska)
Tajna drużyna Amandy Waller Task Force X (składająca się z Deadshota, Bronze Tigera, Killer Frost, Captain Boomeranga, Harley Quinn i Copperhead) wysłana zostaje z misją odzyskania potężnego mistycznego obiekt. Będą musieli zaryzykować swoje życie by go ukraść. Na nieszczęście dla Suicide Squad są też inni złoczyńcy, którzy pragną nagrody, dlatego muszą wygrać wyścig, by ją zdobyć, aby pozostać przy życiu.
Obsada:
Christian Slater (Deadshot), Billy Brown (Bronze Tiger), Liam McIntyre (Captain Boomerang), Kristin Bauer van Straten (Killer Frost), Gideon Emery (Copperhead), Tara Strong (Harley Quinn), Vanessa Williams (Amanda Waller), C. Thomas Howell (Zoom), Dania Ramirez (Scandal Savage), James Urbaniak (Professor Pyg), Julie Nathanson (Silver Banshee), Jim Pirri (Vandal Savage i Vertigo), Greg Grunberg (Maxum Steel), Dave Fennoy (Blockbuster i Tobias Whale), Cissy Jones (Knockout), Natalie Lander (Darma), Trevor Devall (Punch), Dave Boat (Harvey Dent/Two-Face), Matthew Mercer (Savage Gunman).
Jeśli lubicie szalone przejażdżki w towarzystwie superzłoczyńców, to "Legion samobójców: Piekielna misja" powinien przypaść wam do gustu. Produkcja nie jest związana z poprzednią animacją "Batman: Atak na Arkham", w której główną rolę odgrywa drużyna Waller, ale jest częścią DC Animated Movie Universe. Pewne wątki są kontynuacją wydarzeń z poprzednich filmów, ale ich znajomość nie jest konieczna.
Już wstęp do filmu pokazuje nam, że nikt nie może czuć się bezpiecznie. Każdy może zginąć, czy w trakcie walki czy przez implant w głowie. Krwi i brutalności nie brakuje, ale momentami jest to tak przesadne, że wręcz sztuczne. Dalej jest już czysta rozrywka. Z ekipą w składzie Deadshot, Bronze Tiger, Killer Frost, Captain Boomerang, Harley Quinn i Copperhead nie sposób się nudzić. A jeśli dodamy do tego byłego dr Fate, Steel Maxuma, który został stripteaserem, to wiemy już że pomysłów twórców nic nie ogranicza.
W odróżnieniu od standardowych samobójczych misji, tym razem bohaterowie działają z powódek osobistych Amandy Waller, więc nie skazani są na podróż zniszczonym camperem. Każdy ze złoczyńców dostaje okazję do wykazania się, ale koniec końców tylko dwójka Flyod Lawton, Ben Turner doczekała się próby głębszego ukazania. Dostajemy standardowe rodzinne problem, ale wszystko podane jest takiej formie, że pod koniec naprawdę widać, że nie są to jednowymiarowe postacie.
Chociaż pomysł na fabułę było prosty, to twórcom udało się z niego wycisnąć maksimum. Fani animacji z bohaterami DC ucieszy pojawienie się kilku bohaterów, a być może i zasmuci los kilku innych, bo zwrotów akcji nie brakuje. Animowany "Legion samobójców: Piekielna misja" śmiało może stać na tej samej półce co kinowe przygody Suicide Squad. Jest to spora dawka szaleństwa i niepoprawności jakiej oczekujemy po tej drużynie.
Ocena: 4 nietoperki

---
---
---