---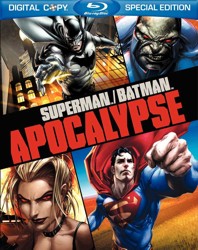 SUPERMAN/BATMAN: APOCALYPSE
(USA, 2010)
TYTUŁ POLSKI: SUPERMAN/BATMAN: APOKALIPSA
GATUNEK: Animacja
BUDŻET: 3,5 miliona dolarów
CZAS PROJEKCJI: 75 minut
REŻYSERIA: Lauren Montgomery
SCENARIUSZ: Tab Murphy
MUZYKA: John Paesano
PRODUCENCI: Bruce Timm, Bobbie Page, Lauren Montgomery
STUDIO: Warner Bros. Animation/Warner Premiere
STRONA OFICJALNA: SupermanBatmanApocalypse.com
PREMIERA DVD:
28 września 2010 (USA)
22 października 2010 (Polska)
TWOJA OCENA:

GD Star Rating
loading...
Superman/Batman: Apocalypse to kontynuacja filmu animowanego Superman/Batman: Public Enemies. Fabuła produkcji oparta jest na komiksowej historii The Supergirl From Krypton.
Po tym jak statek kosmiczny rozbija się w porcie w Gotham City, Batman i Superman spotykają kryptończyka z mocami tak potężnymi jak Człowieka ze Stali. Wkrótce okazuje się, że kryptończykiem jest Kara, kuzynka Supermana. Bohater przygarnia ją pod swoje skrzydła, by wyjaśnić jej jakie zasady obowiązują na Ziemi. Jednak inne plany wobec niej ma złowieszczy Darkseid. Widząc w bohaterce swoją szansę na pokonanie Supermana, złoczyńca porywa ją i przejmuje nad nią kontrolę, tak by wykonywała jego rozkazy. Wszystko sprowadza się do tego, że Batman i Superman muszą uratować Karę, ale żeby tego dokonać bohaterowie będą musieli stoczyć bój z Darkseidem w jego świecie, gdzie za każdym rogiem czai się niebezpieczeństwo i gdzie czeka na nich także Supergirl po praniu mózgu, która jest wstanie walczyć z Supermanem jak równy z równym.
Animacja stworzona bezpośrednio na rynek DVD/Blu-ray i skierowana do widzów powyżej 13 roku życia (PG-13).
---
Obsada: Kevin Conroy (Batman), Tim Daly (Superman), Andre Braugher (Darkseid), Summer Glau (Supergirl), Ed Asner (Granny Goodness), Susan Eisenberg (Wonder Woman).