SUPERMAN/BATMAN: APOKALIPSA
Superman i Batman powrócili w kolejnej adaptacji swoich papierowych przygód. Komiks Jeph Loeba i Michaela Turnera zbierał zaskakująco dobre recenzje. Więc twórcy animowanej wersji mieli dobry materiał wyjściowy. Choć po bardzo słabym debiucie w postaci Superman/Batman: Wrogowie publiczni, podchodziłem do nowego filmu o dwóch herosach z dystansem.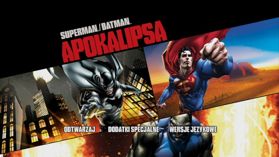 Dwaj panowie i nastolatka
Film zaczyna się jakiś czas po wydarzeniach z Wrogów publicznych. Prezydent Luthor raczej już nie ma szans na reelekcje. Batman przebywa w swoim mrocznym mieście, a Superman wiedzie spokojny żywot w Metropolis. Do czasu gdy do rzeki w pobliżu Gotham wpada statek kosmiczny z kuzynką Clarka na pokładzie. Obaj herosi szybko odnajdują zdezorientowaną dziewczynę i rozpoczyna się… film dla młodszych nastolatek. Panowie kłócą się między sobą jak przystosować nastolatkę do życia na ziemi. Dziewczyna poznaje psa Krypto i zwyczaje ziemskich dziewczyn. Jest nudno, ale sympatycznie. Do czasu, kiedy kryptonianki nie przejmuje Wonder Woman w celu wyszkolenia jej na wyspie amazonek. Przejmuje bardzo brutalnie, co jest nie logiczne, ale co tam w końcu musi się coś dziać.
Darkseid banalny
W międzyczasie władca apokalips poszukuje nowej dowódczyni do swojej armii odkąd odeszła Barda. Oczywiście tyran wpada na świetny pomysł, aby porwać Karę i udaje mu się to z pomocą armii Doomsdayów (sic!). Porywa przyszłą Supergirl, podczas gdy inni walczą z potworami. Przy okazji ktoś tam ginie i jest dramatycznie. Ogólnie banalnie.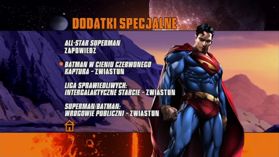 Barda, Apokalipsa i Batman sukinsyn
Wielka trójka plus Barda wyruszają na apokalipsę i walczą z różnymi dziwactwami w stylu wielkich psów, kobiet na sterydach i cyborgów. Oczywiście to Batman negocjuje z Darkseidem uwolnienie kuzynki supermana. Postać zupełnie niepasująca do planety tyrana. Do tego twórcy sugerują, że Batman jest w stanie poświęcić życie mieszkańców całej planety, aby tylko osiągnąć cel, co się oczywiście głównemu złemu podoba i pozwala czwórce bohaterów wrócić na ziemię.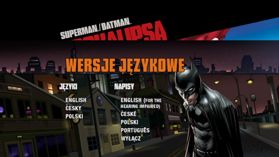 Superman dostaje po buzi
W tym filmie Clark dostaje tęgie baty, a to od amazonek, a to od swojej kuzynki będącej pod wpływem… Darkseida. Na końcu bęcki zbiera od samego władcy apokalips. Srogo obity wygrywa walkę o kuzynkę. Potyczki, których jest dużo w filmie są efektowne i dynamiczne, choć często z pobudek dość kretyńskich. Starcia sprawiają wrażenie zapychaczy fabuły, ale za to są krwawe i epickie. W czasie jednej z nich zdemolowana zostaje farma państwa Kentów.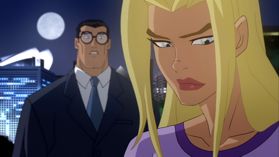 Spokojnie to tylko Superman/Batman
Omawiany film technicznie jest bez zarzutu. Kreska jest mangowa a'la Turner. Motywy muzyczne superbohaterskie miłe dla ucha ale nie zapadające w pamięć. Bardzo dużą wadą produkcji jest brak scen komediowych, zabawne akcenty są wymuszone. Ale to przecież rzecz o babkach i facetach w trykotach, a więc musi być poważnie… poważnie?! Polskie wydanie jest jak zawsze estetyczne i świetnie przetłumaczone. Na płycie dostajemy jeden nowy Sneak-peek (
All-Star: Superman
) i dwa odgrzewane kotlety (sneak-peek
Batman: Under the Red Hood
i
Justice League: Crisis on Two Earths
). Dodatki oceniam na 2 gacki. Sam film zaś jest trochę lepszy od poprzednika. Zdaje sobie sprawę, że więcej z animowanej serii
Superman/Batman
wyciągnąć nie sposób. Więcej można będzie wymagać od nadchodzących
Batman Year One
i
All-Star: Superman
.
Ocena: 3,5 GACKA

---
Poprzednia Strona