SUPERMAN/BATMAN: APOKALIPSA
Kiedy człowiek jest fanem takich świetnych herosów jak Batman i Superman, łyka wszystko co jest odziane ich duetem. Tak też i było ze mną, kiedy pocztą przyszło do mnie DVD z filmem Superman/Batman: Apocalypse. Są naprawdę różne rodzaje filmów animowanych. Takie, które mają do zaoferowania różnorakie walory intelektualne (jak w przypadku kilku animowanych produkcji, których de facto jest niewiele) i czystą rozrywkę, na której można świetnie się bawić widząc tym samym swoich idolów na ekranie. Które mają w sobie głupoty, wpadki, ale traktujemy je z przymrużeniem oka. Właśnie to tej drugiej kategorii należy Superman/Batman: Apocalypse. Film jest kontynuacją Wrogów Publicznych gdzie całość skupiała się na zwróceniu społeczeństwa przeciw Batmanowi i Supermanowi.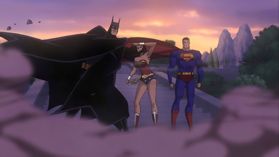 Tutaj jednak główną rolę odgrywa Kara, nastolatka z planety Krypton. Szybko okazuje się, że Kara jest kuzynką Kal-Ela, czyli znanego nam powszechnie Supermana. Cały film głównie pokazuje aklimatyzacje kosmity wśród rasy ziemskiej, słowem – przyśpieszony proces wychowawczy. Obecność Kary budzi niepokój wśród wszystkich bohaterów. Dziewczyna nie dość, iż nie zna swoich mocy, nie potrafi ich kontrolować. W filmie właściwie cały czas widzimy nieufność prawie wszystkich do Kary, zaczynając od Batmana a kończąc na psie Krypto. W kontekście "zagubionej Kary" najbardziej mnie rozśmieszyła, a jednocześnie zażenowała postawa Clarka Kenta. Bohater, który pozornie ma zasady, i nie pozwoli, aby ktokolwiek ucierpiał, kiedy on piastuje urząd obrońcy, pozwala aby taka istota jak Kara bytowała wśród innych ludzi. Osobiście uważam to za fatalną niekonsekwencję, i brak staranności przy kreowaniu wizerunku jednego z głównych bohaterów. Skoro już omówiłem Supermana i Supergirl czas powiedzieć kilka słów na temat bohatera, dla którego zapewne oglądaliście ten film. Batman został wzorowo pokazany – mroczny, nieufny, ostrożny, zawsze znajdzie czas na chłodną kalkulację i taktyczne podejście do sytuacji. Gdyby nie jego inteligencja ta historia mogła by się potoczyć w zupełnie innym kierunku. Mroczny Rycerz był gotów poświęcić się za dziewczynę, której nie znał i nie ufał, i miał na tyle odwagi aby stanąć twarzą w twarz z samym Darkseidem. Zaraz, zaraz… chyba już coś takiego widzieliśmy… jednak to spotkanie skończyło się zupełnie inaczej.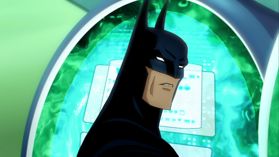 Niestety film ma również masę niedociągnięć i głupot. Najbardziej o pomstę do nieba moim zdaniem woła armia Doomsdayów, czyli bestii, która zabiła Supermana. Moje subiektywne odczucie jest takie, że to idiotyzm w czystej formie. Jedna taka bestia może zabić Kal-Ela. Jako że armia składała się z słabszych klonów, logicznym jest że jeden powinien co najmniej zająć się walką! Miło zobaczyć taką postać znowu, ale skoro ma być pokazywana w taki sposób to podziękuje. Co do wpadek, to na początku filmu Batman pojawia się w specjalnym kombinezonie do nurkowania. Kiedy udaje się w pościg za Karą, dosłownie minutę po tym jak nurkował ma już swój stary strój. Przebrał się w kilkadziesiąt sekund? Kolejną wadą jest Darkseid w Smallville, kiedy to w rodzinnym domu Kentów nie wiadomo skąd pojawia się On. Wiem, iż jego zaawansowana technologia może mu na to pozwolić, acz czy naprawdę musiało to wypaść tak idiotycznie? Poniżej jak zwykle wymienię kilka podsumowujących plusów/minusów.
+ Design postaci.
+ Świetna ostatnia scena.
+ Liczne nawiązania.
– Niedociągnięcia wizualne…
– Niedociągnięcia scenariuszowe.
– (Słabe) pojawienie się Doomsdaya!
Ocena: 4 GACKI

---
Poprzednia Strona