---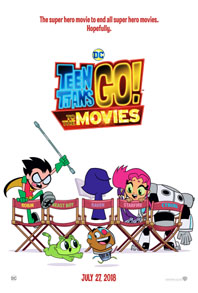 TEEN TITANS GO! TO THE MOVIES
(USA, 2018)
TYTUŁ POLSKI: MŁODZI TYTANI: AKCJA! FILM
GATUNEK: Animacja
CZAS PROJEKCJI:
REŻYSERIA: Aaron Horvath, Peter Rida Michail
SCENARIUSZ: Aaron Horvath, Michael Jelenic
MUZYKA:
PRODUCENCI: Will Arnett, Peter Rida Michail, Peggy Regan
PRODUCENCI WYKONAWCZY: Sam Register, Michael Jelenic, Aaron Horvath
STUDIO: Warner Animation Group, DC Entertainment, Cartoon Network
PREMIERA: 27 lipca 2018 (USA), 10 sierpnia 2018 (Polska)
Nastoletnim Tytanom zdaje się, że wszyscy główni superbohaterowie występują w swoich własnych filmach – wszyscy oprócz Nastoletnich Tytanów, tak jest. Ale de facto, przywódca drużyny, Robin jest zdeterminowany, aby zaradzić tej sytuacji i być postrzeganym jako gwiazda a nie pomocnik. Gdyby tylko mogli zaangażować najgorętszego reżysera Hollywood, który by ich zauważył. Mając do dyspozycji kilka szalonych pomysłów i piosenkę w sercu, Nastoletni Tytani udają się do Tinsel Town, pewni, że spełnią swoje marzenie. Ale kiedy grupa jest radykalnie źle pokierowana przez poważnego super-złoczyńcę i jego szaleńczy plan przejęcia Ziemi, sprawy naprawdę idą w złym kierunku. Drużyna uważa, że ​​ich przyjaźń i duch walki zawodzi, sprawiając, że los Nastoletnich Tytanów wisi na włosku!
Do grona aktorów znanych z serialu, Grega Cipesa (Beast Boy), Scotta Menville'a (Robin), Khary'ego Paytona (Cyborg), Tary Strong (Raven) oraz Hynden Walch (Starfire), dołączą Will Arnett ("The LEGO Batman Movie") jako Slade Wilson oraz Kristen Bell ("Veronica Mars") jako reżyser Jade Wilson.
Film wyreżyserują Aaron Horvath i Peter Rida Michail na podstawie scenariusza autorstwa Michaela Jelenica i Horvatha. Michail, Will Arnett i Peggy Regan będą producentami, a Sam Register, Jelenic i Horvath producentami wykonawczymi.
DC postanawia skończyć z sileniem się na mhrok i zaczyna się zgrywać. Śmieje się ze wszystkiego, z Hollywood, konkurencji ("Deadpool-sretpul" – LOL), z kina superhero, a przede wszystkim z samych siebie. I dobrze, bo nieźle im to wychodzi.
Młodzi Tytani: Akcja! Film (WTF? Co za idiotycznie przetłumaczony, trójczłonowy tytuł z jakże kretyńskim "Film" na końcu, tak jakbyśmy nie wiedzieli, że oglądamy film!) to pełnometrażowa kontynuacja serialu Cartoon Network emitowanego od 2013 roku. Serialu nie znam (oglądałem starszą wersję i miło ją wspominam), więc byłem gotowy na humor niekoniecznie dla dorosłego widza. To podejście okazało się słusznym, bo jak już przełknąłem pierwsze żarty rodem z Atomówek oraz liczne wstawki musicalowe, nie pozostało mi nic innego jak dobrze się bawić tymi wszystkimi podśmiechujkami. Między żartami Tytani rozpracowują prostą, ale sensowną intrygę, z logicznie realizującym swój plan łotrem (Sleeeeeejd – LOLx2) oraz typowym, przyjemnym morałem dla widzów i lidera grupy (Robin). Główną atrakcją są tu jednak oczywiście gówniarskie dowcipy, a także smaczki dla fanów DC, do których akurat się zaliczam. Miło popatrzeć na tyle szczegółów, części dyskretnie schowanej na trzecim planie, np. warto zerknąć i dać się zaskoczyć tym, kto dawał głos Supermanowi i młodemu Bruce'owi Wayne'owi – mnie to rozwaliło.
Bawiłem się nieźle, bo choć zdaję sobie sprawę, że to specyficzny… twór, to jest on samoświadomy w tym co robi, wpasowuje się w dzisiejszą superheromanię. No i zdecydowanie mniej mnie zmęczył od gnającego na złamanie karku Lego Batmana z ubiegłego roku. Zaznaczam jednak, że to animacja przede wszystkim dla: a) dzieci, b) fanów DC.
Do filmu dołączona jest krótkometrażówka o Batgirl, The Late Batsby – bezcelowa, ale całkiem sympatyczna.
Ocena: 4 nietoperki

---
---