---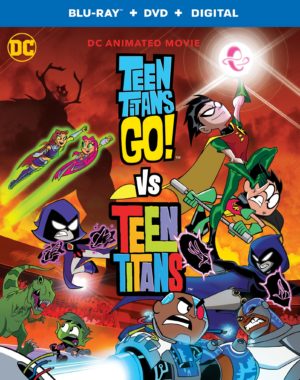 TEEN TITANS GO! VS. TEEN TITANS (USA, 2019)

TYTUŁ POLSKI:
GATUNEK: Animacja
CZAS PROJEKCJI: 72 minuty
REŻYSERIA: Jeff Mednikow
SCENARIUSZ: Marly Halpern-Graser i Jeremy Adams
MUZYKA:
PRODUCENCI:
WSPÓŁPRODUCENCI:
PRODUCENCI WYKONAWCZY: Sam Register, Aaron Horvath i Michael Jelenic
STUDIO: Warner Bros. Animation, DC Entertainment
PREMIERA BLU-RAY/4K UHD: 15 października 2019


W "Teen Titans Go! Vs. Teen Titans", te dwie drużyny walczą ze sobą, gdy złoczyńcy z ich światów łączą siły. Dwa bardzo różne zespoły Tytanów będą musiały odłożyć różnice na bok i współpracować by walczyć z Trigonem, Hexagonem, Mikołajem (tak, Świętym Mikołajem) i czasem, aby uratować wszechświat.
Produkcja Warner Bros. Animation, DC i Warner Bros. Home Entertainment "Teen Titans Go! Vs. Teen Titans" to ukochana obsada wielu serii z ostatnich 17 lat: Greg Cipes jako Beast Boy, Scott Menville jako Robin, Khary Payton (The Walking Dead) jako Cyborg, Tara Strong ("Batman: The Animated Serie"s) jako Raven i Hynden Walch jako Starfire.
W obsadzie występują również Kevin Michael Richardson jako Trigon/Hexagon, Robert Morse ("Mad Men") jako Święty Mikołaj, Gray Griffin jako Mrs. Claus, Rhys Darby ("Flight of the Conchords", "Voltron: Legendary Defender") jako Master of Games, Sean Maher ("Firefly", "Serenity") jako Nightwing i czterokrotny zdobywca nagrody Grammy "Weird Al" Yankovic jako Gentleman Ghost i Darkseid.
"Teen Titans Go! Vs. Teen Titans" jest produkowany i wyreżyserowany przez Jeffa Mednikowa (Be Cool, Scooby-Doo!, Teen Titans Go!), na podstawie scenariusza Marly Halpern-Graser ("Batman vs. Teenage Mutant Ninja Turtles") i Jeremy'ego Adamsa ("LEGO DC: Batman – Family Matters").
Sam Register jest producentem wykonawczym. Producentami wykonawczymi to również Aaron Horvath ("Teen Titans Go!", "Unikitty!") i Michael Jelenic ("Teen Titans Go!", "Batman: The Brave and the Bold").
---
---
---