---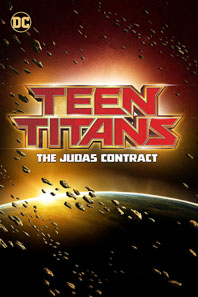 TEEN TITANS: THE JUDAS CONTRACT
(USA, 2017)
TYTUŁ POLSKI:
GATUNEK: Animacja
CZAS PROJEKCJI:
REŻYSERIA: Sam Liu
SCENARIUSZ: Ernie Altbacker
MUZYKA:
PRODUCENCI: James Tucker, Alan Burnett
PRODUCENCI WYKONAWCZY: Sam Register
STUDIO: Warner Bros. Animation DC Entertainment
PREMIERA DVD/BLU-RAY: 4 kwietnia 2017 (USA)
Dowodzeni przez Starfire, Teen Titans – Beast Boy, Raven, Blue Beetle, Robin i dopiero co wróciwszy Nightwing – zbudowali spójny zespół do niekończącej się walki ze złem. Ale ich nowa partnerka, tajemnicza i potężna Terra może zaburzyć tę dynamikę. Tymczasem starożytne zło, Brother Blood, przebudził się, a w cieniu czai się znajomy złoczyńca, Deathstroke – obaj czekają na okazję do ataku. Ostatecznie Teen Titans będą musieli zwalczyć swoich wrogów i pokonać własne wątpliwości, aby zjednoczyć się i przezwyciężyć szkodliwe siły wokół nich w tej pełnej zwrotów akcji, intryg, przygód i oszustw historii.
Film wyreżyseruje Sam Liu ("Justice League vs. Teen Titans") na podstawie scenariusza autorstwa Erniego Altbackera opartego na klasycznej historii z "Tales of the Teen Titans". Christina Ricci użyczy swojego głosu członkini Teen Titans zwanej Terra, a w roli Deathstroke'a usłyszeć będzie można Miguela Ferrere.
W swoich rolach z wcześniejszych filmów z animowanego uniwersum DC powrócą: Sean Maher (Nightwing), Kari Wahlgren (Starfire), Jake T. Austin (Blue Beetle), Taissa Farmiga (Raven), Brandon Soo Hoo (Beast Boy) i Stuart Allan (Damian Wayne).
Gregg Henry ("Scandal," "The Killing," "Payback") użyczy głosu złowieszczemu Brother Blood. W obsadzie są również: Maria Canals-Barrera ("Wizards of Waverly Place") jako matka Jaime'ego, Meg Foster (They Live) jako Mother Mayhem, Crispin Freeman (Justice League Action, gry Batman: Arkham) jako Speedy, Masasa Moyo ("Young Justice") jako Bumblebee, David Zayas ("Gotham," "Dexter") jako ojciec Jaime'ego, Jason Spisak ("Young Justice") jako Kid Flash oraz Kevin Smith (Clerks, "Geeking Out") w roli samego siebie.
W komiksowej historii "The Judas Contract" scenarzysty Marva Wolfmana i rysownika George'a Pereza, Tytani — młodzi bohaterowie Starfire, Raven, Beast Boy, Nightwing/Robin i Cyborg — mierzą się ze zdradą Terry. Młoda kobieta połączyła siły z Deathstroke'iem by zlikwidować drużynę.
W filmowej wersji, która tylko czerpie inspirację z komiksowego oryginału wprowadzonych zostanie kilka zmian. W gronie młodych bohaterów zabraknie Cyborga, który jest w obecnych komiksach członkiem Justice League, w gronie Teen Titans zobaczymy zaś Blue Beetle'a.
---
---
---