---
W czasie występu w cyrku, kiedy Dick ma wykonać pierwszą akrobację, matka chłopaka stoi po jego lewej stronie. Po zmianie ujęcia matka stoi już po prawej. Po lewej natomiast pojawia się nie wiadomo skąd jakiś klown. Dodatkowo kobieta nie stoi już na tej samej desce co Dick. Podobnie dzieje się przed i po scenie fikołka Dicka w powietrzu - tym razem pani Grayson zamienia się miejscami ze starszym synem (dolne zdjęcia).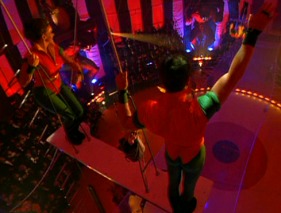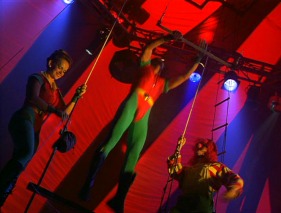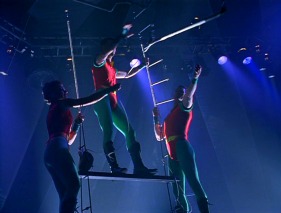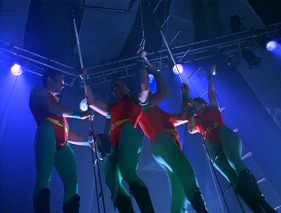 ---
Batman z Robinem dopływają do wyspy Riddlera - widać, że O'Donnella i Kilmera zastępują kaskaderzy.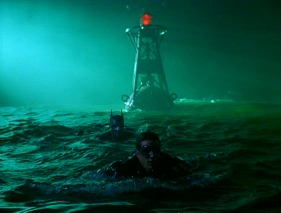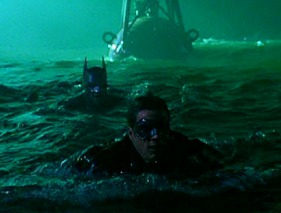 ---
Zanim Riddler po raz pierwszy pojawia się w filmie, można zauważyć, że grający go Jim Carrey stoi za dekoracjami, czekając na swoje wejście (zdradza go zielony kapelusz).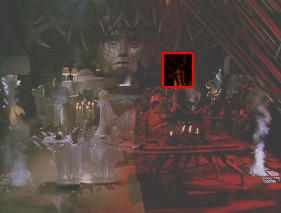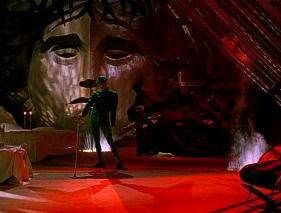 ---
Kiedy Batman wylatuje samolotem z jaskini na pierwszym ujęciu widzimy, że maszyna nie ma górnego skrzydła.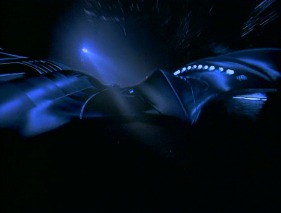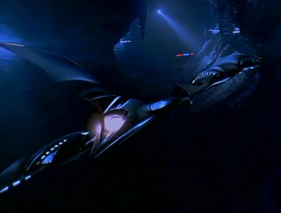 ---
Okulary strażnika w rzeczywistości nie spadają do końca. W pewnym momencie po prostu same znikają.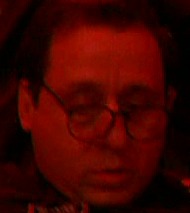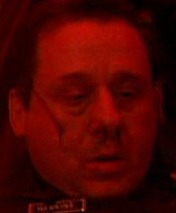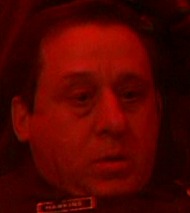 ---
Gdy Batman wreszcie ratuje Robina, peleryny obojga bohaterów opadają ku dołowi. Jednak po zmianie ujęcia znowu są zwrócone ku górze.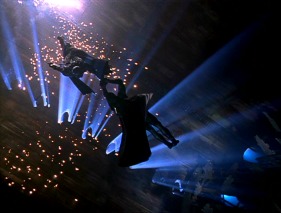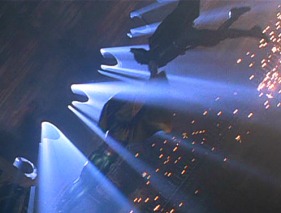 ---
Na samym początku "lotu" Chase, widzimy jak powietrze podnosi do góry jej spódnicę i bluzę. Gdy ratuje ją Batman, ubranie przylega normalnie do ciała.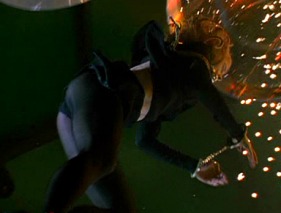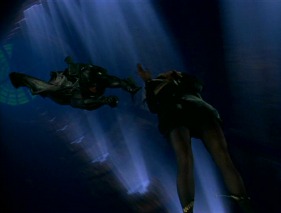 ---
Ratując Robina, Batman zahacza hak w kształcie symbolu nietoperza o metalową belkę. W zależności od ujęcia hak jest inaczej wbity. Podczas, gdy na pierwszym ujęciu widać, że hak wbił się dolnym ostrzem, to na drugim jest wbity górnym.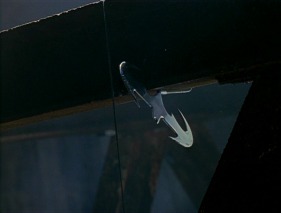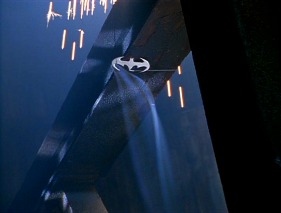 ---
Zanim Bruce dostaje się do gabinetu Chase, aby pokazać jej zagadkę, widzimy go jak wychodzi z samochodu, idzie korytarzami i w końcu wyważa drzwi. Nie ma jednak zagadki w rękach, aż do momentu, kiedy doktor Meridian go o nią zapyta. Koperta z zagadką jest jednak zbyt duża aby włożyć ją do kieszeni, z której Bruce ją wyjmuje (a przynajmniej tak to wygląda).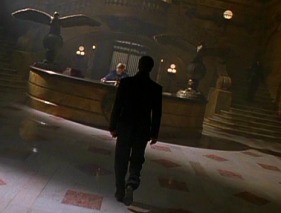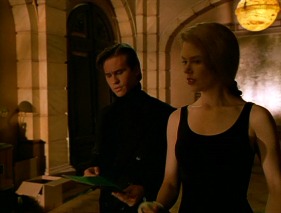 ---
W zależności od ujęcia strażnik bankowy jest inaczej ułożony w sejfie. Na pierwszym zdjęciu widać, że jest zaraz przy ścianie. Na drugim leży już po przekątnej podłogi.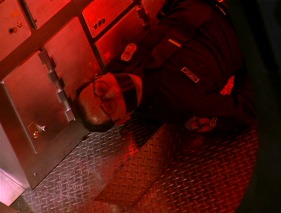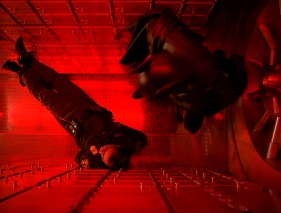 ---
Gdy Bruce próbuje rozwiązać zagadkę Riddlera z samogłoskami zaczyna od jej pierwszej części: "We're five little items of an everyday sort." Następnie przyciska guzik i przełącza na drugą: "You will find us all in a tennis court." Chwile potem, kiedy kamera jeszcze raz pokazuje tabliczkę, znowu widzimy pierwszą część.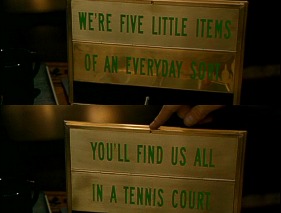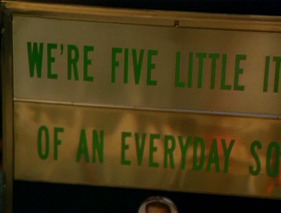 ---
Kiedy Riddler i Dwie-Twarze wkraczają do rezydencji Wayne'a i ogłuszają Alfreda, ten upada na ziemię razem z tacą. Gdy jednak przyjrzymy się tej scenie w zwolnieniu widać, że grający lokaja Michael Gough przesuwa prawą ręką tace w bok tak, aby Jim Carrey mogł później bez problemu otworzyć drzwi.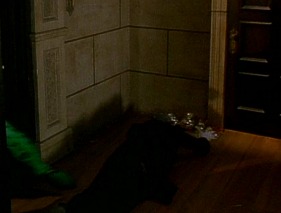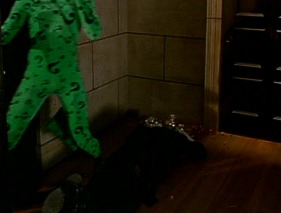 ---
Kiedy Bruce ogląda w telewizji scenę oszpecenia Harveya Denta, widzimy, że kwas oblewa całość, a nie tak jak powinno to być, połowę twarzy prokuratora.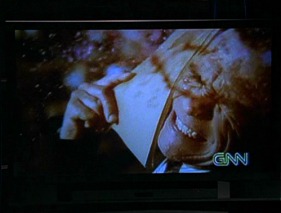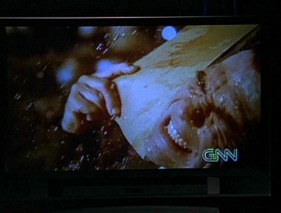 ---
W zależności od sceny, strażnik bankowy zmienia sposób w jaki trzyma się spadającego sejfu. Ponadto, kiedy sejf wchodzi z powrotem do dziury w ścianie nie widzimy strażnika, ponieważ ujęcie to jest odtworzoną od tyłu wersją sceny wyciągania sejfu z budynku.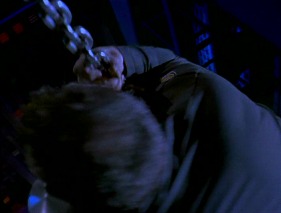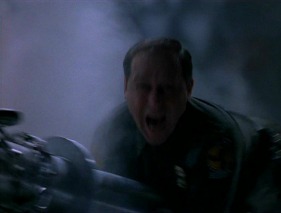 ---
- 1 | 2 | 3 - DALEJ >>>