O FILMIE | EKIPA | MUZYKA | RECENZJE | PLAKATY | GALERIE | VIDEO | NAGRODY | BOX OFFICE
KOMIKSOWE INSPIRACJE | CIEKAWOSTKI | WYDANIA FIZYCZNE | NAJŚWIEŻSZE WIADOMOŚCI
MARKETING WIRUSOWY – RATAALADA
---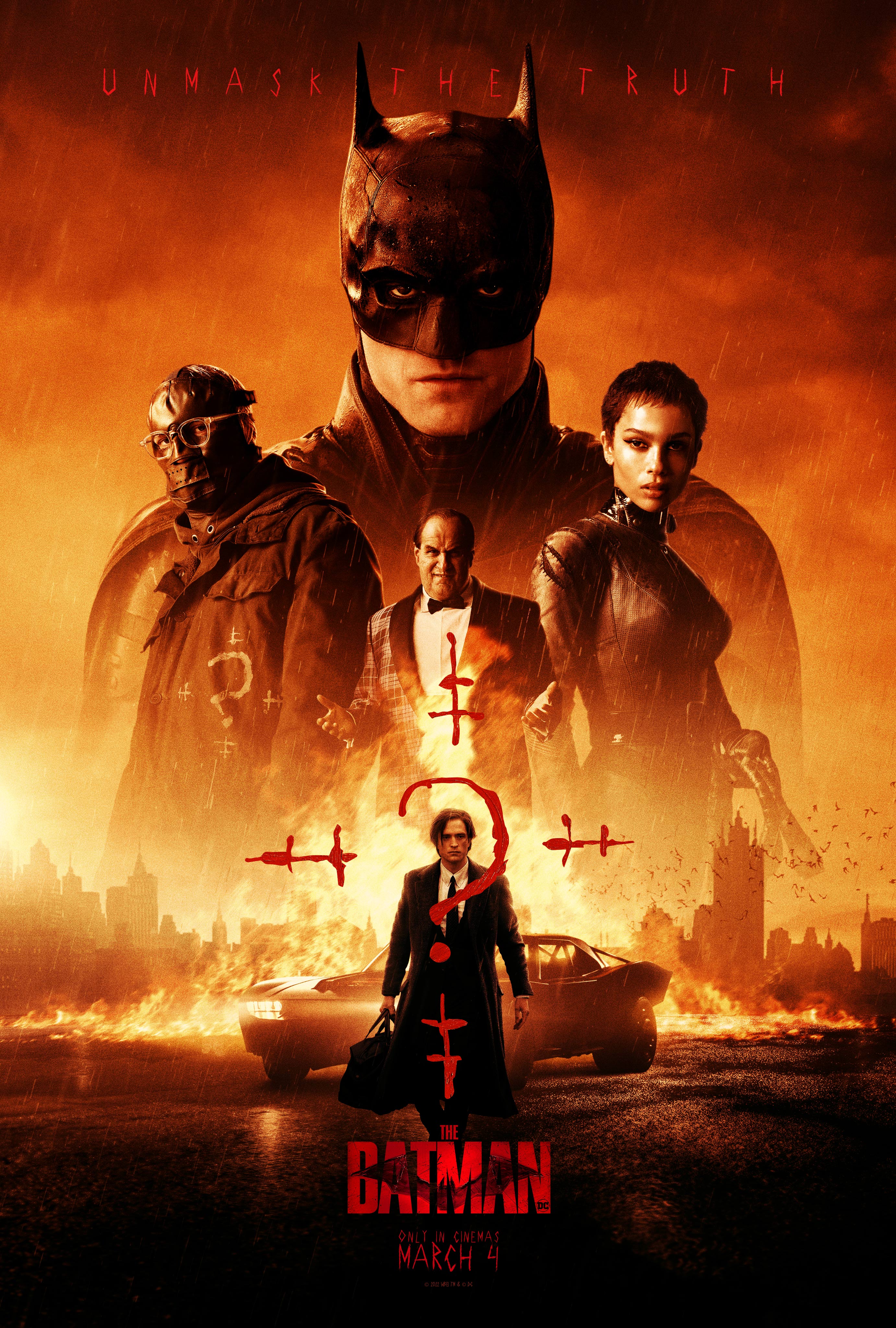 THE BATMAN (USA, 2022)

TYTUŁ POLSKI: BATMAN
GATUNEK: Akcja/ Przygoda/ Dramat/ Kryminał
BUDŻET: 200 milionów dolarów
CZAS TRWANIA: 176 minut
REŻYSERIA: Matt Reeves
SCENARIUSZ: Matt Reeves i Peter Craig
STUDIO: Warner Bros. Pictures
DYSTRYBUTOR W POLSCE: Warner Bros. Poland/ Galapagos
STRONY OFICJALNE: TheBatmanMovie.net, facebook/TheBatman, twitter/TheBatman
OFICJALNA POLSKA STRONA: WarnerBros.pl
PREMIERA: 4 marca 2022 (USA), kin: 4417


4 marca 2022 (Polska), kopii: 500
DVD i Blu-ray™: 24 maja 2022 (USA)
27 maja 2022 (Polska)
To nie tylko wezwanie… To ostrzeżenie.
31 października. W wieczór Halloween w Gotham City dochodzi do brutalnego zabójstwa. We własnym domu zamordowany zostaje ubiegający się o reelekcje burmistrz Don Mitchell, Jr. Na miejscu zbrodni funkcjonariusze policji znajdują kopertę zaadresowaną do Batmana – samozwańczego mściciela-detektywa, który od blisko dwóch lat oczyszcza ulice miasta z przestępców. W kopercie znajduje się zagadka i wszystko wskazuje na to, że jest pierwszą z wielu. Pewien szaleniec o pseudonimie Riddler rzuca wyzwanie Człowiekowi-Nietoperzowi oraz wymiarowi sprawiedliwości. Postanawia rozpocząć grę, w której toczyć się będą losy kolejnych obywateli, a jej skutkiem ma być ujawienie korupcji i najmocniej skrywanych grzechów miasta Gotham. Zamaskowany bohater podejmuje wyzwanie. Wraz z zaprzyjaźnionym porucznikiem policji Jamesem Gordonem oraz w jakiś sposób wplątaną w te wydarzenia włamywaczką Seliną Kyle, postanawia zinfiltrować największą organizację przestępczą Gotham, a następnie dopaść Człowieka-Zagadkę.
Warner Bros. Pictures przedstawia film Matta Reevesa "Batman", z Robertem Pattinsonem w podwójnej roli mściciela z Gotham i jego alter ego, miliardera-samotnika Bruce'a Wayne'a. Oprócz Pattinsona (Tenet, Lighthouse) w rolach bohaterów i złoczyńców z Gotham występują Zoë Kravitz (Wielkie kłamstewka, Fantastyczne zwierzęta: Zbrodnie Grindelwalda) jako Selina Kyle, Paul Dano (Love & Mercy, Zniewolony. 12 Years a Slave) jako Edward Nashton, Jeffrey Wright (Nie czas umierać, Westworld) jako James Gordon, John Turturro (cykl Transformers, Spisek przeciwko Ameryce) jako Carmine Falcone, Peter Sarsgaard (Siedmiu wspaniałych, Interrogation) jako prokurator Gil Colson, Jayme Lawson (Farewell Amor) jako kandydatka na burmistrza Bella Reál oraz Andy Serkis (cykl Planeta małp, Czarna Pantera) jako Alfred i Colin Farrell (Dżentelmeni, Fantastyczne zwierzęta i jak je znaleźć) jako Oswald Cobblepot. Reeves (cykl Planeta małp) wyreżyserował film na podstawie scenariusza, który napisał wspólnie z Peterem Craigiem, a do stworzenia którego posłużyli się postaciami stworzonymi przez DC. Twórcami Batmana są Bob Kane i Bill Finger. Dylan Clark (cykl Planeta małp) i Reeves są producentami filmu, zaś producentami wykonawczymi są Michael E. Uslan, Walter Hamada, Chantal Nong Vo i Simon Emanuel. W ekipie reżysera znaleźli się m.in. nominowany do Oscara operator Greig Fraser (Diuna, Lion. Droga do domu), pracujący przy Planecie małp Reevesa scenograf James Chinlund i montażysta William Hoy, jak również montażysta Tyler Nelson (Rememory) i nagrodzona Oscarem projektantka kostiumów Jacqueline Durran (1917, Małe kobietki, Anna Karenina). Muzykę skomponował laureat Oscara Michael Giacchino (najnowszy Spider-Man, filmy z serii Jurassic World i Gwiezdne wojny, Odlot).
Warner Bros. Pictures przedstawia produkcję 6th & Idaho/Dylan Clark Productions w reżyserii Matta Reevesa pod tytułem "Batman". Film ma mieć kinową premierę 4 marca 2022 r., a jego światowym dystrybutorem będzie Warner Bros. Pictures.
Najświeższe wiadomości o The Batman na BatCave znajdziecie tutaj.
---
Produkcja: Dylan Clark i Matt Reeves
Producenci wykonawczy: Michael E. Uslan, Walter Hamada, Chantal Nong Vo, Simon Emanuel
Współproducent: Toby Hefferman
Zdjęcia: Greig Fraser
Muzyka: Michael Giacchino
Montaż: William Hoy, Tyler Nelson
Kostiumy: Jacqueline Durran
Scenografia: James Chinlund
Obsada: Robert Pattinson, Zoë Kravitz, Paul Dano, Jeffrey Wright, Colin Farrell, John Turturro, Andy Serkis, Peter Sarsgaard, Alex Ferns, Jayme Lawson, Gil Perez-Abraham, Peter McDonald, Rupert Penry-Jones, Con O'Neill, Archie Barnes, Hana Hrzic, Luke Roberts, Sandra Dickinson, Barry Keoghan