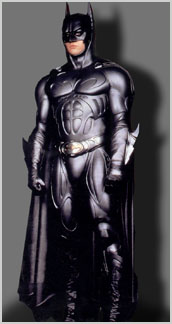 Patrząc wzgląd na komiks, kamizelka kuloodporna to przy tym muzealne starocie. Zaprojektowany dla maksymalnego pożytku, strój Mrocznego Rycerza jest zarówno ognioodporny i odporny na substancje chemiczne, z potrójnym pancerzem umieszczonym w pierwszym rzędzie dookoła torsu i Bat – Symbolu. Jego zbroja potrafi wytrzymać napięcie nawet 200,000 wolt, a buty są skonstruowane na podobieństwo wspinaczkowych, przez co łatwo mu przemieszczać się na różnych podłożach. Rękawice są zrobione tak, by utrzymać się na każdej wysokości, niezależnie z jakiego ona jest materiału W dodatku , podwójnej ilości łuskowa peleryna jest ofensywną bronią: jej obciążone końce dostarczają fizycznego uderzenia w parze z jego udowodnionym psychologicznym uderzeniem na przestępcach. Kaptur, w który jest wbudowany mikrofon umieszczonego na jego wielkich uszach, z radio odbiornikach przytwierdzonych w uszach (nie tych w masce) i noktowizora umieszczonego w oczodołach maski, dzięki których nietoperz widzi w ciemnościach i dzięki temu może się dobrze ukryć. Również opcjonalne panele chroniące głowę, jak i obszary skroniowe czaszki zrobione z twardego materiału czynią głowę Batmana jako broń w czasie walki. Główny cel kostiumu jest oczywisty – ma zadziałać jako kamuflaż i wzbudzić w przeciwnikach strach. Jego podstawowy projekt pozostał faktycznie niezmieniony; to często zostaje uaktualniany o nowe cuda w techniki, które pomagają Batmanowi w jego walce ze złem.
POMOCNICZY PAS
Bata rangi, bomby, gadżety i gazy bojowe są tylko małym pokazem "konkretów", które Mroczny Rycerz ukrywa w użytecznym pasie, być może najbardziej sekretnego przedmiotu, jakiego kiedykolwiek stworzył. W pasie najważniejszymi rzeczami są:

– Apteczka pierwszej pomocy z antybiotykami zmniejszającymi ból, ale nie powodującymi urojenia.

– Komunikator, dzięki któremu komunikuje z Jaskinią, uruchamia automatycznego pilota w batmobilu(w filmie "Batman" Batman używa go by zatrzymać nadjeżdżający Batmobil [informacja dla tych, którzy się zastanawiają, do kogo w tamtym momencie gacek mówi 🙂 ] i przerabia nagrany wcześniej dźwięk czy rozmowę .

– Podsłuch, pomocniczą latarkę, mikrokamerę, którą można przylepić na dowolnym podłożu

– Harpun, który na zdjęciu jest umocowany w zamku pasa. Jest uniwersalny i właściwie jest główną bronią Batmana. To dzięki niemu "lata". Jest również wersja pistoletowa, którą widać obok.





– Bata rang – broń, która jest nie tylko śmiercionośna, ale również szybka i cicha. Bata rangi dzielą się na sterowane ręcznie i komputerowo. Te drugie potrafią jednym rzutem powali 8 gości! Klasyczne są ciągle udoskonalane ,by były łatwiejsze do uchwytu i by robiły mniej hałasu.

– Legendarna dmuchawka zasypiająca, schowana w prawym bucie, która po raz pierwszy pojawiła się w Year One. Strzałki, które z niej leciały były nasiąknięte małą dawką anakondy, dzięki której przeciwnik potrafił zasnąć na dwa dni!

– Granaty, które się dzielą na:



– Mgielne. Tworzyły dużo dymu, przez co przeciwnicy mieli zmniejszoną widoczność (Patrz: Year One)

– Gazowe. Zawierają substancje usypiające lub (jak to było w "Powrocie Mrocznego Rycerza") sprawia, że w prawej półkuli mózgowej zbiera się bardzo silny symulant. Mała dawka sprawia, że człowiek przez 20-30 minut przeżywa swój najgorszy koszmar. O większej się już nie wypowiadać….

– Napalm. Jak sama nazwa wskazuje po użyciu pojawia się sporo pięknego ognia.
– Jest to jedyny defensywny gaz. Zawiera chemicznie udoskonaloną wodę, która w mig upora się z ogniem.

– Minikomputer – To już tylko gadżet, który gacek zabiera na trudniejsze misje poza rejonem. Nie trzeba chyba tłumaczyć….

– System samo destrukcji. Niestety pas to nie drzwi firmy "Gerda" i w sytuacjach, gdy Batman zostaje uwięziony, przeciwnicy mogą spokojnie się nim pobawić. Nie wiedzą jednak, że pas ma system, który uaktywnia małą bombę w pasie, która wybucha w promieniu 100 metrów.