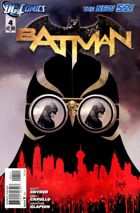 BATMAN #4
Tytuł historii: Face the Court
Miesiąc wydania (okładka): Luty 2012 (USA)
W sprzedaży od: 21.12.2011 (USA)
Scenariusz: Scott Snyder
Rysunki: Greg Capullo
Okładki: Greg Capullo, FCO; Mike Choi
Kolor: FCO Plascencia
Tusz: Jonathan Glapion
Liternictwo: Richard Starkings, Comicraft – Jimmy Betancourt
Ilość stron: 32
Twoja ocena:

GD Star Rating
loading...
Szokujące odkrycie doprowadza Batmana do tajemnic Court of Owls, które w krwawy sposób powiązane jest z Gotham City i rodziną Wayne'ów. Na Batmana czeka nawet śmiertelne niebezpieczeństwo – pułapka zastawiona setki lat temu pod Gotham City. Wojna o dusze gothamczyków rozpoczyna się tutaj!
Wybuch nie jest najniebezpieczniejszy dla Batmana, większym zagrożeniem jednak dla niego fakt, że jego przeciwnik mam nad nim przewagę, ale na szczęście Bruce'a nie łatwo jest przestraszyć.
W jaskini Dick dowiaduje się, że Bruce odpoczywa, gdyż po ostatnich jego przygodach Alfred podał mu dużą dawkę środka uspokajającego. Jednak nawet to i nowe rany nie są wstanie na długo powstrzymywać Wayne'a, który właśnie bada kości Alana Wayne'a. Podczas rozmowy Dick zwraca uwagę, że ostatnio Bruce popada w coraz większą obsesją, a fakt, że nie docenia swoich przeciwników, nawet mimo odkrycia ostatnich dowodów, niepokoi nawet komisarza Gordona.
Jak się okazuje po śmierci swoich rodziców Bruce sprawdził legendy związane z Court of Owls. Nie mógł uwierzyć, że nieznany rabuś zabił jego rodziców dla kilku nędznych dolarów. Czuł, że pod tą sprawą musi kryć się coś więcej. Kilka dni przed śmiercią rodziców, na poddaszu rezydencji sowa założyła swoje gniazdo. Młody Bruce uznał, że to było ostrzeżenie, dlatego znając legendy o Court of Owls postanowił przyjrzeć się całej sprawie.
Widząc, coraz więcej znaków potwierdzających istnienie Court of Owls postanowił przyjrzeć się wpływowym przyjaciołom i partnerom biznesowym swoich rodziców. Odkrył wspólny punkt łączący wszystkie rodziny. Klub towarzyski, który mieścił się w Harbor House. Po zapoznaniu się z planami budynku odkrył tajne pomieszczenie. Ku swojemu zaskoczeniu nic tam nie znalazł oprócz sterty kurzu. Był tak zrozpaczony swoim odkryciem, że nie zauważył, że drzwi się zatrzasnęły. Spędził tam kilka tygodni nim wraz z policją odnalazł go Alfred.
Po tym doświadczeniu Wayne nauczył się by nigdy nie pozwalać by emocje decydowały za niego. Chciał wierzyć, że za śmiercią jego rodziców kryje się jakiś wielki złoczyńca. W późniejszych latach także badał sprawę Court of Owls, ale nigdy na nic nie natrafił. Na zakończenie rozmowy Dick zwraca mu uwagę, że chociaż teraz Gotham City to miasto Batmana, to kiedyś mogło jednak należeć do kogoś innego.
Podążając za nowym tropem Batman sprawdza kanały, podczas gdy Gordon czeka na niego dachu komisariatu. Analiza kości Alana Wayne'a pozwoliła odkryć, że tuż przed śmiercią zadano mu wiele drobnych ran, powstałych prawdopodobnie po cisach zadanych nożami. Na jednej z kości odkrył też pozostałości marmuru, którego nie powinno być w kanałach. Kiedy Bruce natrafia na podejrzaną ścianę, na której znajduje pewne ślady nagle zostaje zaatakowany przez Talona, który przebija go przez ścianę i wrzuca do labiryntu zaprojektowanego przez Court of Owls.
Chociaż dowodów na istnienie Court of Owls nie brakuje to mimo ostatnich odkryć Bruce cały czas podejrzewa, że wszystko można było sfabrykować. Chyba tam mocno nie chce do siebie dopuścić myśli, że mimo podjętych prób on, największy detektyw na świecie, mógł nic nie znaleźć na temat Court of Owls, że nie docenia swojego przeciwnika. Co niestety doprowadza go do śmiertelnej pułapki, bo wyraźnie widać, że jego przeciwnik jest zawsze dwa kroki przed nim.
Batman #4 po wybuchowym początku skupia się głównie na detektywistycznej stronie. Batman ma okazję się wykazać, a czytelnicy mogą zauważyć, że już młody Bruce miał zadatki na wielkiego detektywa. Poczynania młodego Wayne'a pod względem rysunków Capullo prezentują się naprawdę genialnie, ale w tym wątku, chociaż bardzo istotnym dla całej historii, wydaje się, że niedoświadczonemu bohaterowi, wszystko poszło za łatwo. W kolejnych numerach chciałbym, żeby Bruce odkrył jak wyglądały jego późniejsze poszukiwania Court of Owls. Pokazanie jak doświadczony Batman próbuje zbadać starą miejską legendę na pewno byłoby interesujące.
Ocena: 4,5 nietoperka

---