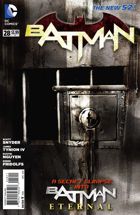 BATMAN #28
Tytuł historii: Gotham Eternal
Miesiąc wydania (okładka): Kwiecień 2014 (USA)
W sprzedaży od: 12.02.2014 (USA)
Scenariusz: Scott Snyder, James Tynion IV
Rysunki: Dustin Nguyen
Okładki: Dustin Nguyen; Howard Chaykin, Jesus Aburto
Kolor: John Kalisz
Tusz: Derek Fridolfs
Liternictwo: Sal Cipriano
Ilość stron: 32
Twoja ocena:

GD Star Rating
loading...
Gotham City w niedalekiej przyszłości. Na Harper Row, która samotnie spaceruje w nocy po opuszczonych ulicach miasta, uwagę zwracają dwaj funkcjonariusze. Początkowo planują przy użyciu siły nauczyć ją, że nie należy łamać godziny policyjnej, ale gdy ta wspomina, że "o północy Gotham to pępek świata" zostaje zabrana na tył vana i zawieziona do klubu Egyptian, ostatniego nocnego lokalu w mieście.
W rozmowie z ochroniarzem, który korzysta ze sprzętu WayneTech sprawdzając ją, wspomina, że chciała odwiedzić to miejsce, bo słyszała, że jego właściciel może załatwić wszystko, a ona potrzebujesz pomocy dla swojego brata, który został zainfekowany. Harper nie dane jest jednak spotkać z tajemniczym szefem zamiast tego staje oko w oko z kolejnych ochroniarzem, który ma jej spuścić łomot. Okazuje się bowiem, że hasło które podała gliniarzom jest nieaktualne, a jej twarzy nie ma w ich systemie. Bohaterka jest jednak przygotowana na taką ewentualność i za pomocą swojego urządzenia wyłącza światło. Po chwili znowu jest jasno, ale wszyscy napastnicy zostali znokautowani przez Batmana. Żeby wydostać z się budynku bohaterowie muszą przejść przez pełne uzbrojonych ludzi kasyno. W tym celu Harper przebiera się w swój superbohaterski strój i staje Bluebird.
Duet bohaterów skutecznie toruje sobie drogę przez kasyno, aż wreszcie na ich drodze staje szef, którego Harper szukała. Okazuje się nim być Selina Kyle, której udało się przejąć kontrolę na światkiem przestępczym Gotham City. Catwoman cały czas ma za złe Batmanowi, że ten zostawił ją na pewną śmierć. Kiedy Bruce prosi Selinę by ta pomogła powstrzymać śmierć mieszkańców Gotham, ta każe otworzyć wielki sejf, w którym zamknięta jest Stephanie Brown aka Spoiler. Jest to jedyna osoba w Gotham, która wie jak powstrzymać to co dopiero ma nastąpić.
W Batman #28 mamy okazję spojrzeć w komiksową przyszłość i dowiedzieć się jak za parę miesięcy będzie wyglądać Gotham City. Numer można też traktować po prostu jako zapowiedź cotygodniowej serii Batman Eternal.
Jak to z takiego typu historiami bywa jest wiele momentów które powodują, że czytelnik chce zapytać 'Co się stało?'. Przyszłość Gotham nie maluje się w kolorowych barwach. Oczywiście dostajemy tylko urywki informacji i nie wiemy w jaki sposób Harper Row awansowała na partnerkę Batmana, czy też co się stało w Gotham City. Wizja przyszłości niewątpliwie instyguje, ale pozostawia też wiele wątpliwości, czy twórcom uda się w odpowiedni sposób dojść do tych wydarzeń.
Momentów, które zaskakują nie brakują. To oczywiście sprawia, że od razu chciałoby się poznać wszystkie odpowiedzi, a na te przyjdzie nam poczekać do czasu aż ukaże Batman Eternal #39-40, gdyż to pomiędzy wydarzeniami z tych numerów rozgrywa się historia Gotham Eternal.
Gotham pogrążone w chaosie, godzina policyjna, drużyna Batmana przemeblowana. Selina Kyle w dość odmiennej roli. Jest pełno wątków, które zachęcają do sięgnięcia po nową cotygodniową serię, a jeśli do damy do tego powrót Spoiler to robi się naprawdę intrygującą.
Jako zapowiedź Batman Eternal 28. numer Batmana sprawdza się doskonale. Jednak jako o oddzielnym numerze nie wiele można o nim powiedzieć, bo nie wiadomo jakie wydarzenia doprowadziły do tych gruntownych zmian w Gotham City. Zbyt wiele zależy od tego w jaki sposób do tego wszystkiego doszło. Jednak apetyty na kolejne historie z Batmanem Gotham Eternal zaostrza doskonale.
Ocena: 4,5 nietoperka

---