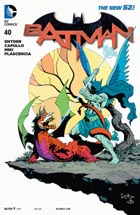 BATMAN #40
Tytuł historii: Endgame, Part Six
Miesiąc wydania (okładka): Czerwiec 2015 (USA)
W sprzedaży od: 29.04.2015 (USA)
Scenariusz: Scott Snyder
Rysunki: Greg Capullo
Okładki: Greg Capullo, Danny Miki, FCO Plascencia; Andy Kubert, Brad Anderson; Dave Johnson
Kolor: FCO Plascencia
Tusz: Danny Miki
Liternictwo: Steve Wands
Ilość stron: 40
Twoja ocena:

GD Star Rating
loading...
Finał "Endgame"! Batman ryzykuje wszystko przeciwko Jokerowi! Kto będzie śmiać się ostatni?
Z pomocą Bane'a, który podrzuca Batmana, bohaterowi udaje się dostać na platformę Jokera. Zdobycie próbki płynu rdzeniowego szaleńca nie będzie jednak tak proste, gdyż ten ma jeszcze coś w zanadrzu. 140 decybeli wesołości skutecznie niszczy maski przeciwgazowe bohaterów, wystawiając ich na działanie toksyny. Joker zdradza, że próbka jego płynu rdzeniowego tak by nie pomogła, ale ma w tunelach ukryte dionesium. By uczcić ten moment triumfu szaleniec postanawia zrobić sobie zdjęcie z Batmanem, któremu ściąga kaptur. Nie skrywa się pod nim jednak Bruce, ale Dick Grayson.
Tymczasem Bruce głęboko pod miastem odnajduje źródło dionesium, które Joker odnalazł, po tym jak spadł z klifu i które uzdrowiło go oraz zapewniło mu nadludzką siłę. Niestety tuż po pobraniu próbki, klaun wysadza jaskinię w powietrze, a po chwili osobiście zjawia się na miejscu. Rozpoczyna się brutalne starcie. Ostatecznie obaj ciężko ranni bohaterowie lądują na ziemi. Kiedy Joker chce przebić nożem serce Bruce'a, ten stwierdza, że to jeszcze nie koniec. Spadający stalaktyt skutecznie powstrzymuje szaleńca. Ten jednak ostatnimi resztkami sił chce się doczołgać do źródło dionesium, Batman jednak go powstrzymuje stwierdzając, że wierzy w jego historię. W ten sposób udaje mu się zatrzymać Jokera, któremu nie udaje się dotrzeć do źródła nim te zostaje zniszczone przez rozpadającą się jaskinię.
Przygotowany na wszystko Batman, za w czasu zadbał też, by umieścić w maskach swoich przyjaciół, którzy ruszyli z nim do walki z Jokerem dodatkowe antidotum dzięki czemu toksyna szaleńca ich nie zabiła.
Chociaż Julia błaga by Bruce ostatnimi resztkami sił zażył próbkę dionesium by uratować swoje życie, ten odmawia w obawie, że mogłaby zostać ona uszkodzona i nie można by było uratować mieszkańców Gotham.
Dwa tygodnie później. Na niebie Gotham widać setki symboli Batmana. W szpitalu Julia wręcza Alfredowie list pozostawiony przez Bruce'a. Jest to tylko jedno słowa "Ha", które dla wiernego lokaja oznacza, że jego panicz zawsze wiedział, że wszystko musi tragicznie się zakończyć.
Długo przyszło czytelnikom czekać na ostatnią część Endgame. Otrzymaliśmy jakby się wydawać mogło ostateczne starcie pomiędzy Batmanem i Jokerem. Jest brutalnie nie brakuje krwi i Gotham, ani przyjaciele Bruce'a już nigdy nie będą tacy sami, przynajmniej przez jakiś czas. Szokujące wydarzenia, kiedy się uśmierca bohaterów nie robią już takiego wrażenia jak kiedyś. Całkiem nie dawno mieliśmy przecież Batmana RIP. Endgame ma mocne zakończenie pokazujące, że w starciu Batman kontra Joker nikt nie odnosi zwycięstwa. Taki motyw lepiej sprawdziłby się np. w odrębnej miniserii nie związanej z głównymi seriami, a tak ma się wrażenie, że wszystko służyło tylko po to by zaszokować czytelnika. Jeśli nie jest się nową osobą regularnie czytającą serie z Batmanem, to może to robić wrażenie, ale w innym przypadku podchodzi się do tego bez większych emocji.
Cała historia Endgame przygotowała grunt pod nowego Batmana i zmianę statusu quo dotychczasowego uniwersum. Może jeszcze kilkadziesiąt lat temu takie coś wywarło by wielkie poruszanie. Nawet śmierć Kapitana Ameryki była szeroko komentowana, ale już tego typu zabiegi się przejadły.
Rozczarowujące jest także to, że wiele zabiegów zastosowanych przez Scotta okazało się tylko tanimi chwytami. Siła i wytrzymałość Jokera łatwo wytłumaczona kąpielą w dionesium, a złoczyńcy pomagający Batmanowi stanowią tylko tło. Praktycznie wrzucono takie pomysły tylko po to by pobudzać zainteresowanie, ale do niczego to nie prowadziło.
Snyder do tej pory w swoich historiach potrafił odkryć coś nowego lub też pokazać w zupełnie innym świetle działania Batmana. Zakończenie Endgame jakby nie było szokujące, tak naprawdę może nie wiele znaczyć i jego konsekwencje szybciej czy później zostaną cofnięte.
Ocena: 4,5 nietoperka

---