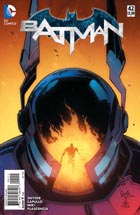 BATMAN #42
Tytuł historii: Superheavy, Part Two
Miesiąc wydania (okładka): Wrzesień 2015 (USA)
W sprzedaży od: 08.07.2015 (USA)
Scenariusz: Scott Snyder
Rysunki: Greg Capullo
Okładki: Greg Capullo, Danny Miki, FCO Plascencia; Dan Hipp
Kolor: FCO Plascencia
Tusz: Danny Miki
Liternictwo: Steve Wands
Ilość stron: 32
Twoja ocena:

GD Star Rating
loading...
Więcej niespodzianek kryje się za każdym rogiem, kiedy zupełnie nowy Batman rusza na ulice Gotham City!
Jim Gordon cały czas nie w pełni akceptuje siebie w roli Batmana. Na szczęście teraz otrzymuje do dyspozycji nowy pojazd, który jest niczym jaskini Batmana na kółkach – Bat-ciężarówkę. To nie jedyny gadżet, który wspiera Batmana, dzięki bat-apce, którą każdy może zainstalować, wiadomo gdzie obecnie przydałaby się pomoc Batmana.
Nowy Batman wyrusza na akcję do Narrows, dzielnicy która bardziej niż inne potrzebuje jego pomocy. Mieszkańcy muszą wiedzieć, że cały czas mogą liczyć na wsparcie bohatera. Walka z Gee Gee Heungiem obdarzonego mocą kontroli krzemianu, nie jest łatwe, gdyż ten może wykorzystać praktycznie całe miasto jako broń. Z pomocą zdalnie sterowanej Bat-ciężarówki udaje się zaskoczyć przeciwnika i go pokonać. Jednak tajemnicze nasionko, które dało mu niezwykła moc przyczynia się do jego śmierci w wyniku zbyt dużej dawki promieniowania. Przed śmiercią wyjawia, że dostał je od tajemniczego pana Blooma. W ostatnich tygodniach znaleziono więcej ofiar nasionka, które obdarzało supermocą.
Chociaż przez lata Batman współpracował z komisarzem, to teraz sprawy wyglądają inaczej. Nowy bohater nie ma co liczyć na wsparcie Maggie Sawyer i musi przestrzegać zasad.
Od Juli Jim, który domyślił się, ze ta wcześniej pracowała z Batmanem, dowiaduje się, że nie powinien się tak przejmować co dla ludzi oznacza Batman.
Tymczasem Bruce Wayne prowadzi spokojne życie i pracuje razem z Julią Madison. Niespodziewanie jednak wizytę składa mu Jim Gordon, który oświadcza, że jest Batmanem i potrzebuje jego pomocy.
Nowy Batman w osobie Jima Gordona nie przekonuje mnie. Pomysł ten pozwala na inne spojrzenie na działania bohatera i jego postrzegania. Mamy do czynienia z rozterkami, które nigdy nie niepokoiły Bruce'a, a z którymi musi sobie poradzić Jim. Wszystko to, by się sprawdziło gdybyśmy wiedzieli, że Bruce'a nie ma. Tymczasem Wayne wcale się nie ukrywa. W ośrodku w którym pracuje wiadomo kim jest, a Jim nie ma najmniejszych problemów by go odnaleźć. Dlaczego postanawia się do niego zwrócić z prośbą o pomoc, to jest jednak z tych rzeczy, która sprawia, że od razu chciałoby się przeczytać następny numer.
O ile Gordon cały czas próbujący się odnaleźć w nowej roli i realiach, a obdarzeni niezwykłymi mocami złoczyńcy dostarczają niezłej akcji, to tak naprawdę najbardziej intrygującą postacią pozostaje Bruce Wayne. Wiemy, że ma się całkiem dobrze i chociaż jego zachowanie można na różne sposoby wytłumaczyć, to zastanawiać może, dlaczego nikt z licznego grona jego pomocników go nie odnalazł?
Taka pewnego rodzaju wariacja na temat Batmana ma potencjał, ale czy chcielibyśmy na stałe widzieć Gordona w roli zamaskowanego obrońcy Gotham City?
Ocena: 4 nietoperki

---