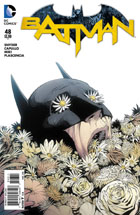 BATMAN #48
Tytuł historii: Superheavy, Part Eight
Miesiąc wydania (okładka): Marzec 2016 (USA)
W sprzedaży od: 20.01.2015 (USA)
Scenariusz: Scott Snyder
Rysunki: Greg Capullo
Okładki: Greg Capullo, Danny Miki, FCO Plascencia; Dave Johnson
Kolor: FCO Plascencia
Tusz: Danny Miki
Liternictwo: Steve Wands
Ilość stron: 32
Twoja ocena:

GD Star Rating
loading...
Nasiona pana Blooma wyrosły na armię, która może obrócić całe Gotham City przeciwko nowemu Batmanowi. W międzyczasie, Bruce Wayne spotyka tajemniczego nieznajomego, który może rozpocząć bieg wydarzeń, którego nikt nie powstrzyma.
Bruce rozmawia z nowo poznanym mężczyzną ze skłonnością do żartów. "Joker" odnalazł spokój i szczęście. Prowadzi normalne życie i dlatego prosi Bruce'a by ten nie wracał do swojego starego życia, bo wtedy znaczyłoby, że i on musiałby wrócić do tego co było wcześniej. Wayne jest trochę zaniepokojony swoim nowym znajomym, ale kiedy w oddali słychać wybuchy, postanawia natychmiast sprawdzić czy Julie nic się nie stało.
Pan Bloom, który osiągnął olbrzymie rozmiary niszczy miasto, pokazując trzymanemu w garści Jimowi, do czego jest zdolny. Do pomocy ma całą armię z którą zniszczy Gotham. W całym mieście poukrywał też tysiące swoich nasionek i każdy, kto je znajdzie zyska moc. W ten sposób doprowadza do wybuchu zamieszek, gdyż wielu mieszkańców miasta przekonują jego słowa i wielu pragnie zyskać supermoce.
Kiedy wydaje się, że dla Gotham nie ma już nadziei, ktoś wyważa drzwi do Wayne Manor. Bruce wie już kim jest i żąda by Alfred zaprowadził go do jego jaskini.
Nie akcja, nie zagrożenie ze strony Blooma, ani też nie Jim, tylko Bruce i jego rozmowa z Jokerem stanowią sedno tego numeru. Taka zwyczajna pogawędka, ale pełna aluzji. Miasto w obecnej sytuacji potrzebuje Batmana, ale kiedy Bruce wybierze tę ścieżkę, to czy również Joker będzie musiał porzucić swoje zwyczajne życie?
Przy tej spokojnej, pełnej dwuznaczności rozmowie bohaterów na ławce, praktycznie na drugi plan schodzi całe zamieszanie z Bloomem. Tajemniczy złoczyńca ponownie schwytał Jima, ale jeszcze go nie zabija, pragnie zniszczyć Gotham i nie ma nikogo, kto mógłby mu się przeciwstawić. Nie ma w tym nic odkrywczego. Bloom porównujący się do ogrodnika i Gotham do ogrodu przestał na mnie robić wrażenie. Jego metamorfozy i moce, to nie klimat, którego szukam w historii z Batmanem.
Całość numeru kradnie ostatnia strona. Bruce już nie próbuje uciec od swego przeznaczenia i najwidoczniej w drodze do Wayne Manor musiał też powalczyć. Pamiętajmy, że cały czas nie jest to Batman, inaczej po co by prosił Alfreda by ten zaprowadził go do jaskini. Jim mimo całego wsparcia i chęci nie zadał egzaminu z roli Batmana, dlatego Bruce to ostatnia nadzieja Gotham, ale czy to wystarczy by powstrzymać Blooma, który skutecznie omamił mieszkańców Gotham?
Ocena: 4,5 nietoperka

---