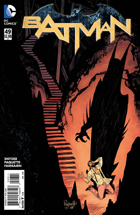 BATMAN #49
Tytuł historii: Superheavy, Part Nine
Miesiąc wydania (okładka): Kwiecień 2016 (USA)
W sprzedaży od: 10.02.2015 (USA)
Scenariusz: Scott Snyder, James Tynion IV
Rysunki: Yanick Paquette
Okładki: Yanick Paquette, Nathan Fairbairn; Neal Adams
Kolor: Nathan Fairbairn
Tusz: Walter Simonson
Liternictwo: Steve Wands
Ilość stron: 32
Twoja ocena:

GD Star Rating
loading...
Już czas. Bruce Wayne odzyskał swoją prawdziwą przeszłość jako Batman. Teraz musi zejść do jaskini i zmierzyć się z tym kim kiedyś był. Czy naprawdę może porzucić życie wolne od bólu i cierpienia Nietoperza? Czy uda mu się raz jeszcze zanurzyć w szaleństwie i misji, która kiedyś go pochłonęła? W tym specjalnym, ekscytującym numerze, przeznaczenie Bruce'a Wayne'a i Batmana, rozstrzygnie się raz na zawsze.
Mimo obiekcji Alfreda, Bruce chce zejść do jaskini. Jest Batmanem i Gotham go potrzebuje. Potrzebuje skorzystać z maszyny, która może przywrócić wiedzą Bruce'a, a którą Alfred zniszczył, by panicz Wayne mógł wreszcie prowadzić normalne życie. Batman zawsze był zapobiegliwy, dlatego zadbał o tzw. "protokół Alfreda", po jego inicjacji maszyna znowu może funkcjonować. Wiedząc, że nie może odwieść od tego Bruce'a, Alfred tak jak zawsze staje u jego boku i uruchamia maszynę. Wayne na nowo przeżywa wszystkie bolesne doświadczenia Batmana, żeby jednak to wszystko wchłonąć trzeba doprowadzić do śmierci mózgu. Alfred nie jest jednak wstanie zabić Bruce'a.
W jaskini zjawia się Julie Madison, która znała prawdę o Batmanie. Jest gotowa spełnić prośbę Bruce'a. Bruce Wayne umarł, ale odrodził się Batman, który jest gotowy by kolejny raz uratować Gotham City.
"Batman #49" to jeden z tych numerów, których nie sposób streścić, by oddać wszystko w pełni. Historia jest dość prosta, ale ilość emocji może wręcz przytłaczać. Bruce Wayne decyduje się na ostateczne poświecenie, po odrodzeniu znów będzie Batmanem, ale nic z ostatnich wydarzeń i wspólnego życia z Julie nie będzie już pamiętał.
Dawno też tak dużej roli nie miał Alfred Pennyworth. Nie chodzi tu o jego bezpośrednie zaangażowanie, ale o to, że przez lata był ojcem dla Bruce'a, teraz po raz ostatni próbuje go ochronić przed przeznaczeniem, przed Batmanem. Dobrze wie, że może być tylko Batman albo Bruce, obaj nie mogą w pełni istnieć równocześnie. Dlatego też najbardziej cierpi, kiedy wie, że już nie ma powrotu i że opcja "żyli długo i szczęśliwie" nigdy nie będzie pisana Wayne'owi. Alfred zawsze chronił Bruce'a, ale tym razem może go tylko wspierać.
"Batman #49" to powrót Batmana. To, że powróci nie jest żadnym zaskoczeniem, już w kilku wcześniejszych historiach Scott Snyder poruszał kwestię maszyny do klonowania. Cały motyw z maszyną i odtworzeniem wspomnień i przeżyć Batmana trzeba po prostu zaakceptować. Podano to naprawdę w atrakcyjnej formie i rysownikowi Yanickowi Paquette'owi, którego styl różni się od Grega Capullo, udaje się uchwycić różne wersje Batmana, jak i też pogodniejszą wizję życia Wayne'a.
Warto też zwrócić uwagę na alternatywną okładkę autorstwa Neala Amansa, która nawiązuje do 1. numeru "Deadmana" z 1985 roku.
Powoli dobiega już historia w której to Jim Gordon był Batmanem, w następnym numerze czeka nas starcie Batmana z Bloomem, dobrze będzie zobaczyć Mrocznego Rycerza, którego wszyscy znają w akcji.
Ocena: 5 nietoperków

---