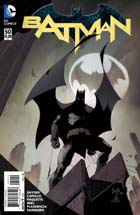 BATMAN #50
Tytuł historii: Superheavy, Part Ten
Miesiąc wydania (okładka): Maj 2016 (USA)
W sprzedaży od: 23.03.2015 (USA)
Scenariusz: Scott Snyder
Rysunki: Greg Capullo, Yanick Paquette
Okładki: Greg Capullo, Danny Miki, FCO Plascencia; Jim Lee i Alex Sinclair; Dave Johnson i Dave McCaig
Kolor: FCO Plascencia, Nathan Fairbairn
Tusz: Danny Miki
Liternictwo: Steve Wands
Ilość stron: 48
Twoja ocena:

GD Star Rating
loading...
Batman powrócił do Gotham City. W konkluzji epickiej historii "Superheavy" Snydera i Capullo, Bruce Wayne wraca do maski i peleryny, by razem z Jimem Gordonem walczyć z panem Bloomem o los miasta, które obaj kochają.
Pan Bloom sieje spustoszenie w Gotham City. Kolejni policjanci w Bat-botach, w tym komisarz Sawyer, chcą go powstrzymać, ale ich wysiłki nie na wiele się zdają, bo ten przejmuje nad nimi kontrole i zagraża życiu mieszkańcom.
Ranny Gordon, którego Julia chce zabrać do szpitala, też ma kłopoty, kiedy zostaje zaatakowany. Wtedy na szczęście zjawia się Batman, który powstrzymuje napastników obdarzonych mocami dzięki nasionkom Blooma.
Zagrożenie ze strony Blooma, który pobiera energię ze wszystkich nasionek, jest co raz większe.
Duke spotyka się z Darylem i chce od niego wyjaśnień, gdyż nazwiska ich obu znalazły się w dokumentach Pingwina dotyczących Blooma. Oswald namierzył wszystkich, którzy nominowani byli w ostatnich latach do grantów naukowych. Jak się okazuje Daryl ma nasionka, bo sam je stworzył. Chciał być panem Bloomem i pomóc Gotham, ale ostatecznie stworzył potwora, który może zniszczyć miasto.
Batman namierza Blooma, ale najpierw musi uporać się z Bat-botami, które jego przeciwnik zmienił tak by przypominały słynnych złoczyńców. Ostatecznie Bruce w walce z potwornym Bloomem korzysta z Bat-bota, ale dopiero pomoc Daryla oraz Gordona, a także mieszkańców, którzy widząc bohatera w akcji postanawiają zrezygnować z nasionek, przynosi rezultaty i udaje się pokonać Blooma.
Epilog. Jim Gordon znowu zostaje komisarzem Gotham i jeszcze dochodząc do siebie ma okazję porozmawiać z Batmanem. Bruce składa też wizytę Julie oraz ma pewną propozycję dla Duke'a.
Historia "Superheavy" miała dobre początki, a ostatnie numery skupione na Bruce'ie też prezentowały się bardzo dobrze. Wszystko to maskowało poniekąd całą otoczkę związaną z panem Bloomem. W "Batman #50" otrzymujemy pewne wyjaśnienia i niestety nie są one zadowalające.
Czytając "Batman #50" miałem ochotę odpuścić całe te zakończenie. Scott Snyder próbuje dać całości jakieś wielki znaczenie i głębię, ale kiedy widzę jakieś magiczne nasionka i zmutowanego przeciwnika wielkości budynków, to naprawdę odechciewa się czytać. Taki Batman mnie nie interesuje i tym większe jest rozczarowanie, gdy autorem tej historii jest ktoś, kto do tej pory trzymał się bardziej przyziemnych klimatów.
"Superheavy", to naprawdę superciężka do strawienia historia. Miała swoje dobre, a nawet bardzo dobre momenty, ale koniec końców, otrzymaliśmy wielkie rozczarowanie, o którym najlepiej jak najszybciej zapomnieć. Niestety nie warto jej nawet poświęcić więcej miejsca. Jeśli interesuje was jak zakończyła się historia pana Blooma, to mimo to nie warto sięgać po "Batman #50", chyba, że lubicie wielką rozwałkę i Bat-boty oraz interesuje was postać Duke'a.
Ocena: 2,5 nietoperka

---