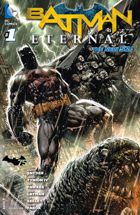 BATMAN ETERNAL #1
Tytuł historii: Batman Eternal, Part 1
W sprzedaży od: 09.04.2014 (USA)
Scenariusz: Scott Snyder, James Tynion IV, Ray Fawkes, John Layman i Tim Seeley
Rysunki: Jason Fabok
Okładki: Jason Fabok, Tomeu Morey; Andy Kubert, Jonathan Glapion i Brad Anderson
Kolor: Brad Anderson
Liternictwo: Nick J. Napolitano
Ilość stron: 32
Twoja ocena:

GD Star Rating
loading...
Nie waż się przegapić tak wielkiej Bat-opowieści, że potrzeba każdego tygodnia by ją opowiedzieć! Najlepsi (i najgorsi) z Gotham City przeanalizują relacje pomiędzy Batmanem, jego sojusznikami i miastem. W pierwszym numerze komisarz James Gordon zostaje przyłapany po złej stronie prawa!
Koniec. Batman pozbawiony maski został przywiązany do rozbitego bat-sygnału. Całe Gotham płonie, przyjaciele go opuścili.
Obecnie. Do Gotham City właśnie przybył z Detroit porucznik Jason Bard, który ma rozpocząć pracę w GCPD. W mieście w zastępstwie Jima Gordona wita go Harvey Bullock. Komisarz policji jest bowiem zbyt zajęty profesorem Pygiem. Chociaż złoczyńca jest uzbrojony i grozi zabiciem niewinnych, to dzięki interwencji Batmana, ubranego w zbroję, którą wcześniej wykorzystał do walce Talonem, udaje się zapanować na sytuacją. Nietoperz rusza w pościg za złoczyńcą a Gordon za jego pomocnikiem. Kiedy Batman dopada Pyga dostaje informacje od Alfreda na temat Jima, który w podziemiach na torach metra ma kłopoty, gdyż z obu stron nadjeżdżają pociągi.
Tymczasem nowy porucznik policji zostaje przedstawiony Forbsowi, który nie należy do fanów Gordona. Po chwili zjawia się również Maggie Sawyer, która przekazuje, że Jim prosił o wsparcie.
Na torach metra Gordon dopada pomocnika Pyga. Ten jednak nie wie o co chodzi i nie wie czemu policjant chce by opuścił broń. Brak reakcji ze strony ściganego sprawia, że Jim strzela do niego. Kula trafia jednak w transformator. Batman, który dociera na miejsce, próbuje jeszcze zapobiec katastrofie, ale Alfred nie jest wstanie zatrzymać pociągów odcinając prąd. Nie mogąc przestawić toru dochodzi do zderzenia pociągów.
Lekko oszołomiony Gordon próbuje przepraszać, że nie chciał tego zrobić, ale Batman wyjaśnia mu, że człowiek, którego ten ścigał nie miał broni. Z tej informacji natychmiast korzysta Forbes, który każe Bardowi aresztować Gordona za spowodowanie katastrofy pociągów.
Pierwszy numer nowej cotygodniowa serii
Batman Eternal
dostarcza akcji i wrażeń, które spokojnie wystarczyłyby na miesiąc. Trzeba się więc przyzwyczaić do szybszego tempa i śledzić kolejne wydarzenia, które doprowadziły do naprawdę beznadziejnej sytuacji w Gotham City. Za sprawą pierwszej strony, wiemy, że to co czeka nas na samym końcu jasno zapowiada, że po drodze Batman poniesie więcej klęsk niż zwycięstw.
Nowa seria rozpoczyna się od mocnego uderzenia i nie brakuje tu różnych atrakcji. Złoczyńca korzysta z muzealnego samolotu, a całość kończy się prawdziwą katastrofą. Pojawiają się bohaterowie znani z innych serii jak Jason Bard i Forbes. Samą obecność Pyga też można uznać za niespodziewaną. Tego typu niespodzianek na pewno nie będzie brakować w kolejnych numerach. Już w następnym rozpocznie się proces Gordona oraz pojawi się złoczyńca, którego jeszcze The New 52 nie było.
Znając wydarzenia przedstawione w Batman #28 wiemy jak mniej więcej będzie za jakiś czas wyglądać Gotham City. Na razie wszystko wydaje się być w normie, ale już wyczuć można, że ktoś zaczął pociągać za sznurki i wkrótce wywróci życie Batmana do góry nogami i sprawi, że Gotham zapłonie.
Ocena: 4,5 nietoperka

---