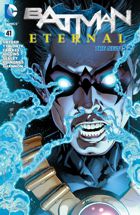 BATMAN ETERNAL #41
Tytuł historii: The Swarm
W sprzedaży od: 14.01.2015 (USA)
Scenariusz: Scott Snyder, James Tynion IV, Ray Fawkes, Kyle Higgins i Tim Seeley
Rysunki: Joe Quinones
Okładka: Ivan Reis, Joe Prado i Rod Reis
Kolor: Kelsey Shannon
Liternictwo: Steve Wands
Ilość stron: 32
Twoja ocena:

GD Star Rating
loading...
Nanity rozdzierają Narrows na strzępy! Czy Red Robin może je powstrzymać, kiedy reszta miasta płonie?
Red Robin i Harper Row namierzają dzieciaki nad którymi kontrolę przejęły nanoboty.
Spoiler cały czas ukrywa się przed zabójcami, ale w końcu dopada ją człowiek wysłany przez Selinę, która pragnie zapewnić jej bezpieczeństwo.
Red Robin, wraz z Batgirl i Red Hoodem przeprowadzają atak na magazyn, w którym dzieciaki kontrolowane przez nanoboty coś budują. Harper monitoruje całą akcję. Tim na miejscu natrafia na Mad Hattera. Niestety Harper za późno ostrzega bohaterów o tym co na miejscu się wyprawia. Wirus rozprzestrzenia się drogą powietrzną i tym samym zainfekowani zostają bohaterowie. W tej sytuacji Harper postanawia działać i zakłada strój Bluebird.
Po wielu numerach przerwy powraca temat nanobotów. Czy kogoś to jeszcze interesuje? Nie. Twórców najwyraźniej też nie, dlatego dostajemy kolejną wręcz beznadziejną opowieść. Jeśli interesowało was jak Harper stała się Blubird, to w tym numerze przywdziewa on kostium bohaterki. Oczywiście oprócz wcześniejszych wzmiankach o jej treningu nie ma innych informacji, że jest gotowa do roli bohaterki.
Zamiast jakiejś namiastki odpowiedzi, dostajemy kolejne pytania. Nie warto też się zastanawiać czemu Red Hood jest znowu w Gotham skoro ostatnio kiedy go widzieliśmy wyjeżdżał. Zapowiada się, że ta seria nie będzie w ogóle godna zapamiętania, bo wraz z kolejnymi numerami, wszystkie dobre momenty odchodzą coraz szybciej w zapomnienie.
Ocena: 2 nietoperki

---