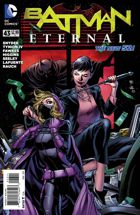 BATMAN ETERNAL #43
Tytuł historii: Cat's Paw
W sprzedaży od: 28.01.2015 (USA)
Scenariusz: Scott Snyder, James Tynion IV, Ray Fawkes, Kyle Higgins i Tim Seeley
Rysunki: David Lafuente
Okładka: Ivan Reis, Joe Prado i Rod Reis
Kolor: John Rauch
Tusz: Victora Olazaba i Scott Hanna
Liternictwo: John J. Hill
Ilość stron: 32
Twoja ocena:

GD Star Rating
loading...
Nie przegapcie specjalnego numeru, który cofa naszą historię do momentu w którym wszystko się zaczęło w BATMAN #28 – ale takiego zwrotu akcji się nie spodziewaliście!
Spoiler odzyskuje przytomność i odkrywa, że jest w klubie Seliny, która chce dowiedzieć się wszystkiego co wie.
Tim ponownie zgłasza się z prośbą o pomoc do Harper. Celem misji jest dostanie się do najlepiej strzeżonego miejsca w Gotham, kasyna Catwoman.
Stephanie mimo zagrożenia, jakie czeka na nią na ulicach miasta, gdzie nagroda za jej głowę wzrosła do 200 mln dolarów, cały czas nie chce zdradzić co wie o planach złoczyńców. Sytuacja się komplikuje, kiedy na miejscu zjawia się Batman z Bluebird. Ostatecznie Steph decyduje się odejść z Batmanem.
Opiekę nad Stephanie przejmuje Harper ale obie bohaterki mają problem z dogadaniem się zwłaszcza, że Spoiler nie chce zaufać Batmanowi. Wkrótce jednak znajdują wspólny temat, kiedy odkrywają, że ich ojcowie nie byli idealni i że podziwiają Catwoman. Mimo, to Steph nie ma zamiaru ufać Batmanowi, gdyż osobą, która wydawała rozkazy jej ojcu był Bruce Wayne.
Batman Eternal #43
przenosi nas do wydarzeń znanych z
Batman #28
, które warto sobie odświeżyć, bo w innym wypadku pewne elementy mogą się wydawać pominięte. Zgodnie z opisem dochodzi też do istotne zwrotu akcji. Ostatnia strona numeru wreszcie zdradza coś konkretnego na temat przeciwnika Batmana. Otóż wygląda on jak Bruce Wayne. Oczywiście za raz może się okazać, że był to tylko np. Clayface, ale co raz więcej rzeczy wskazuje na Lincolna Marcha. Szkoda tylko, że o ile widzimy jak miotają się bohaterowie, to nie mamy pojęcia jakie działania prowadzi główny złoczyńca, lub chociażby wynajęci przez niego łotrzy.
Wraz z całą serią dotarliśmy do wydarzeń, które miały miejsce w Batman #28 i o ile ta historia z przed roku mogła wciągnąć czytelnika, który zastanawiał jak to się stało, że Harper dołączyła do Batmana czy jak mieście wprowadzono stan wojenny itp. Okazuje się jednak, że w wielu przypadkach, twórcy nie raczyli dać sensownych odpowiedzi. Zamiast tego wiele wątków służy, przynajmniej z dotychczasowej perspektywy, tylko do zapełnienia czymś poszczególnych numerów. Tym samym nie brakuje niespełnionych oczekiwań, ale jesteśmy co raz bliżej końca i być może wreszcie pojawią się konkretne odpowiedzi.
Ocena: 2,5 nietoperka

---