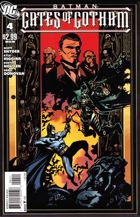 BATMAN: GATES OF GOTHAM #4
Tytuł historii: Part Four, The Gotham City Massacre
Miesiąc wydania (okładka): Wczesny październik 2011 (USA)
W sprzedaży od: 03.08.2011 (USA)
Scenariusz: Scott Snyder, Kyle Higgins i Ryan Parrott
Rysunki: Dustin Nguyen i Derec Donovan
Okładki: Trevor McCarthy; Dustin Nguyen
Kolor: Guy Major
Tła: Graham Nolan
Liternictwo: Jared K. Fletcher
Ilość stron: 32
Twoja ocena:

GD Star Rating
loading...
Walcząc z Architectem Tim i Damian szybko się orientuje, że ich przeciwnik dokonał kilku ulepszeń w kostiumie z przed 100 lat. Złoczyńca pragnie by nazwisko Gate zostało zapamiętane na wieki i nie obawia się walki z bohaterami.
Po śmierci brata świat Nicholasa rozpadł się, ale wreszcie dostrzegł, jakie naprawdę są najbogatsze rodziny w Gotham City. Nie wierzył, że Bradley zginął w wypadku, bo po tym incydencie zdecydowano się zbudować most na terenach Kane'a. I chociaż Nicholas podzielił się swoimi podejrzeniami z Alanem Wayne'em, to ten nie miał zamiaru interweniować, bo wiedział, że sprawa i tak nie ukaże się w prasie, bo do tego nie dopuści Elliot, a burmistrz Cobblepot zatrzyma ewentualne śledztwo. Największe rodziny mają swoje sekrety i nikt z poza nich, tak ja Nicholas Gate, tego nie zrozumie.
Chociaż Robinowi udało się doprowadzić do zawalenia części budynku, to mimo wszystko Architectowi udało się uciec. Po dotarciu na miejscu Batmana i Black Bat, Cass w gruzowisko znajduje dziennik Gate'a.
Rodziny Gotham City nie pozostawiły Nicholasowi wyboru. W stroju nurka zaatakował Camerona Kane'a, którego obwiniał o śmierć swojego brata. Strzałem ze strzelby powstrzymał go Robert Kane, ale nie na tyle uszkodził cały strój by uniemożliwić Gate'owi dokonanie zemsty. Jednak zamiast Camerona życie stracił jego syn, Robert. Nicholas został aresztowany, ale w swoim dzienniku zdążył napisać, że żałuje, że nie udało mu się zdziałać więcej.
W nocy Architect powstrzymuje dwóch gliniarzy, którym udało się zlokalizować podłożony pod mostem Kane'a semtex. Po przeczytaniu dziennika i zastanowieniu się nad samą istotą Gotham City, Dick znajduje sposób jak powstrzymać Architecta. Chce mu wyjaśnić, że wszystko, w co wierzy to kłamstwa.
Solidny numer, w którym poziom wątków rozgrywających się w przeszłości i teraźniejszości jest wyrównany. Mamy więcej akcji za sprawą walki z udziałem Red Robina i Robina, która pokazuje, że Architect nie tylko dokładnie przemyślał swoje działania, ale także, że jest wstanie odeprzeć atak bohaterów. Warto też odnotować, że w tym numerze McCarthy'ego w roli rysownika zastąpił Nguyen z pomocą Donovan i Nolana. Efekty ich pracy jeśli chodzi o wydarzenia z przeszłości wypadły dobrze, ale już teraźniejsze działania bohaterów, pod względem graficznym niczym specjalnym nie zachwycają.
Sprawy z przeszłości odkrywają zawiłe relację dotyczące wpływowych rodzin. Nicholas Gate nie mógł liczyć na sprawiedliwość bo tak naprawdę był nieznaczącym architektem. Udało mu się jednak zemścić na rodzinie Kane'ów, ale przecież pozostały jeszcze inne rodziny. I tutaj pozostaje jeszcze pewna niewiadoma. Czyli kto postanowił kontynuować dzieło Nicholasa i dlaczego czyni to właśnie teraz.
Batman: Gates of Gotham #4 ma kilka dobrych momentów jak np. Black Bat znajdująca dziennika Gate'a, czy rozmowa Dicka z Cass, ale po zapowiedziach tej miniserii oczekiwałem czegoś większego i jak do tej pory nic takiego piorunującego nie otrzymałem. Być może twórcy zaskoczą czymś niezwykłym czytelników w ostatnim numerze tej miniserii.
Ocena: 4 nietoperki

---