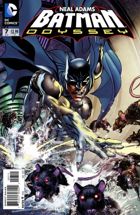 BATMAN: ODYSSEY #7
Tytuł historii: Batman Odyssey, Part 13
Miesiąc wydania (okładka): Czerwiec 2012 (USA)
W sprzedaży od: 18.04.2012 (USA)
Scenariusz: Neal Adams
Rysunki: Neal Adams
Okładki: Neal Adams
Tusz: Neal Adams
Kolor: Moose Baumann
Liternictwo: Dave Sharpe
Ilość stron: 32
Twoja ocena:

GD Star Rating
loading...
Batman spał przez 9 godzin i teraz jego umysł jest skupiony jak nigdy. Bohater podąża kanałami by dopaść Senseia, który czeka na niego w Arkham Asylum. Na miejscu są też Talia, Ra's Al Ghul, Robin i Jamroth Bok, który ma ze sobą kamerą, by nagrać całe zajście dla mieszkańców podziemnego świata. Wszyscy wraz z zamkniętymi w celach złoczyńcami czekają na decydujące starcie pomiędzy Batmanem i Senseiem.
Podczas walki Bruce zrzuca swoją pelerynę. Robi to jednak tylko po to by dać lepsze przedstawienie. Sensei nie raz zaskakuje Batmana, ale ten dzielnie przyjmuje jego ciosy. Podczas starcia Bruce przypomina sobie swój wcześniejszy pojedynek z synem Ra'sa w podziemnym świecie. Chociaż wydawało się, że to Sensei cały czas ma przewagę, nagle Batman chwyta przeciwnika za szyję i prosi Robina by ten podał mu broń, która jest w kieszonce w pelerynie. Oglądający całe zajście złoczyńcy nie mogą uwierzyć, że to się naprawdę dzieje. Batman strzałem prosto w brzuch rozrywa wnętrzności Senseia.
Następnie ogłasza zmianę reguł. Teraz, jeśli jakiś łotr zabije cywila lub policjanta, to Batman go wytropi i zabije.
Dwa tygodnie później. Bruce i Dick poprzez agencję adopcyjną przekazują młodemu małżeństwo Davidowi i Chinie Woo dziecko. Jak się okazuje Batman i Sensei dogadali się. Sfabrykowali śmierć Senseia, który po wypiciu odmładzającej substancji stał się niemowlęciem i tym samym dostał drugą szansę.
Po wysłuchaniu całej opowieści Bruce'a, Clark Kent zdejmuje swój reporterski garnitur i jako Superman odlatuje.

Kiedy pojawiły się pierwsze zapowiedzi, że Neal Adams przygotowuje nowy komiks o Batmanie, wielu fanów nie mogło się tego doczekać. Niestety po Batman: Odyssey zapewne znaczna większość z nich żałuje, że do tego doszło. Niektórzy legendarni twórcy na stare lata nie powinni wracać, bo w ten sposób tylko nadszarpują swój wizerunek, na który ciężko pracowali przez lata.
O czym była 13 częściowa seria Batman: Odyssey? Nie sposób tego opisać, ani tym bardziej streścić. Jeśli ktoś doszukiwałby się jakiegoś większego sensu to go nie znajdzie. Można wielokrotnie czytać niektóre strony, ale i tak pewnie nikt nie będzie wstanie stwierdzić, o co w tym wszystkim chodzi. Wystarczy, że poświeciło się czas by przeczytać wszystkie 13 numerów, dlatego nie ma już sensu marnować więcej czasu na zastanawianie się, czemu Batman dogadał się z Senseiem i do czego to wszystko miało to doprowadzić. Do jednego, co prawda mieć pretensji. Rysunki Adamsa cały czas stanowią jego mocną stronę. Świetnie wyszło ilustracje przedstawiające różnych klasycznych złoczyńców, ale żeby je zobaczyć nie trzeba czytać całej tej pokręconej historii.
Jeśli jednak ktoś lubi takie pokręcone historie, gdzie na pierwszy, drugi, …, dziewięćdziesiąty dziewiąty rzut oka wydaje się że nic nie ma sensu, to na pewno zajdzie w całej opowieści Adamsa więcej plusów.
Ocena: 2 nietoperki

---