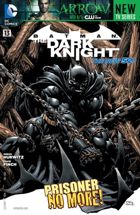 BATMAN: THE DARK KNIGHT #13
Tytuł historii: The Undead Past
Miesiąc wydania (okładka): Grudzień 2012 (USA)
W sprzedaży od: 24.10.2012 (USA)
Scenariusz: Gregg Hurwitz
Rysunki: David Finch
Okładka: Finch, Friend i Oback
Kolor:Tusz: Richard Friend
Liternictwo: Rob Leigh
Ilość stron: 32
Twoja ocena:

GD Star Rating
loading...
Batman doprowadzony zostaje do granic swoich możliwości, kiedy zostaje wystawiony na działanie nowej toksyny strachu.
Dowiedz się czego najbardziej boi się Batman!
Plus ciąg dalszy originu Stracha na Wróble.

Kiedy przetrzymywana przez Stracha na Wróble dziewczynka wręcza mu rysunek przedstawiający ją i Crane'a jako przyjaciół, do Jonathana wracają wspomnienia z dzieciństwa. Kiedy był więziony przez ojca też pragnął by ten go wypuścił.
Tymczasem Batman aktywuje laser w nadgarstku kostiumu leżącego obok i uwalnia się z łańcuchów. Po przejściu kilku kroków dopada go Strach na Wróble, który wbija mu kosę w klatkę piersiową. Następnie złoczyńca prezentuje swoją nową supertoksynę. Zaczyna również opowiadać historię o Braxtonie Winthropie. Mężczyźnie w wieku Batmana i jego budowy ciała oraz z podobnymi zasobami finansowymi. Przeznaczał on miliony dolarów na działalność charytatywną, w których aktywnie uczestniczył. Szczęście sprzyjało mu także w życiu rodzinnym. Pewnego dnia doszło jednak do tragedii. Samolot, którym leciał wraz z żona i synem rozbił się. Tylko młody chłopak przeżył. Sprzedał firmę ojca i założył sierociniec w rodzinnej rezydencji. Odnalazł swoje szczęście, ale mógł też wybrać mroczniejszą ścieżkę. Taką jaką wybrał Batman.
Wraz z kontynuacją opowieści Crane'a, który wydaje się znać wszystkie sekrety Bruce'a, Batman domaga się odpowiedzi skąd ten to wszystko wie. Jak się okazuje Strach na Wróble nie powiedział ani słowa, to cały czas opowieść Batmana. Nie mogąc stawić oporu bohater chce dowiedzieć się, co sprawiło że Jonathan stał się tym kim jest.
Prowadząc swoje eksperymenty ojciec Jonathana zmarł na zwał serca. Dopiero po kilku dniach policji udało się uwolnić jego syna.
Strach na Wróble zadowolony jest z efektów swojej nowej substancji, ale uznaje, że już czas pożegnać się z Batmanem, dlatego udaje się po swoją kosę. Bruce nie ma zamiaru się poddawać wykorzystuje swoje lęki by znaleźć w sobie resztkę siły. Po powrocie do Batmana złoczyńca przekonuje się, że poważnym błędem było zostawienie go wraz z kostiumem w tym samym pomieszczeniu.
Strach na Wróble więzi dwójkę "pacjentów" i wydaje się, że nad wszystkim ma pełną kontrolę. Wystarcza jednak rysunek dziewczynki, by Jonathan prawie się rozkleił pod wpływem wspomnień z dzieciństwa. W przypadku Batmana jest bardziej ostrożny, a jego kosa sprawdza się doskonale, tak samo jak nowa toksyna. Halucynacje Bruce'a i jego opowieść stanowią ciekawe spojrzenie na drogę jaką obrał Wayne. Po śmierci rodziców mógł się skoncentrować na innych rzeczach, ale zdecydował się na walkę ze złoczyńcami.
Crane dowiaduje się wiele na temat Batmana, ale sam też nie omieszkuje mu opowiedzieć o swoim dzieciństwie i o śmierci ojca. Jest tak pewny siebie, że nie ukrywa prawdy, a przecież wiedząc, że Batman ma różne gadżety nie powinien ich trzymać obok niego. Czyli dr Crane nie jest aż tak sprytny jakby się wydawało.
Za sprawą rysunków Fincha, który ma wiele okazji w pełni pokazać swoje umiejętności przedstawiając poszczególnych bohaterów na pojedynczych stronach, numer ma odpowiedni klimat wszech obecnej grozy. Strach na Wróble wydaje się iście szalonym naukowcem z horrorów, ale do czego to wszystko ma prowadzić?
Ocena: 4,5 nietoperka

---